Williston Basin CTE Center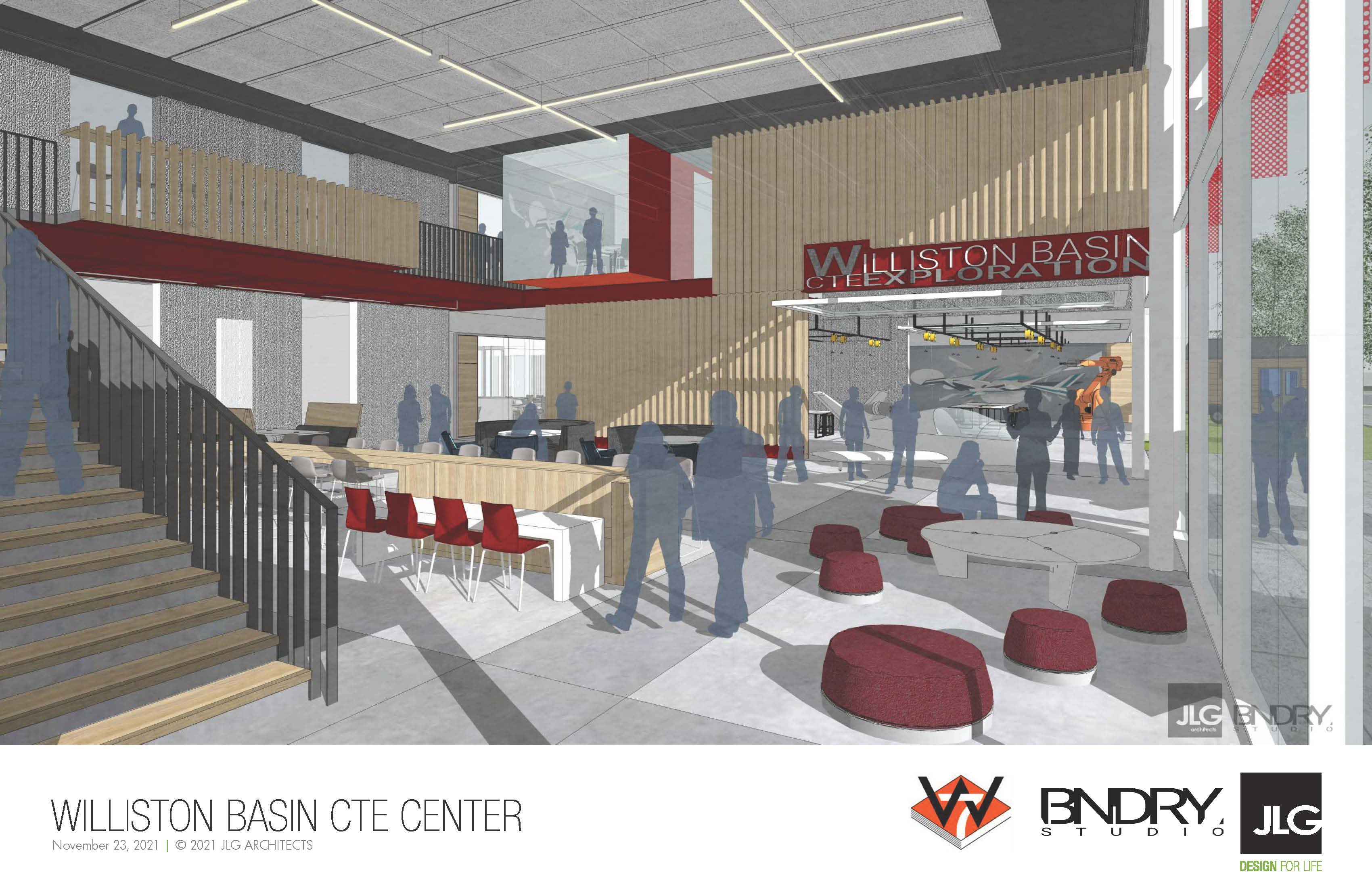 To view the entire Williston Basin CTE Center presentation from the 11/23/2021 school board meeting, click here.
Williston Basin CTE Center Awarded $10 million from State Board for Career and Technical Education
Williston, N.D., (March 15, 2022) - Williston Basin School District #7 (WBSD7) was one of thirteen school districts who were awarded funding from the North Dakota Career and Technical Education (CTE) Capital Projects Fund in the amount of $10,000,000 to help fund the Williston Basin Career and Technical Education Center. In order to be eligible for these grant dollars, the project required a dollar-for-dollar local match, which WBSD7 was able to do thanks to generous community partners.
"This is the first of many good things I see our newly unified district bringing to the community" said Interim Superintendent Lori Olson after receiving the news.
The new CTE Center will be an expansion on the current CTE building at Williston High School which will be able to increase its offerings of programs not only to students in Williston, but to those in surrounding areas. Audrey Larson, Vice Principal at Williston High School, said that she is "excited to transform Western North Dakota education."
The project will take approximately 3 years to come to fruition and will help offset some of the crowding issues currently experienced at Williston High School by increasing the teaching space available for other CTE programs that are currently housed in the main building of the high school. Jason Germundson, Williston High School Principal, said "this truly is a wonderful opportunity to put Williston on the map when it comes to innovative and practical education that will serve students well into their futures."
To see a list of all awards, please visit https://www.cte.nd.gov/news/state-board-career-and-technical-education-awards-funding-career-technical-education-centers.
To see more information on the Williston Basin CTE Center, visit our website https://www.willistonschools.org/page/cte-center.
Williams County commits $5 million in matching funds for Williston Basin School District #7's CTE grant application
Williston, N.D., (November 17, 2021) – Williston Basin School District #7 (WBSD7) has received a commitment from Williams County for $5 million in matching funds to support their application for North Dakota's Federal Coronavirus Career and Technical Education Capital Projects Grant.
The grant program, administered by the North Dakota Department of Career and Technical Education (CTE), enables public school districts to apply for up to $10 million in grant funds for increasing CTE opportunities through the addition of Career and Technology Centers and/or facilities. Grant dollars require monetary or in-kind matching funds from private and/or public entities.
Acting Superintendent Lori Olson, Willison High School Vice Principal Audrey Larson, and Curriculum Director Dr. Victoria Arneson presented WBSD7's grant application concept during the Williams County Board of County Commission's regular meeting on November 16, 2021. Vice Principal Larson introduced the three-year, $20 million plan, which would bring a diverse offering of CTE programs including agriculture, construction technology, petroleum technology, and more to several school districts across northwestern North Dakota. Grant funds, which would make up half of the project's cost, would need to be expended by 2024.
"This is a great opportunity for Williams County Students, and we are grateful for the partnership with Williams County and look forward to what we can accomplish together" says Acting Superintendent Olson.
Success of the proposed CTE programs hinges on partnerships with local businesses as well as other school districts. During the application development process, WBSD7 has reached out to Tioga, Grenora, Ray, Crosby, and Alexander Public Schools for possible collaboration opportunities.
Recognizing the importance of CTE to building the workforce and skillset of students in our region, Commissioners unanimously agreed to provide WBSD7 $5 million in matching funds to support the grant application. Commissioner David Montgomery made the motion for the County to support at that level "because it is benefitting not only the kids in Williston and Williams County, but also businesses in the future."
Applications are due by December 1, 2021, and awardees are expected to be announced by the end of the year.