Sgt. Tom Rich will be here on Thursday, February 10th, at Williston High School at 7pm for a Workshop on Cyber Safety and Security. At this high energy, fast paced presentation you will learn about every app, how to monitor your child's activity and see real time how to navigate the most popular social media apps. Sgt. Rich has spoken to over 1 million people worldwide and has been featured on NBC, FOX, CNN and Good Morning America! For more info, check out
www.AlwaysConnected.org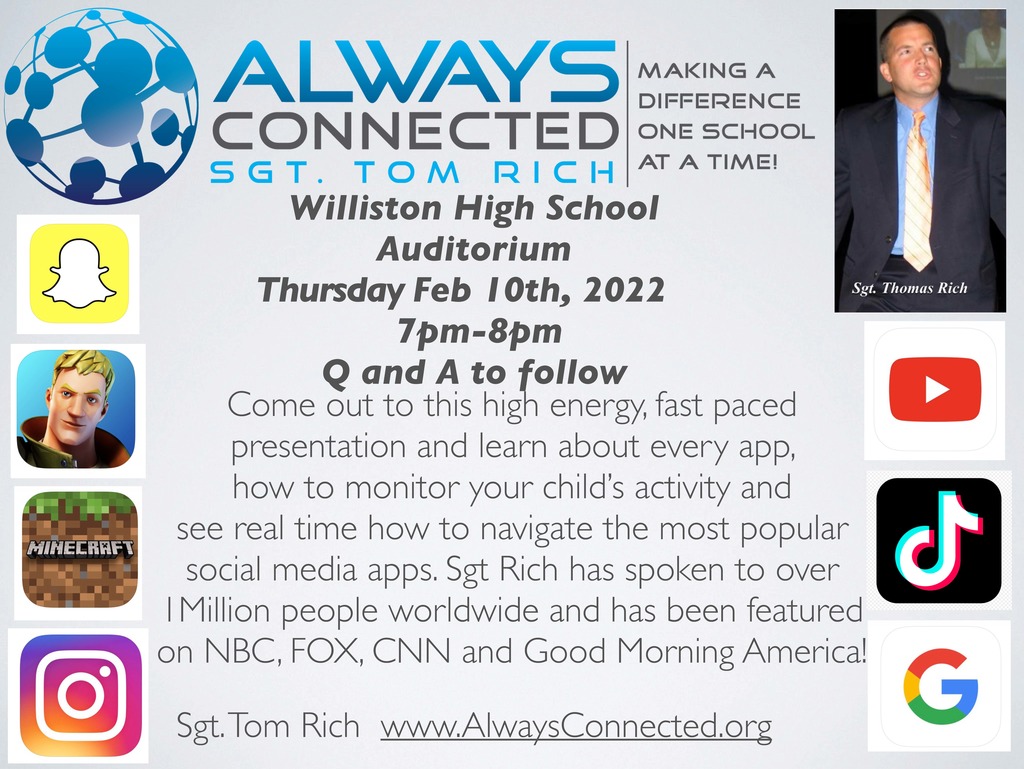 The WHS Counselors are happy to announce they are beginning class registrations for the 2022-2023 School Year! 11th Graders: Jan 31-Feb 3 10th Graders: Feb 7-11 9th Graders: Feb 7-24 8th Graders @ WMS: Feb 28-March 2 8th Graders @ Missouri Ridge: March 3-4 8th Graders @ Innovation Academy: March 9-11 Talk to your student about their course choices and the Four-Year Rolling Plan.
https://www.willistonschools.org/o/whs/page/course-catalog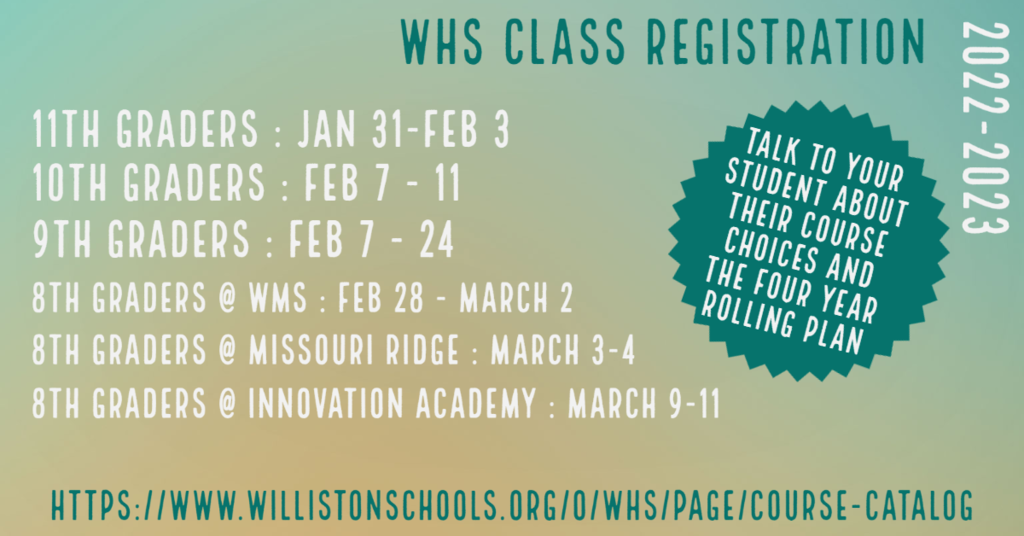 On Friday, February 4, 2022, all of our phone lines will be down intermittently beginning at 10:00 a.m. At this time, we do not have an estimate of how long the phone lines will be down. We appreciate your patience during this. If you need to reach someone during this time, please email your school secretary. You can find a list of staff members and their email addresses by clicking on the "Staff" link on your school's website.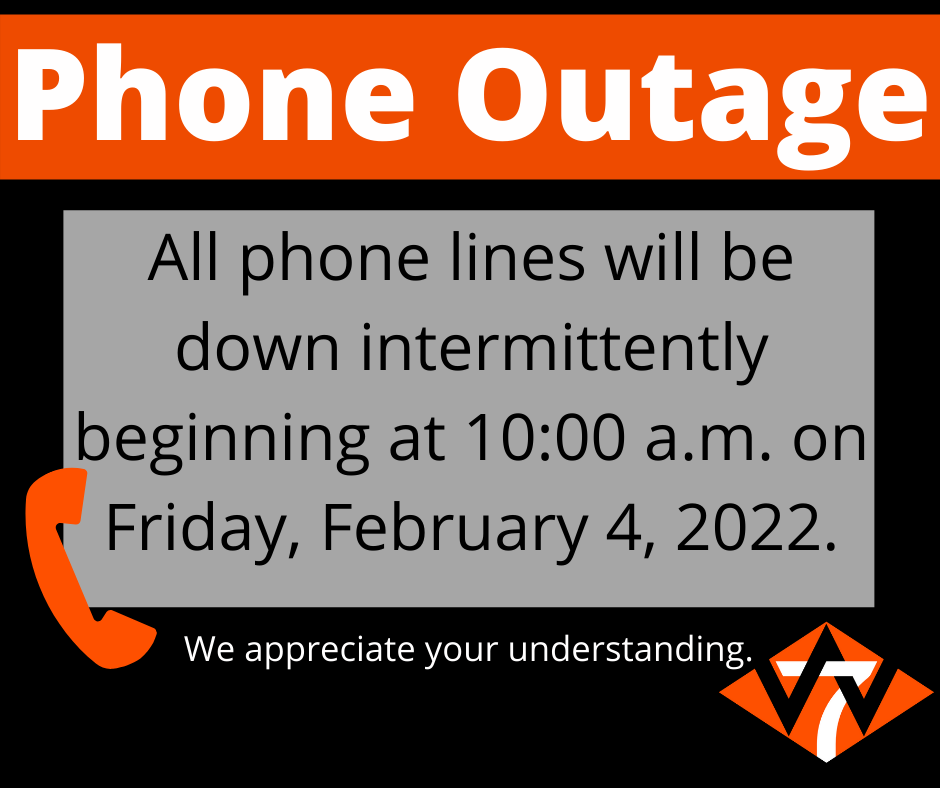 February's SEL word is Acceptance.

Attention 8th Grade Girls... do you want to be a Babe Ruth Little League World Series Ambassador?

After reassessing the road conditions, we have decided we will not be running our school buses today for morning or afternoon routes.

Due to icy road conditions, all WBSD7 schools will start 2 hours later than normal on Monday, January 24, 2022. Schools will begin 2 hours after their normal start time, and buses will run 2 hours later than normal for pick up in the morning. School will dismiss at its normal time. Thank you, WBSD7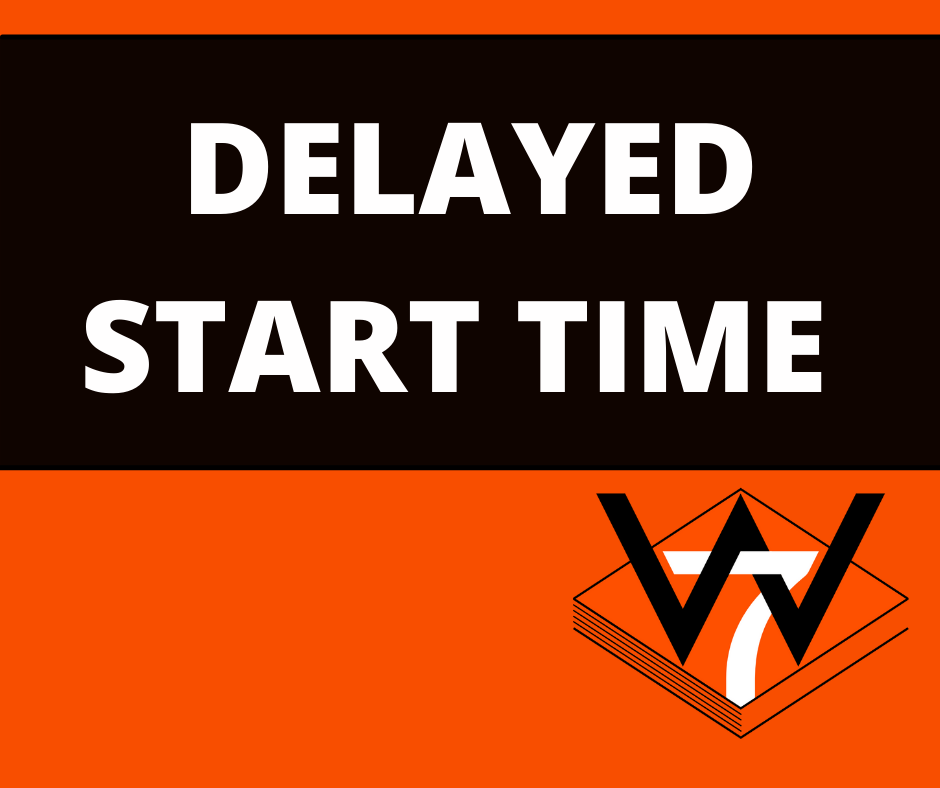 Our Students are getting ready for our first ever Battle of the Books!! The first round of the competition will be here at Missouri Ridge, January 25th. The winners will go on to battle the other schools in our district in Feb for a chance to move on to Regionals! (More details to come) If you have any questions, please contact Mrs. Overy at Missouri Ridge.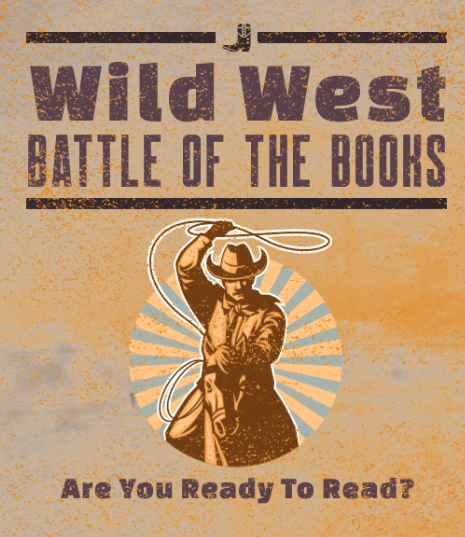 Reminder: There is no school for any WBSD7 schools on Monday, January 17th.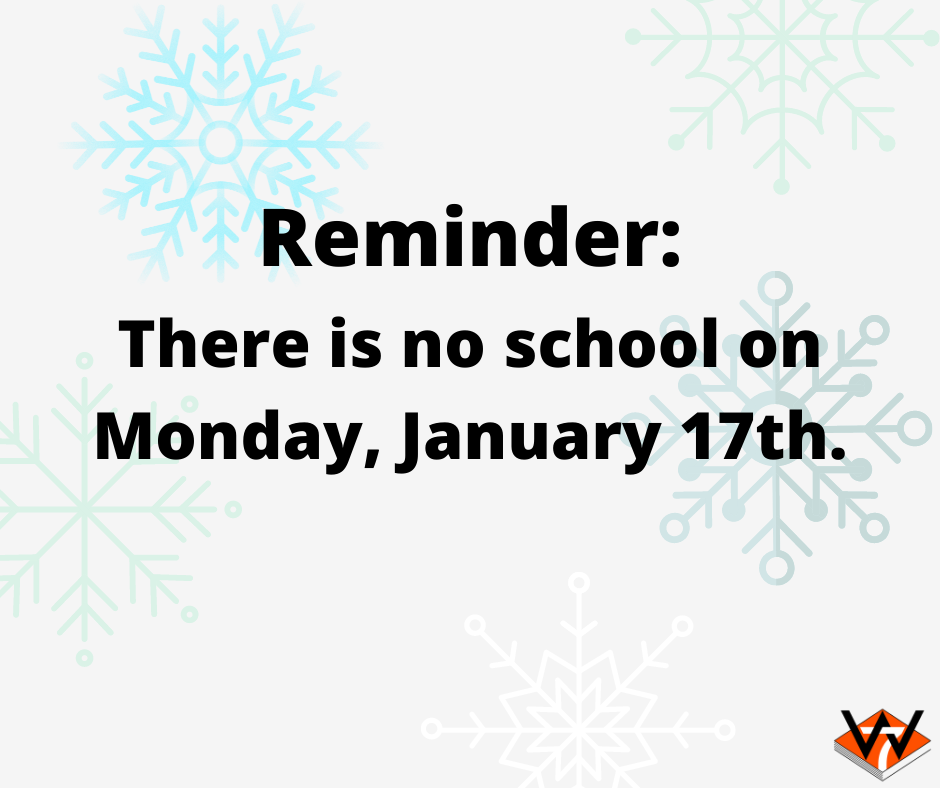 We would like to remind families of the policies we are following per our Return to In-Person Learning Plan related to COVID-19 positive individuals: Positive COVID-19 Diagnosis ISOLATE: Stay home and away from others for at least 10 days after symptom onset and be fever free for 24 hours (without the use of medications) and have improvements in symptoms. If asymptomatic (without symptoms) isolate for 10 days beginning on test date. If you have COVID-19, you must self-isolate regardless of vaccination status, previous infection, or lack of symptoms. Recently the CDC updated their COVID guidelines for isolation time for positive individuals, however, at our recent school board meeting, it was decided we would continue with our current plan. For more information and to read the plan, please visit our District Website
https://core-docs.s3.amazonaws.com/documents/asset/uploaded_file/1413803/1.7.22_Amended_Return_to_In_Person_Plan.pdf
Missouri Ridge Families... Reminder: Join us for Family Dinner Night tonight at Taco Johns from 5:00pm to 7:00pm. Half of what you spend on dinner tonight will be donated to our school's Student Council.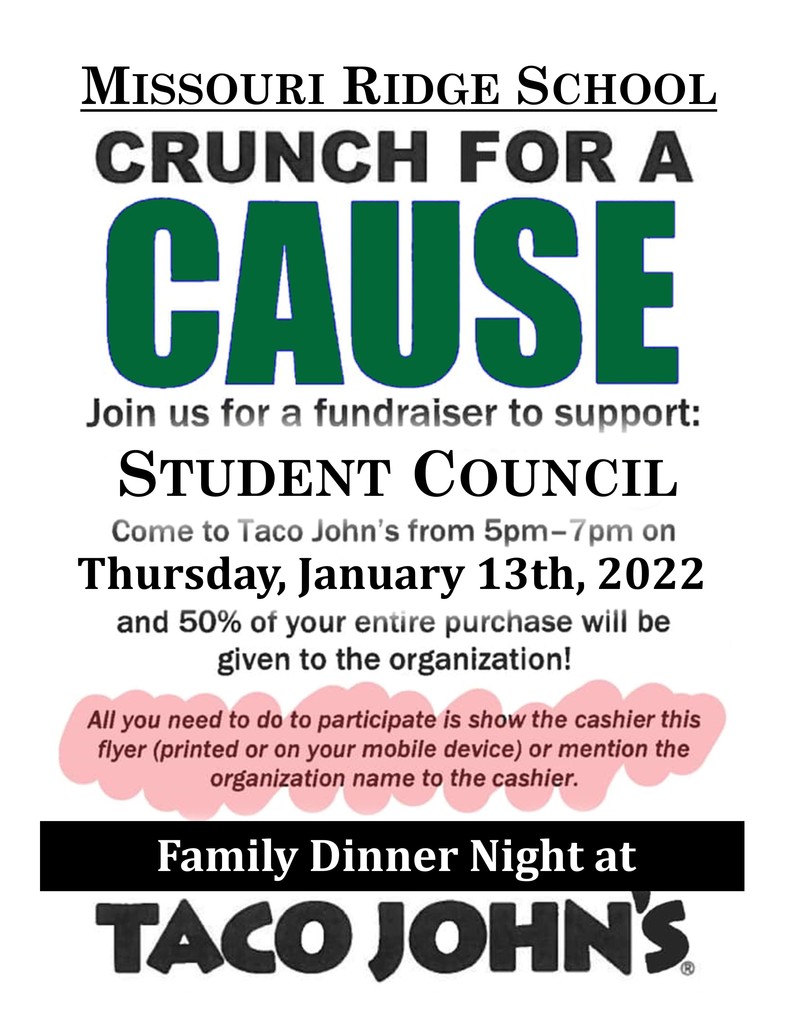 The weather is getting warmer, which means the kids may get to go outside for recess! Please make sure your student brings their coat, hat, gloves, snow pants and snow boots. We want to make sure that the kids have the proper gear so they can enjoy the fresh air.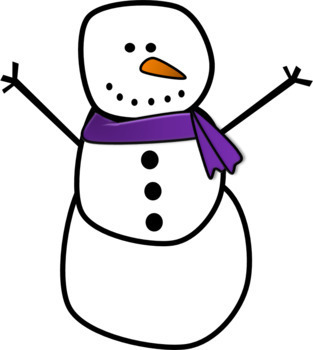 With the unfortunate increase in violence, threats, cyberbullying, and disruptive social media "challenges" in schools throughout the country, the Williston Basin School District #7 would like to take a moment to remind families and students that our District takes a zero-tolerance approach to any misconduct of this nature. Please see the attached notice from the Interim Superintendent, Lori Olson, and the Director of Student Services, Wyndy McGinley.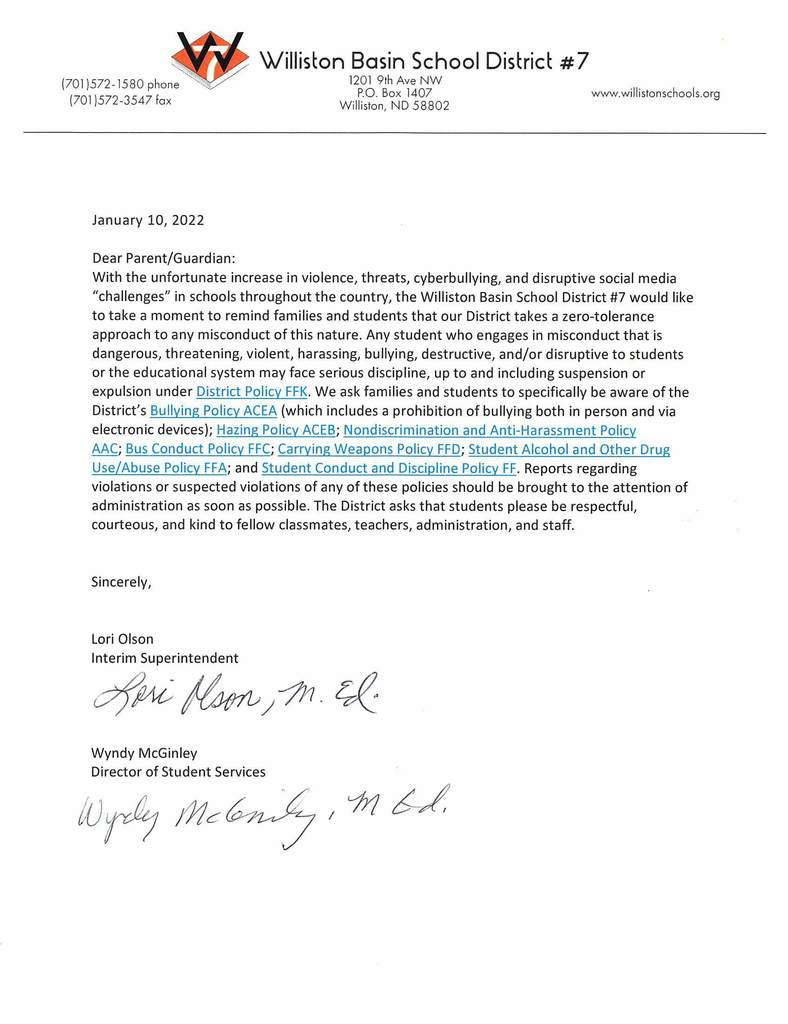 CANCELLATION: Due to flight cancellations, our guest speaker Sgt. Rich has been cancelled this week. We will be rescheduling him for a later date and will communicate that as soon as we have that information.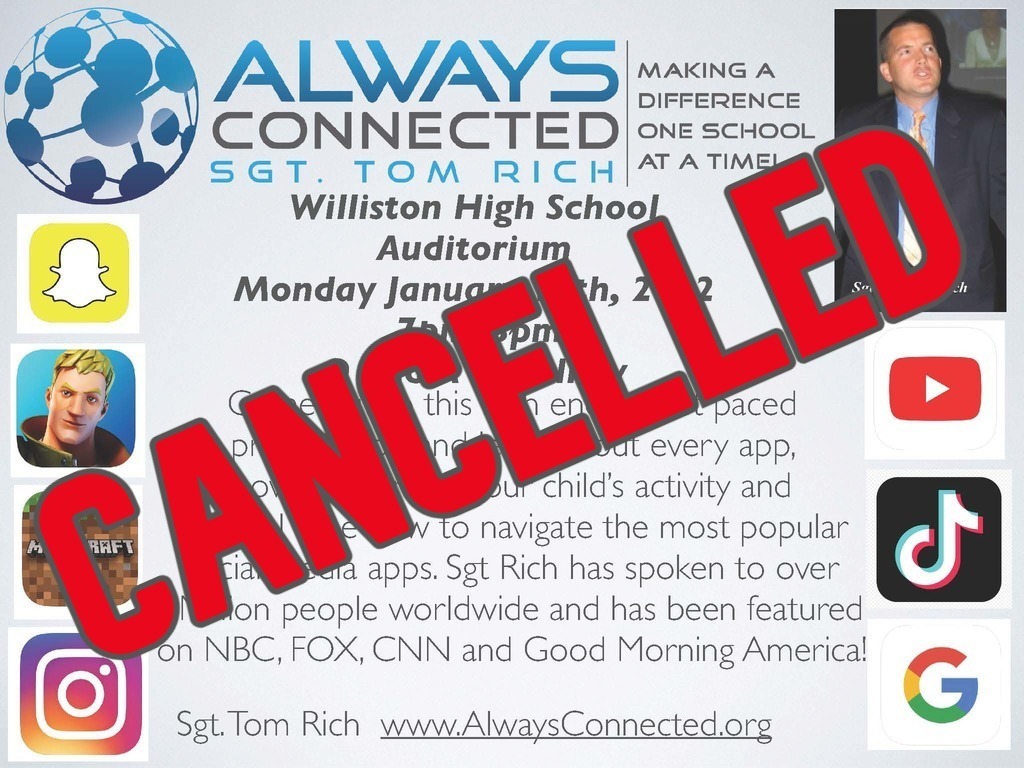 Thank you to Deputy Litten, Sgt. Amy, and the Williams County Sheriff's Department for serving our school and community.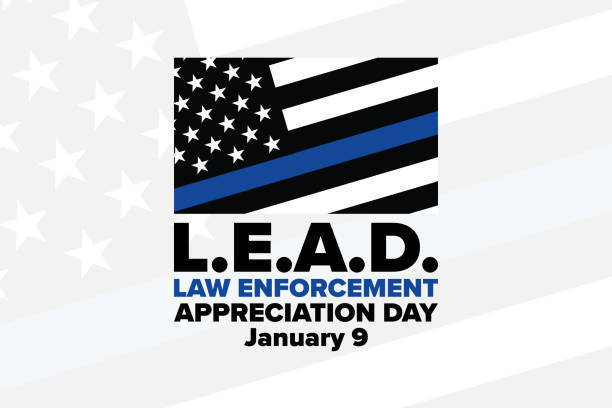 Williston Basin School District #7 is proud to partner with CHI St. Alexius Health Williston for our Partners in Health Program. Our Partners in Health Program will provide WBSD7 with opportunities to provide beneficial resources including expert reviewed health articles and blog posts, Staff Wellness Days, informational forums, and more. Our first featured article is "Gather Around for the Benefits of Family Dinner." Did you know that having a regular family dinner can result in higher grade point averages and self-esteem for children and teens? For this article and more, check out our Partners in Health page:
https://www.willistonschools.org/page/chi-stalexius-health-partnership


2022 UND College of Engineering and Mines STEM Camp for incoming 9th, 10th, and 11th grade students runs from June 20-25, 2022. *Maximum of 20 students from Williston *Everything is FREE thanks to sponsors *Free transportation to/from Williston For more information, contact Gwen Klawon at (701)777-3390 or
gwendolyn.klawon@UND.edu
.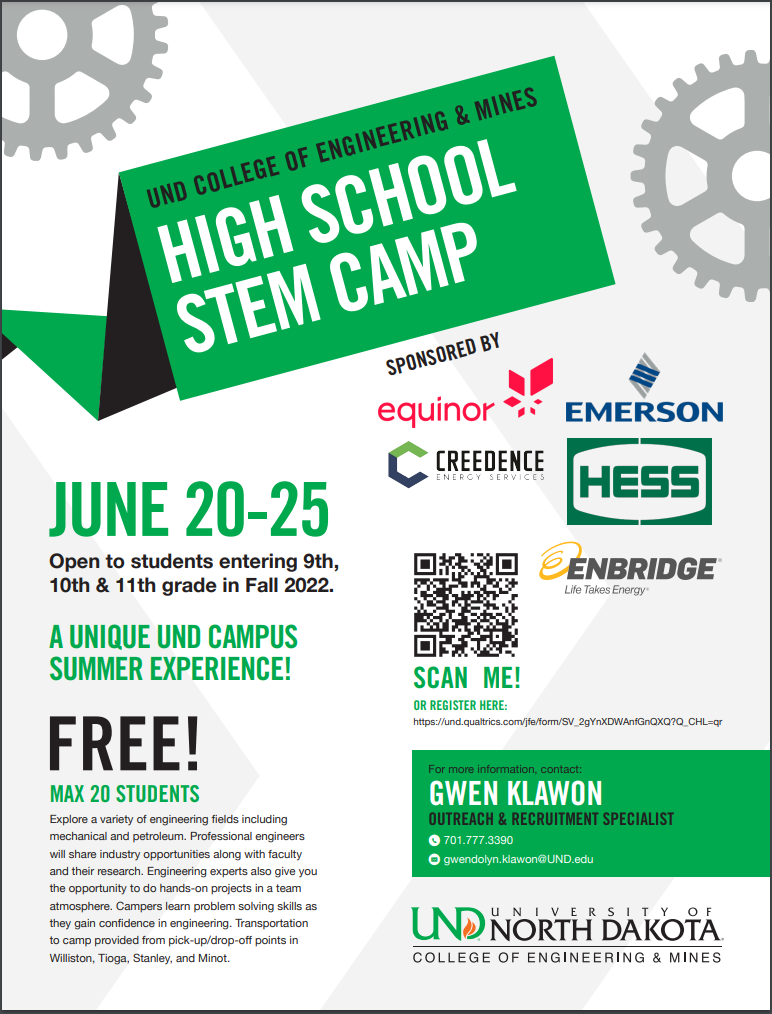 WBSD#7 Parents, Please join us this Monday, January 10th, at Williston High School at 7pm for a Workshop on Cyber Safety and Security. At this high energy, fast paced presentation you will learn about every app, how to monitor your child's activity and see real time how to navigate the most popular social media apps. Sgt. Rich has spoken to over 1 million people worldwide and has been featured on NBC, FOX, CNN and Good Morning America! For more info, check out
www.AlwaysConnected.org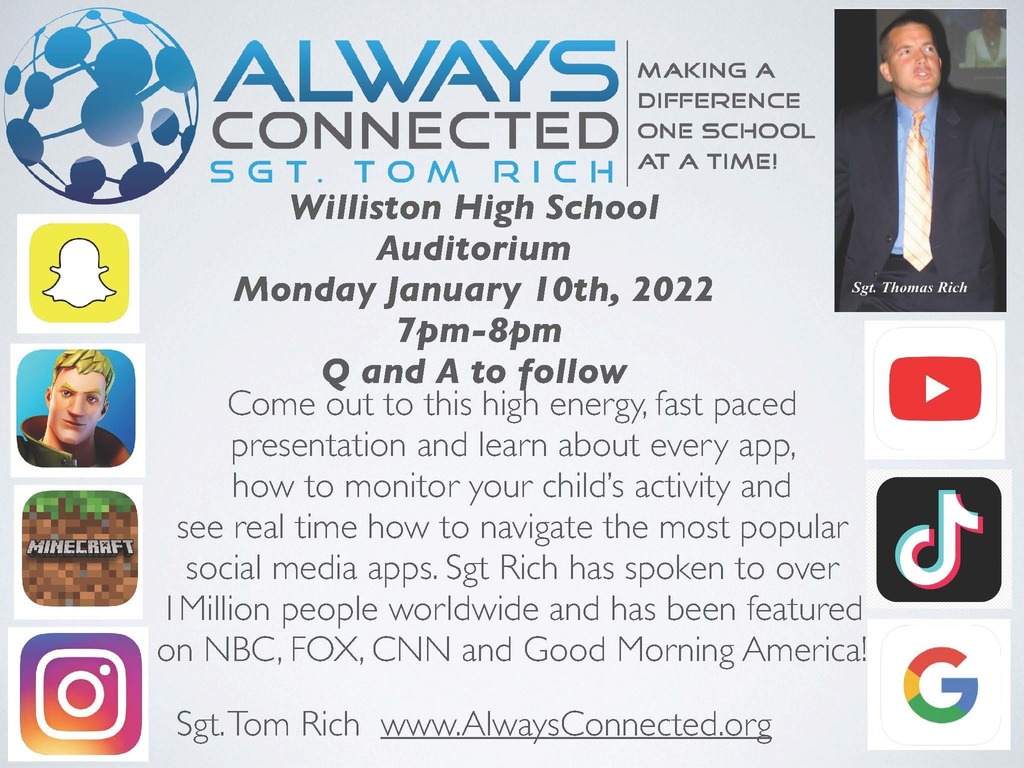 Our phone lines are currently down at Missouri Ridge, Garden Valley, Round Prairie, WHS, and the Education Office. If you need to reach any of these schools, please contact our district office (701)572-1580. Thank you for your understanding.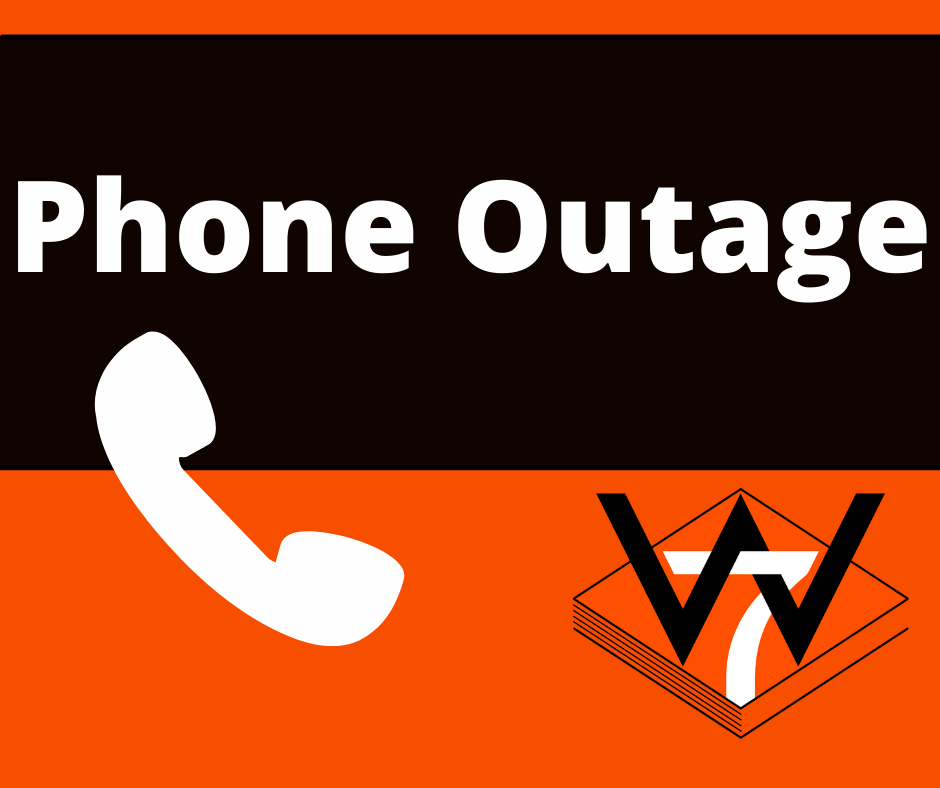 Today is the first day of practice for 7th and 8th grade boys basketball. The 8th grade boys basketball team will practice at Missouri Ridge. The 7th grade will practice in the WMS gym and will be picked up out of door 3 after practice. After both practices today, there will be a short parents meeting. To be able to practice, your student must be registered, have a physical on file, paid the fee, and cleared by the Activities Office.