Coyote Girls Golf is in Bismarck today for a meet at Tom O'Leary Golf Course starting at 10am!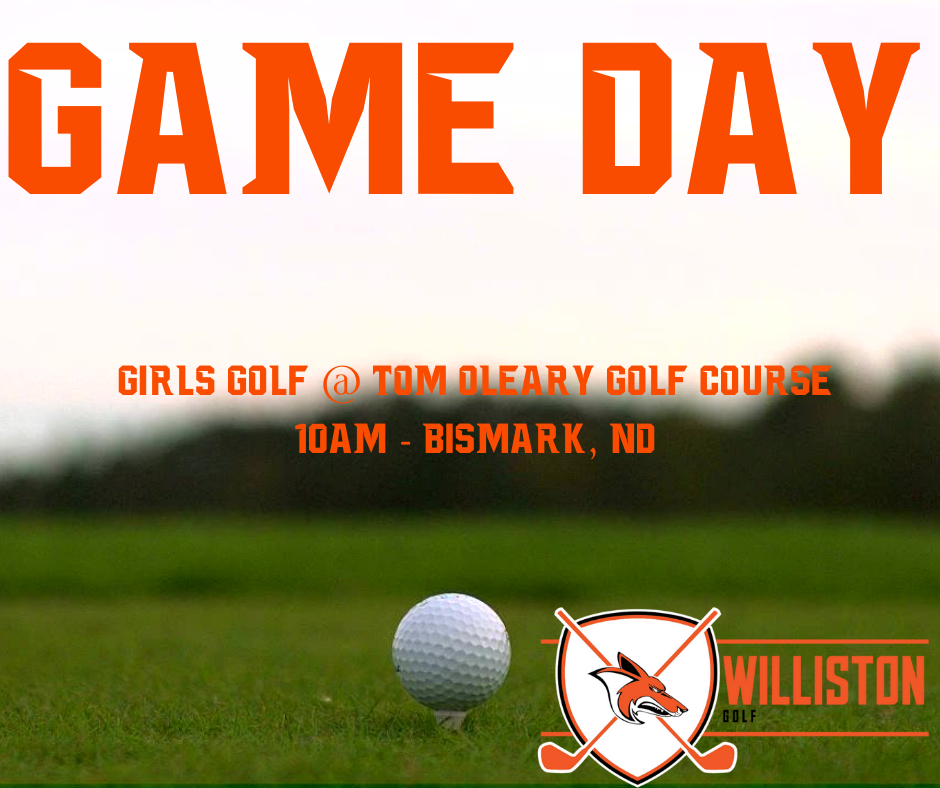 Coyote Football hits the road to open their season at Grand Forks Red River today at Cushman Field. Kick Off is at 7pm!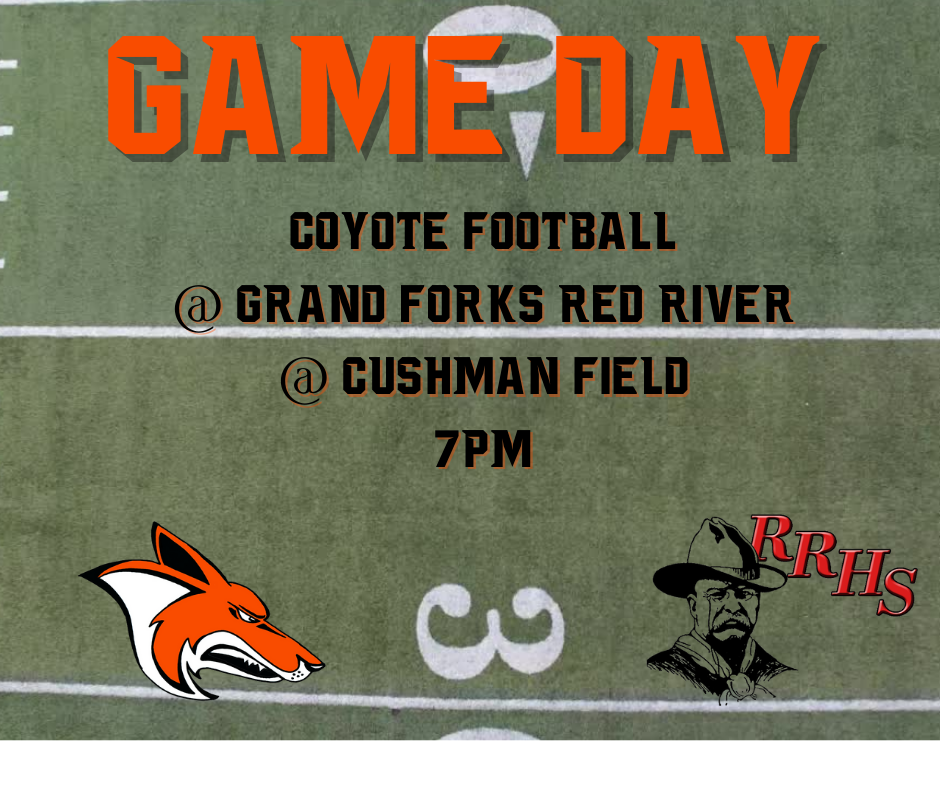 Coyote Boys Soccer hits the road for the first time this season as they travel to Bismarck to take on Century High School!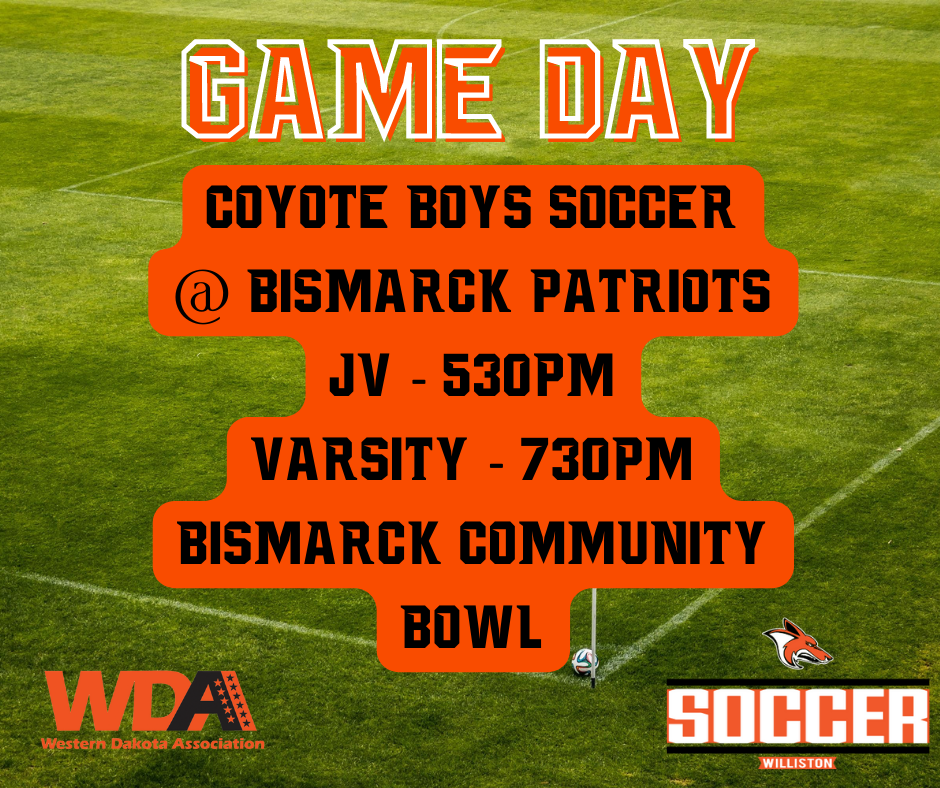 Coyote Boys Soccer Season Opener vs. Bismarck Demons JV- 5:30pm Varsity - 7:30pm Legends Field

Girls Golf tees off their season today in Watford City at the Fox Hills Country Club!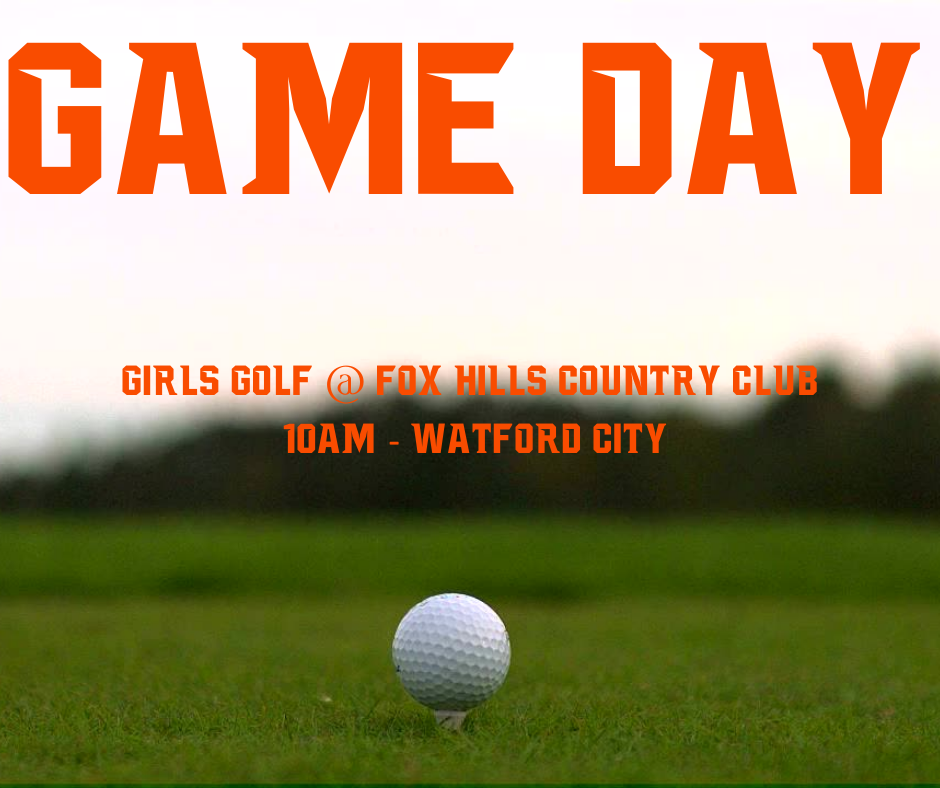 Coyote Country! We still have several openings for Coaching Positions this fall. We also are in need of Game Day Workers for our Varsity Football, Soccer and Volleyball games! Please reach today for more information!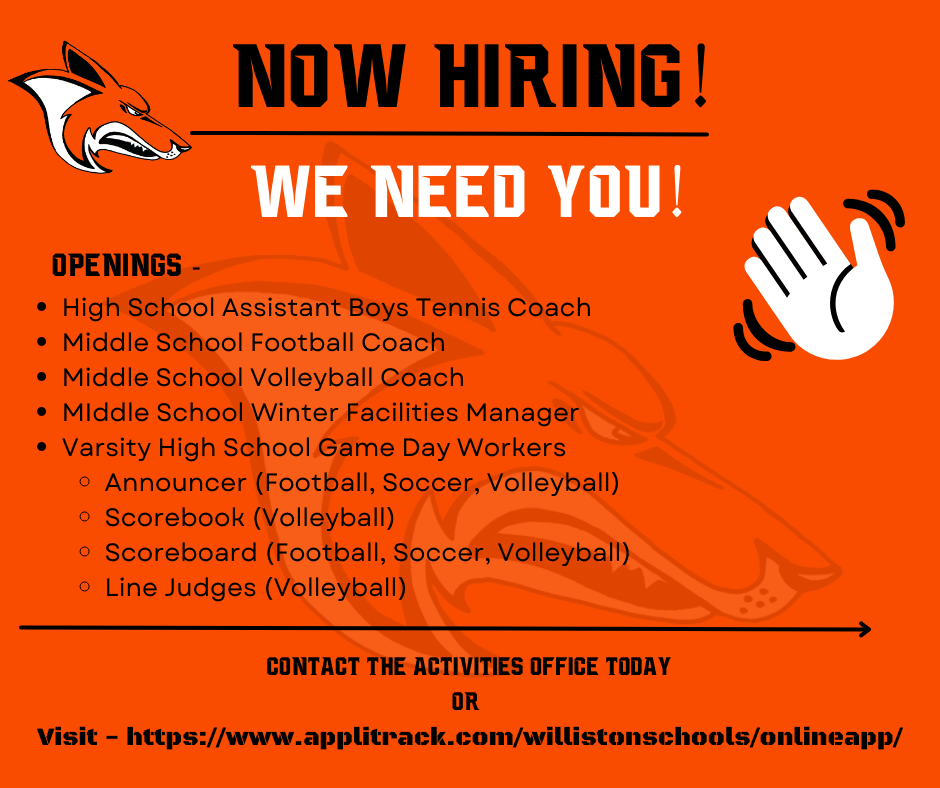 We want to say THANK YOU to all the physicians and dentists who donated their time and skills to provide free physicals and mouth guards to our student athletes at our All-Sport Sign Up and Physical Day. This event raised $7,650 for our Athletics/Activities Department and provided physicals for 151 students, along with 40 customized mouthpieces. Thank you again to these individuals: CHI St. Alexius Health Dr. Rob Kemp, MD Oforiwaa Boateng Holland-FNP-C Amarjot Singh Mann, MD Franco Aguilar, MD Trinity Community Clinic Joseph Stonehocker, CPNP-PC Heidi Grondahl, WHNP-BC Dr. Mark Olson, MD Local Dentists Arie Bauer DDS PC Kami Dornfeld DDS Jeremy Messer DMD Brock Casperson DMD Also, thank you to our nurse coordinator, Lynn Douglas, our athletic/activities staff Robert Conley, Colby Simonson, and Tyler Quilling, and these volunteers: Victoria Douglas, Sheridan Licciardi, Savannah Douglas, Brooklyn Douglas, Emma Solberg, Taylor Rath, Tailor Quilling, Abi Elkins, and Boatemaa Boateng.

Fall Sports Parent Meeting Dates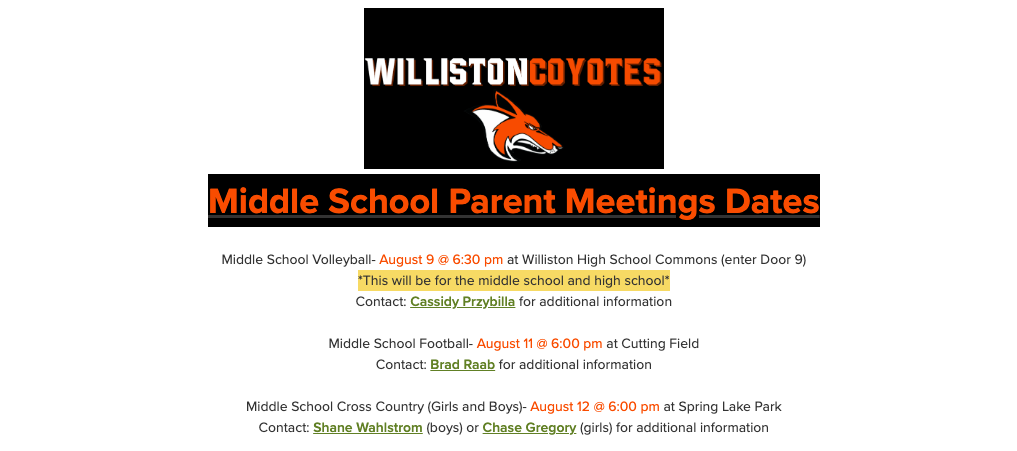 Today's the day! The Activities Department will be hosting an All Sport Registration Day at Williston High School TODAY, July 27th from 4:30-7:30 p.m. Physicals will be for all 7-12th grade students at a cost of $50. All proceeds will go to WBSD7 Athletic Programs. Custom fitted mouthpieces will be provided by Arie Bauer and the Family Dentistry Clinic for any student-athlete that wishes to have one. We would like to extend a special thanks to doctors Kami Dornfeld, Jeremy Messer, and Brock Casperson in helping this event become possible. Activities Staff will be present to assist in registration of the athletes.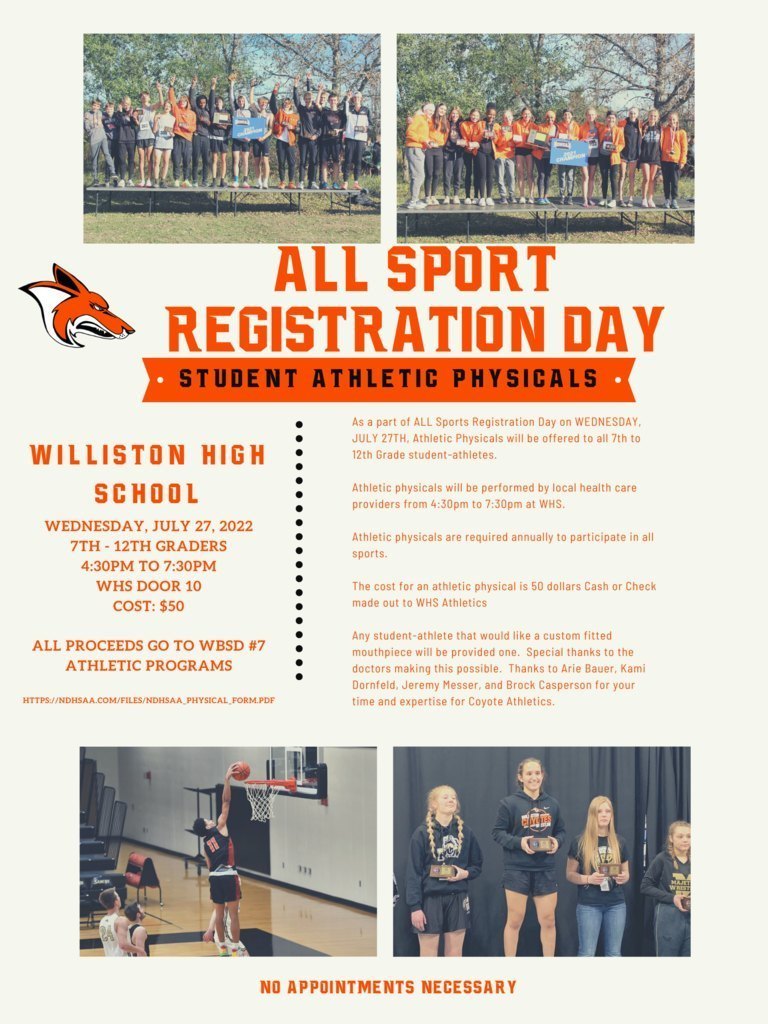 Physicals- update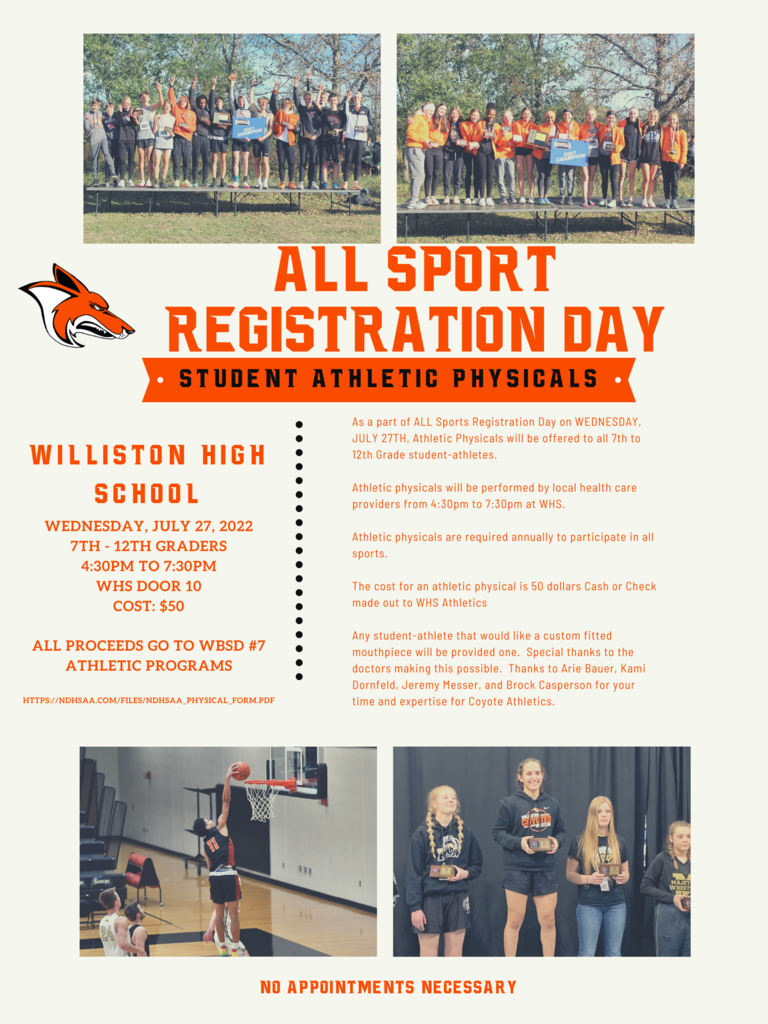 This week, the Williston Police Department will be conducting active shooter training at the Bakken Elementary and Williston Middle School buildings. During this time, the public is not allowed on either campus. Thank you @Williston Police Department North Dakota for your dedication to the safety of our students and staff.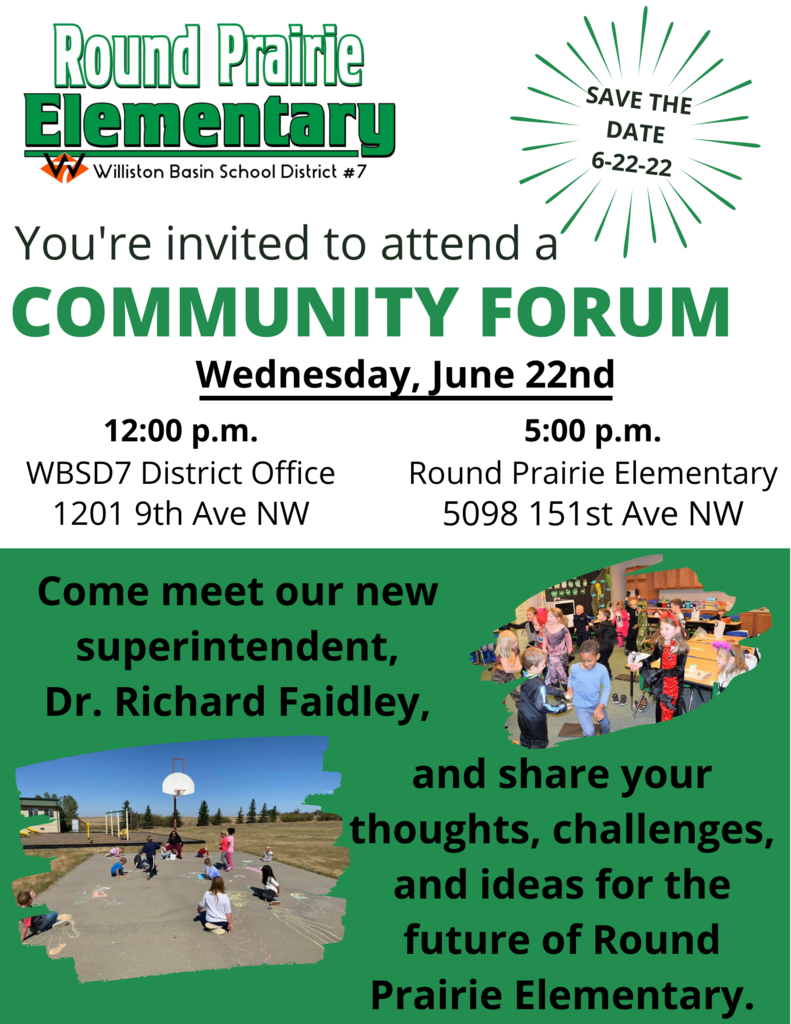 WHS Volleyball Camp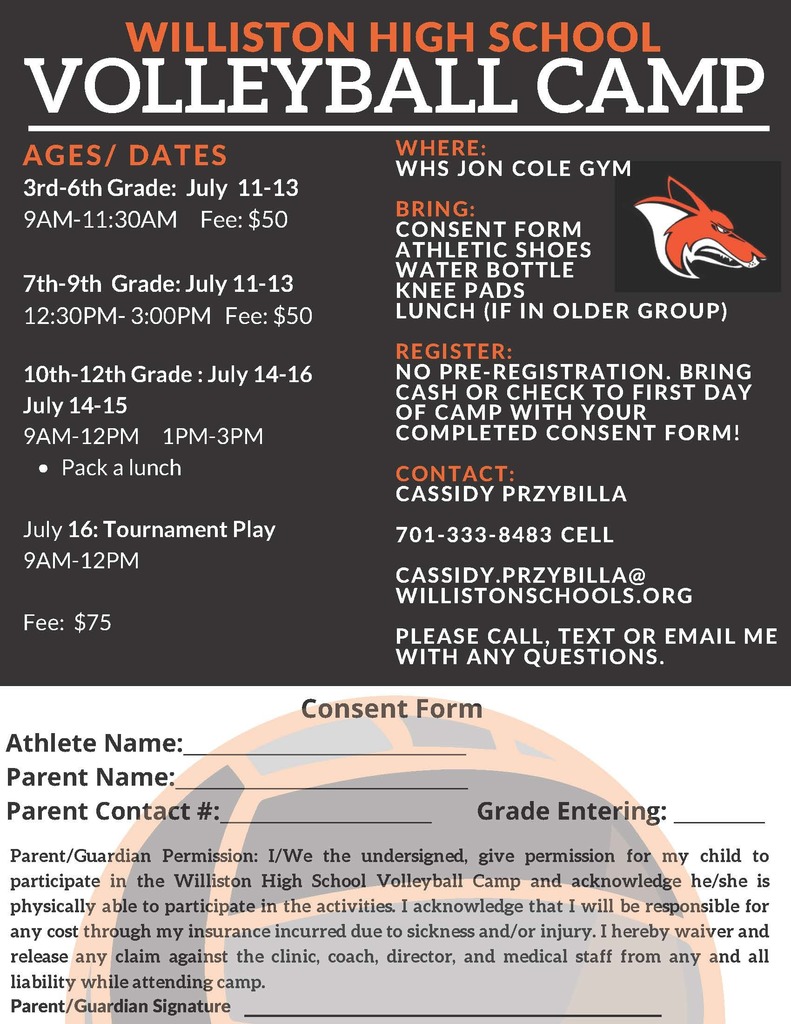 There is an opening at WHS for the Head Softball position. All interested applicants please apply online.

Congratulations to Shelby Meyer on taking 5th place in the WDA singles conference tournament! She was also named to the 2022 WDA All-Conference Singles Team Way to go Shelby!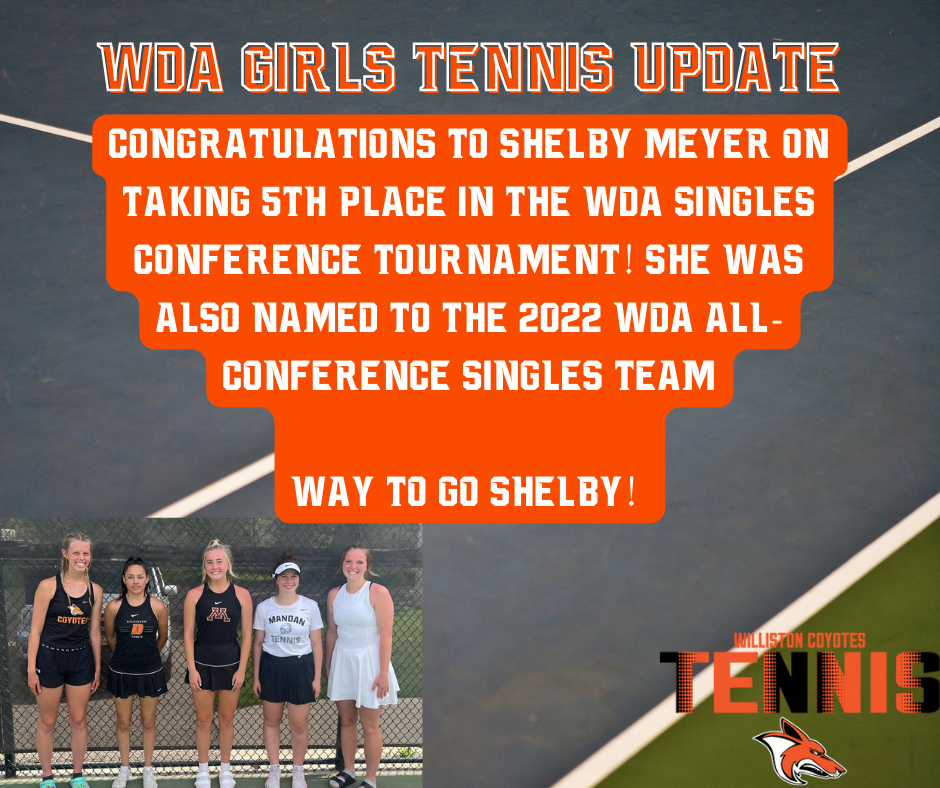 NDHSAA State Track Meet Results Ethan Moe - 1st place in the 800 Meters - Back to Back State Champ Eleni Lovgren - 1st place in the 3200 meter run Boys 4x800 Meter Relay - 1st place - Set a new school record. Ethan Moe - 2nd place in the 1600 meter run Eleni Lovgren - 2nd place in the 1600 meter run Boys 4x400 Meter Relay - 3rd place - Broke a 41 year school record Ivan Askim - 4th place in the 3200 meter run Isiah St. Romain - 5th place in the Long Jump Boys 4x200 meter relay - 6th place Girls 4x800 Meter Relay - 6th Place Kaitlyn Barbarick - 7th place in pole vault Boys Team - 7th Place overall Way to go Coyotes!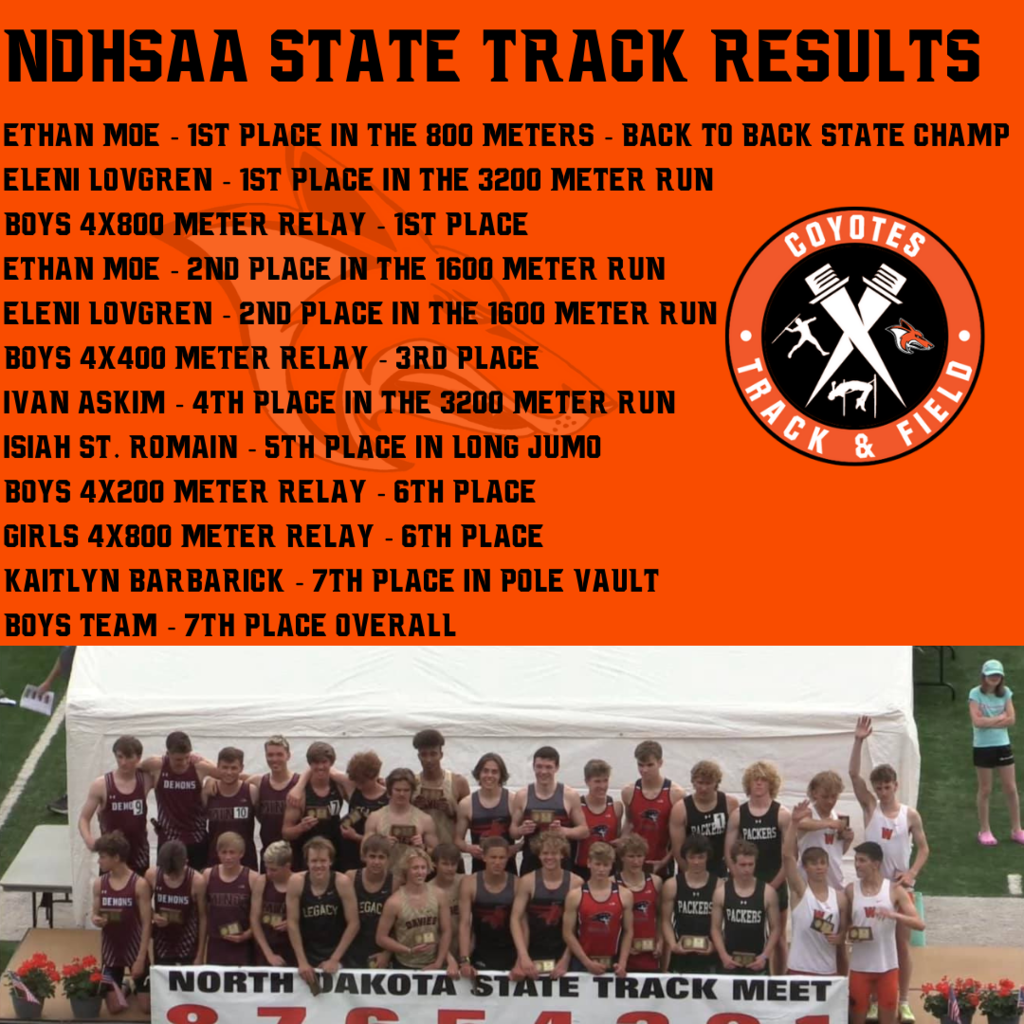 WBSD7 will be having their Summer Meal Program again this year! This is available for all students 18 and under. Any questions, please contact Lynelle Johnson at
lynelle.johnson@willistonschools.org
.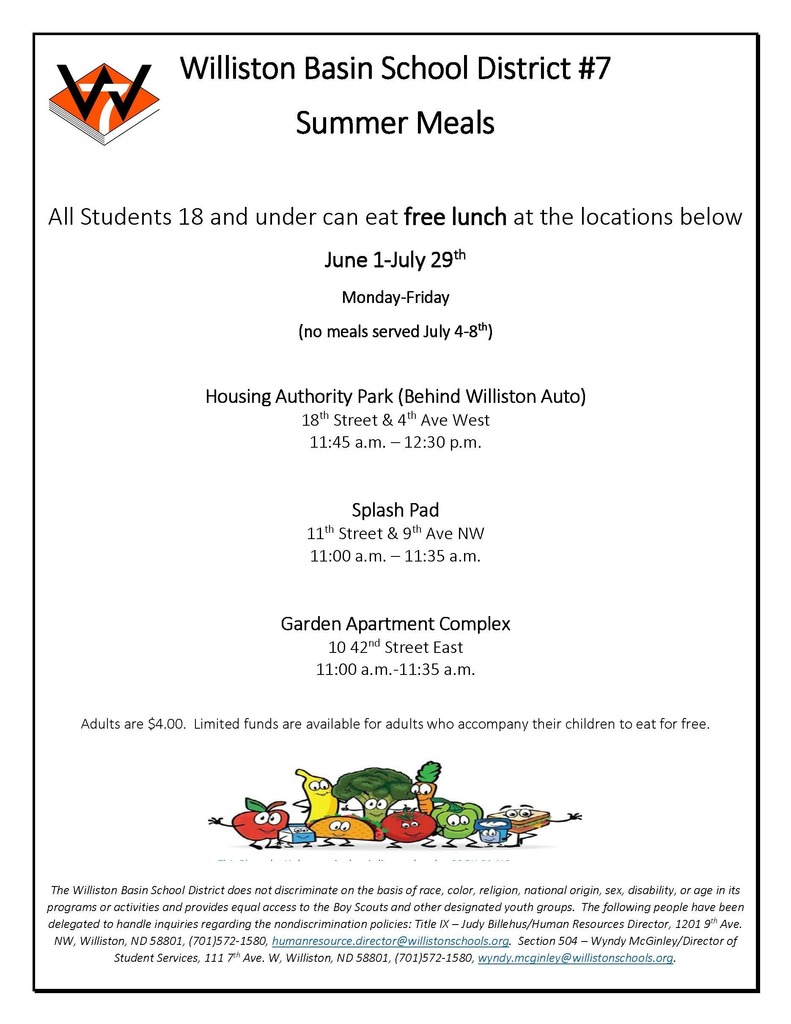 Coyote Softball WDA Play-In Game vs. Watford City High School @ 4:30pm @ Western Star Softball Complex Monday May 23rd No Passes will be accepted $8 Adults $5 Students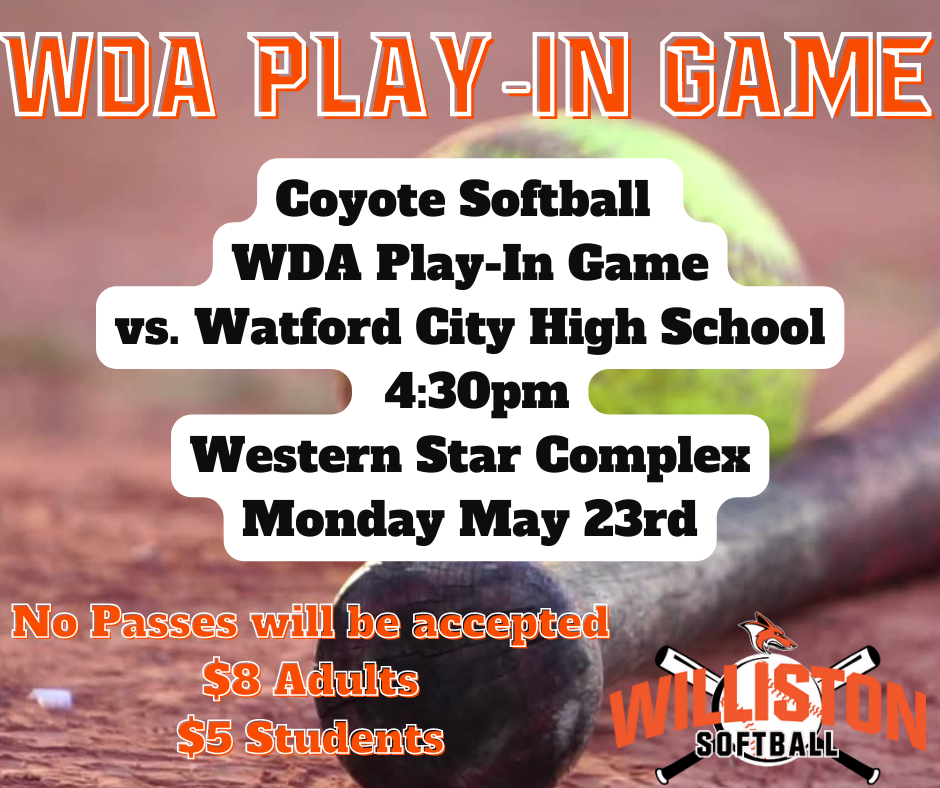 Coyote Baseball WDA Play-In Game vs. Watford City High School 4:30pm Ardean Aafedt Stadium Monday May 23rd No Passes will be accepted $8 Adults $5 Students