WHS Girls Basketball Parent Meeting Tonight!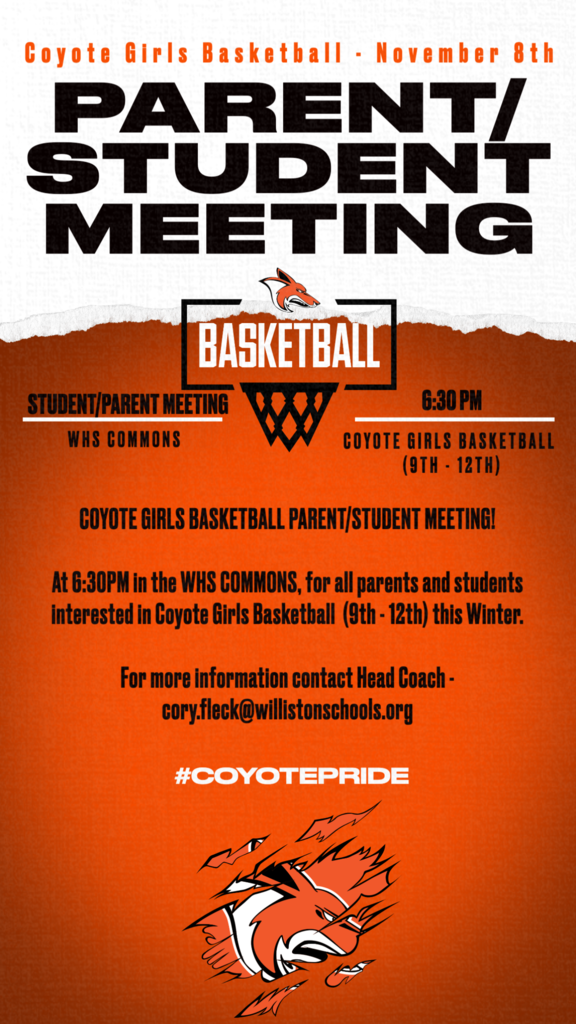 Girls Swim & Dive Qualifiers!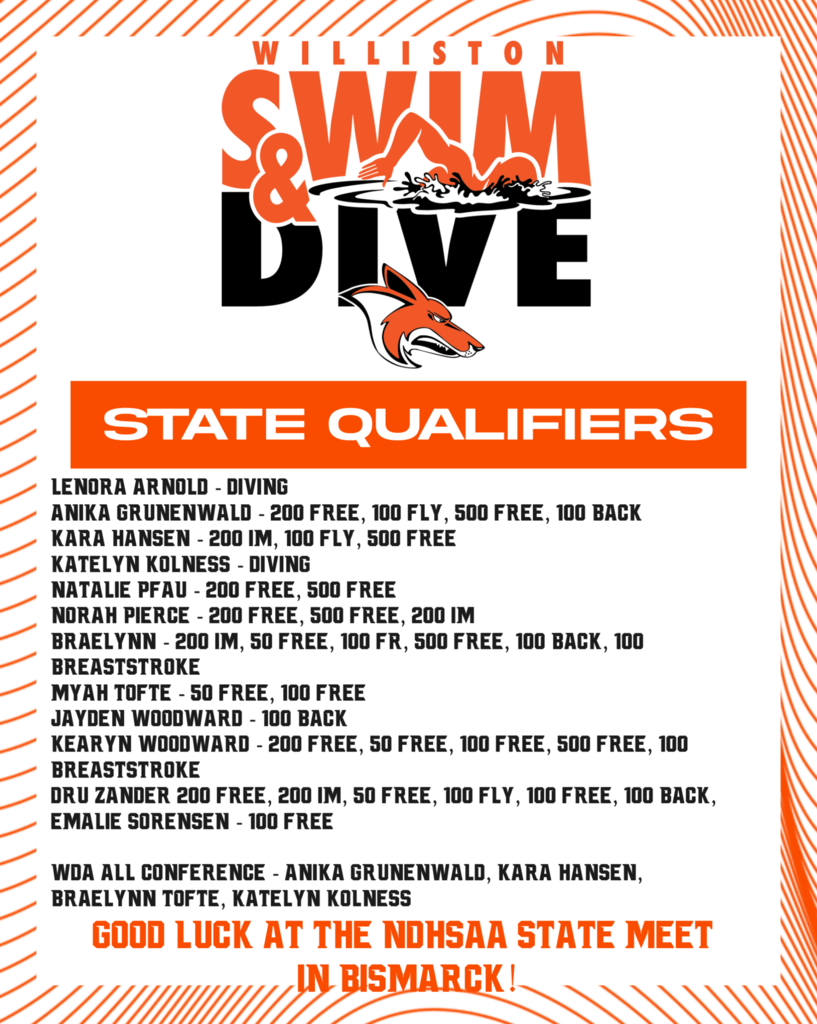 Now Hiring!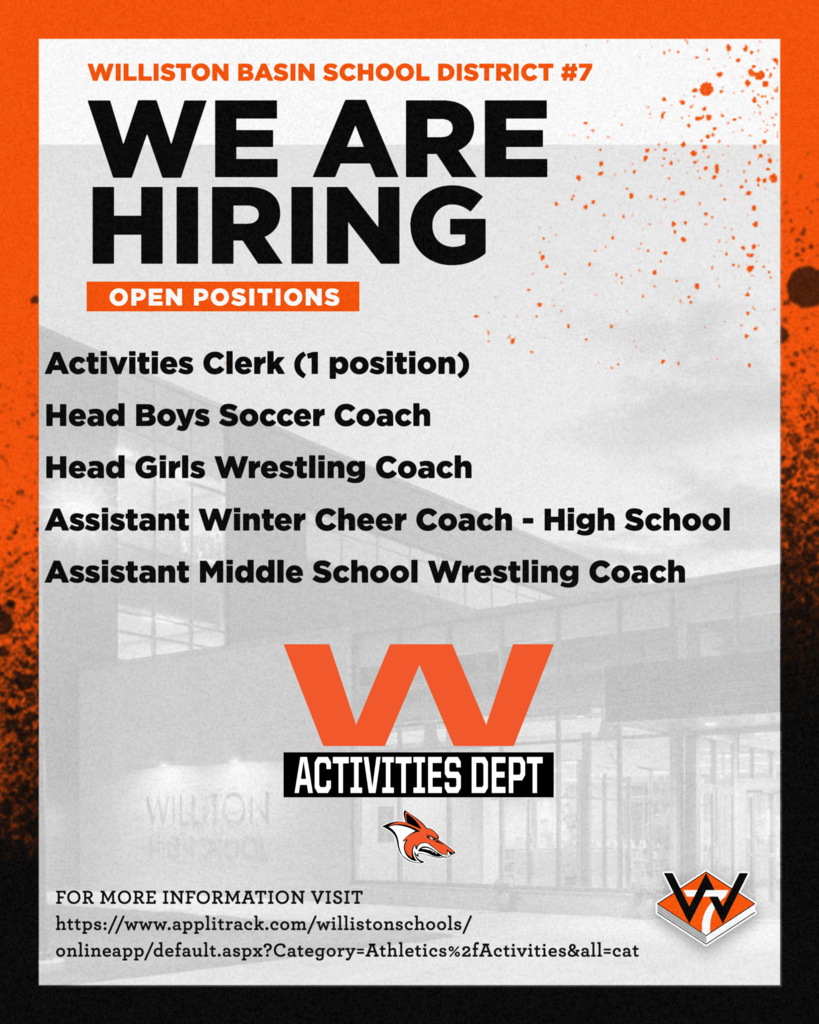 Upcoming Parent Meetings Mark Your Calendars!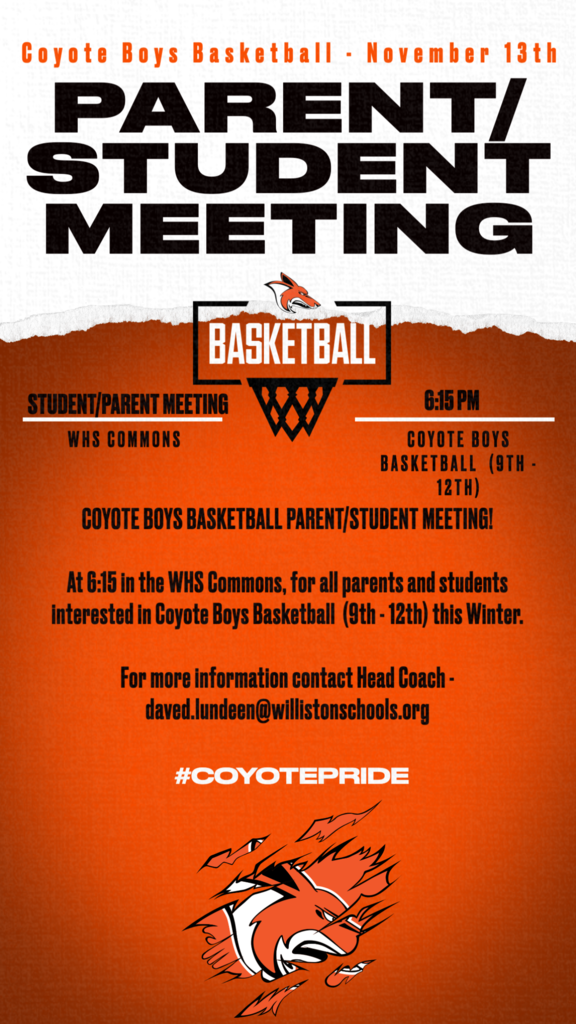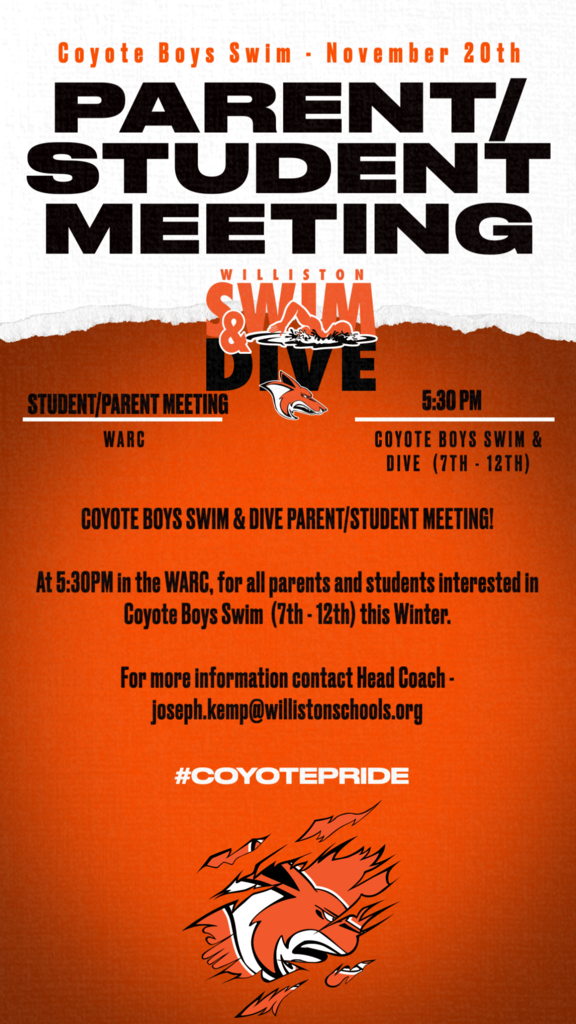 This Week for the Coyotes!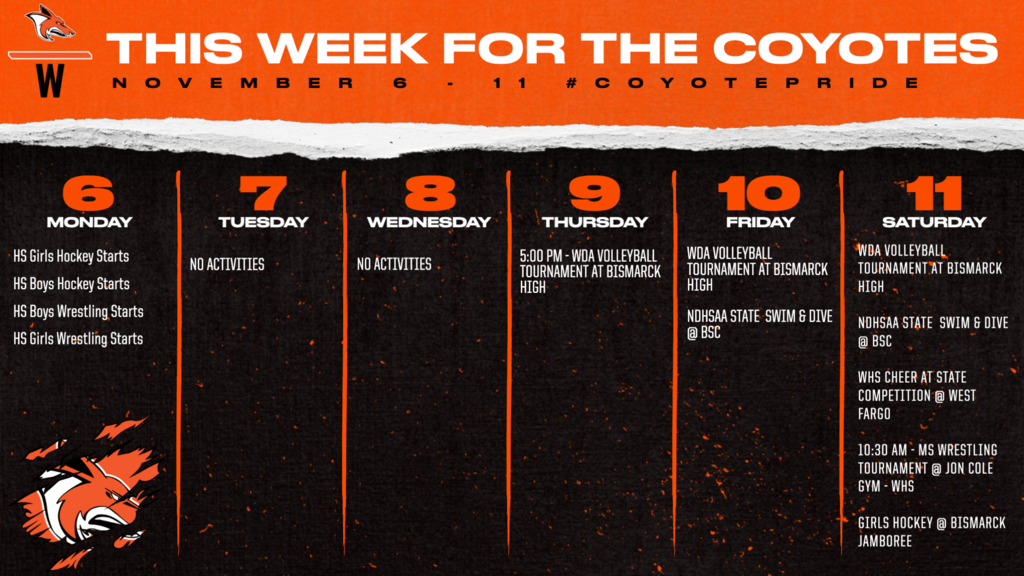 Middle School Girls Basketball Information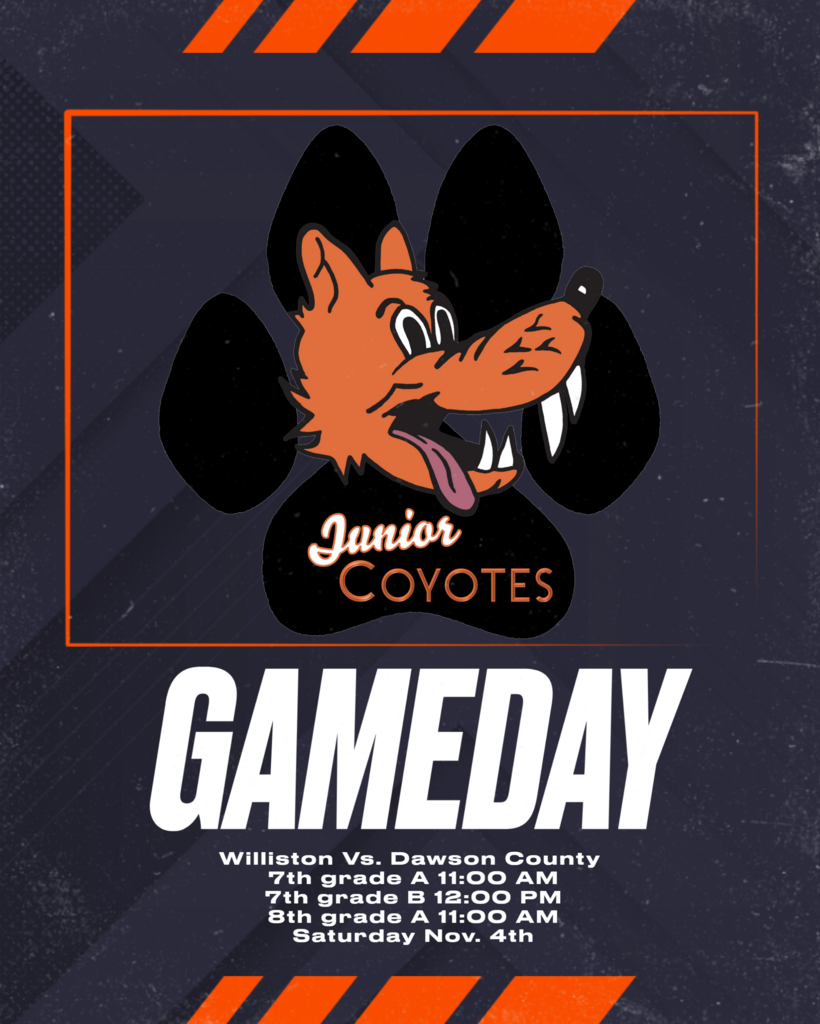 We would like to invite you to a 𝐂𝐨𝐦𝐦𝐮𝐧𝐢𝐭𝐲 𝐅𝐨𝐫𝐮𝐦 on Wednesday, November 8th at 6:30 PM in the Williston High School Auditorium (please use Door 9). We will be working with our consultants, RSP & Associates, to gather your input about the potential building of two elementary schools. It is imperative that we work together and collaborate with one another on what the future looks like for the students in our school system. It is important that we have innovative curriculum. It is also important that we have spaces conducive to the 21st Century for our youngest learners. We ask that you join us to gather essential information, provide your input, ask questions, and assist us in doing the absolute best we can for our students, our community and our school district. Please note that there will be another forum held on Monday, December 18th. You are welcome to attend one or both dates. Additionally, a community survey will be sent out to staff, parents and community members following the first forum. Thank you, and we look forward to seeing you on Wednesday, November 8th at 6:30 PM. Questions? Please email
Communications@WillistonSchool.org
~ WBSD7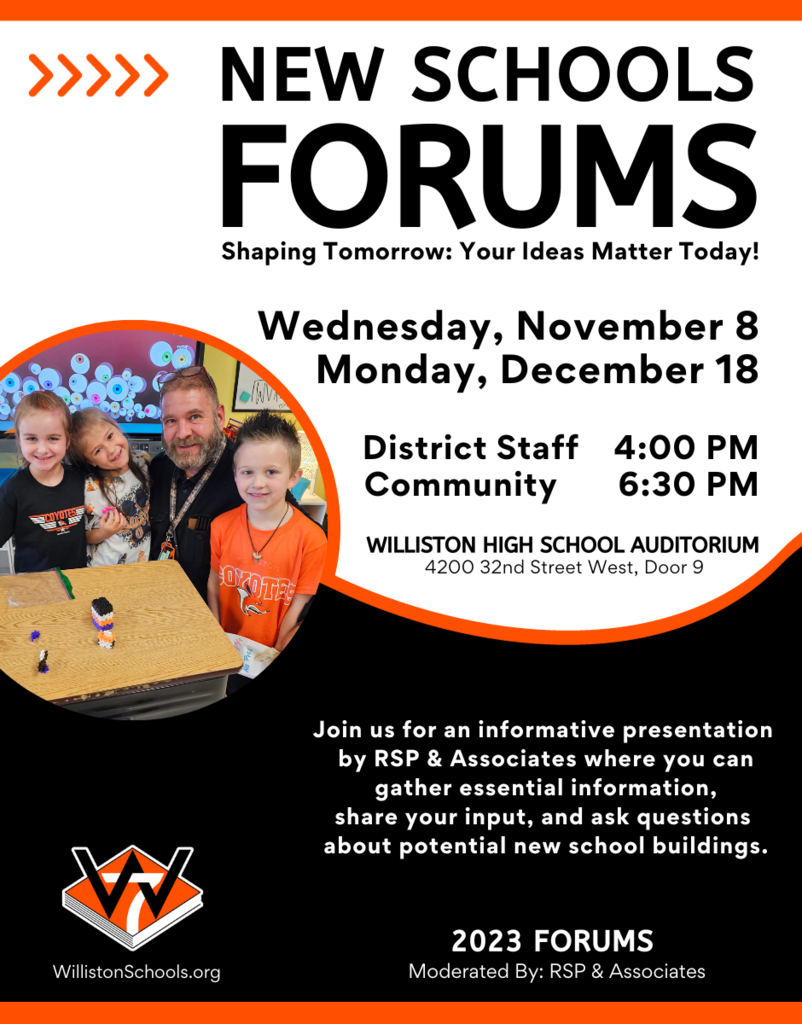 Coyotes come back from down 0-2 to take the 3-2 win over Mandan to advance to the WDA Tournament next week in Bismarck!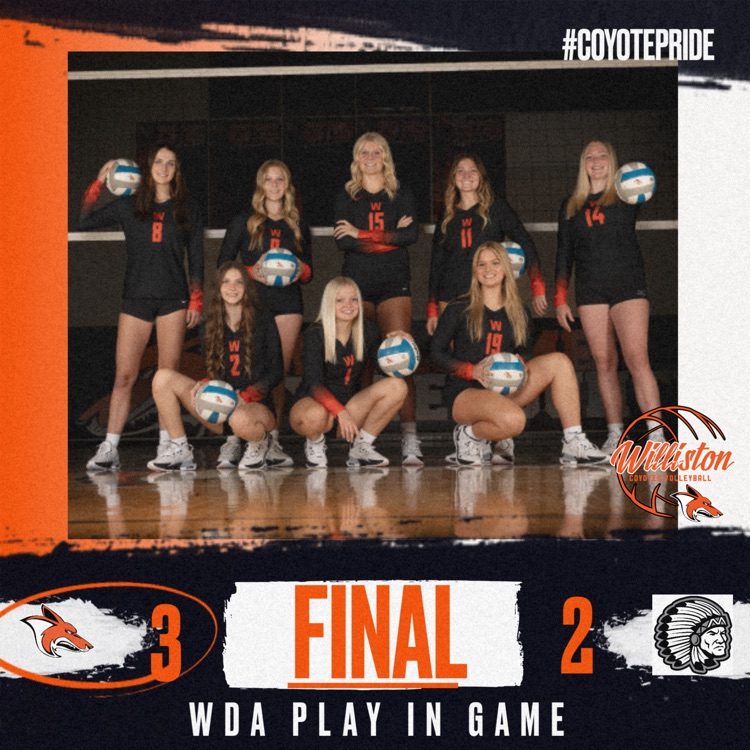 GAME DAY! WDA Volleyball Play - In Game ADMISSIONS ADULTS - $10 STUDENTS - $5 NO PASSES WILL BE ACCEPTED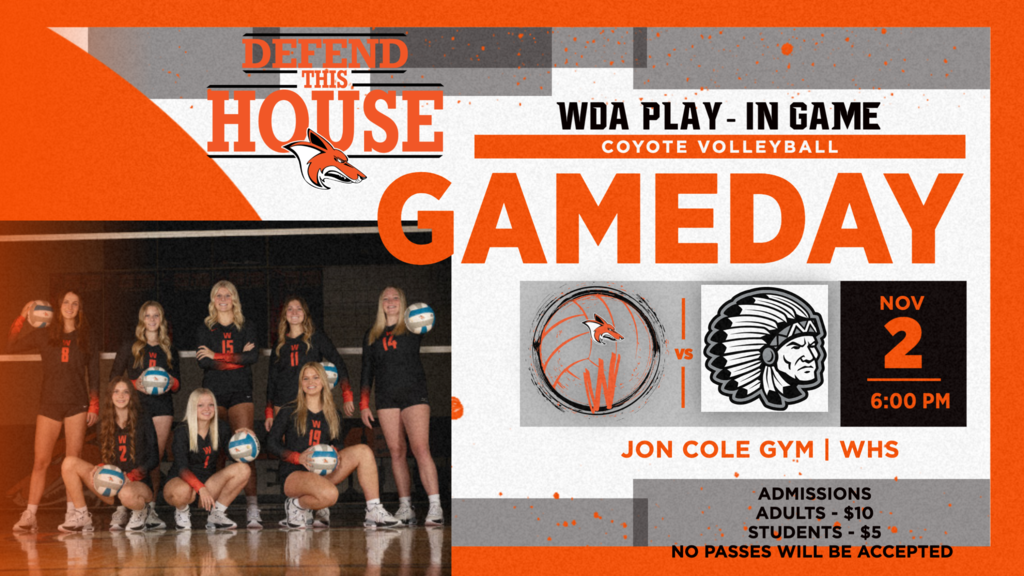 Tonight!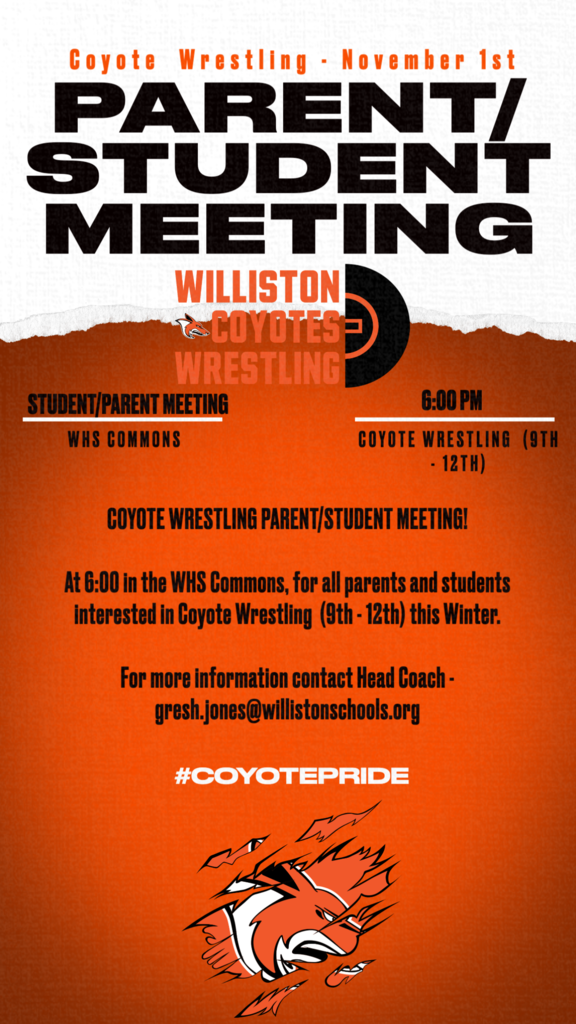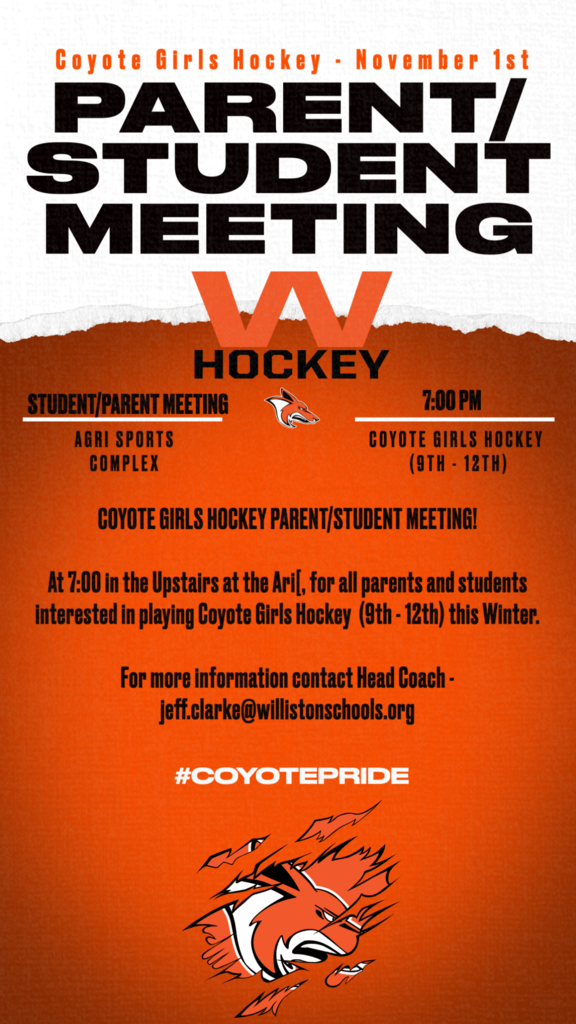 Cold? Get a Coyote Blanket! Sold at the WHS Concession stand during events!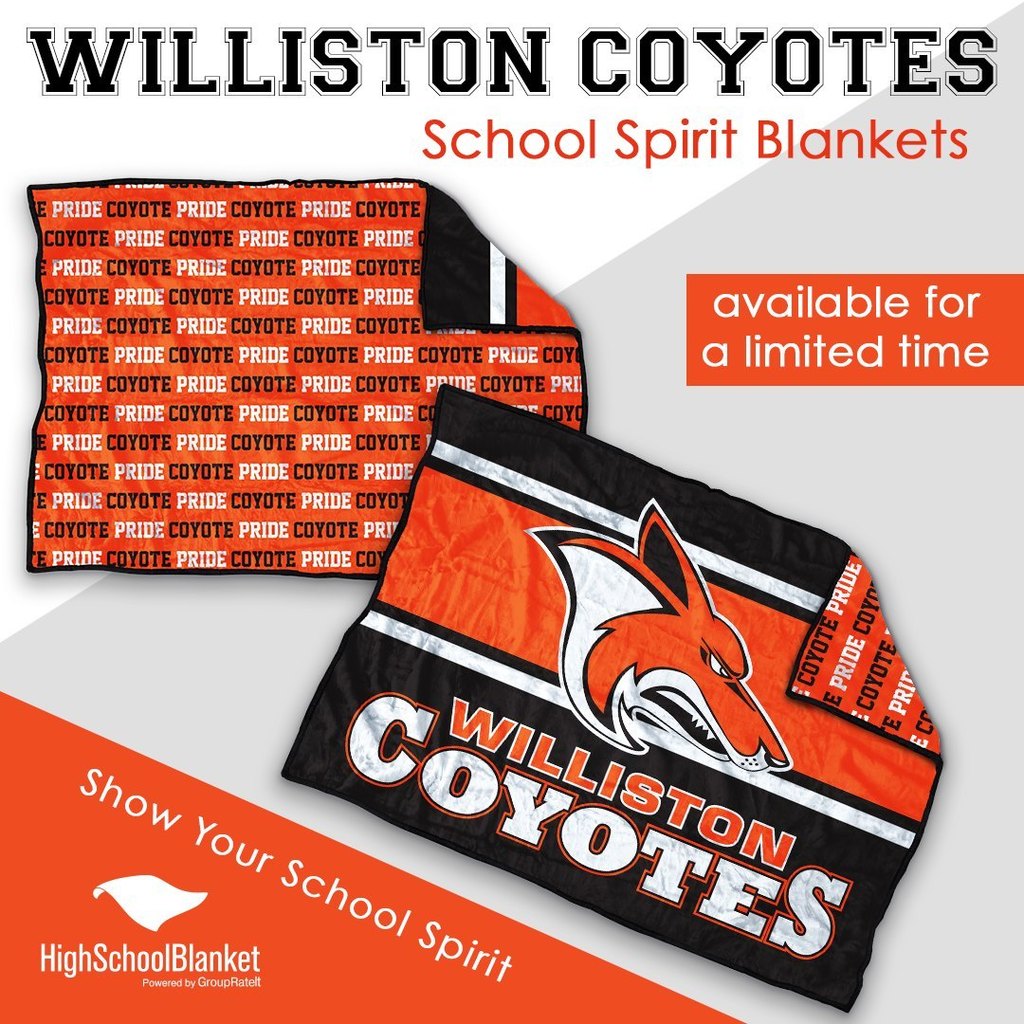 Mark Your Calendars!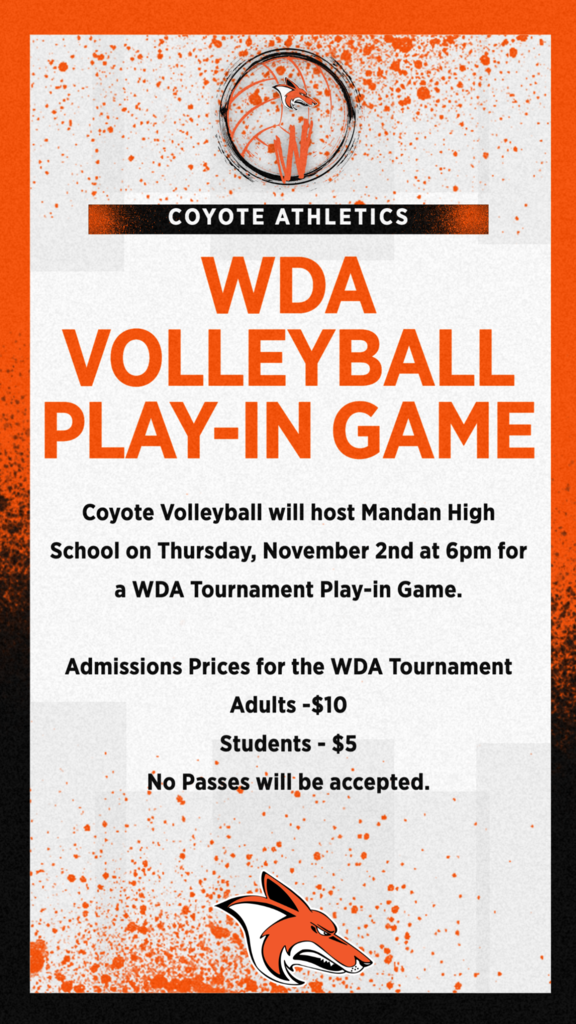 Mark Your Calendars! A couple parent meetings this week.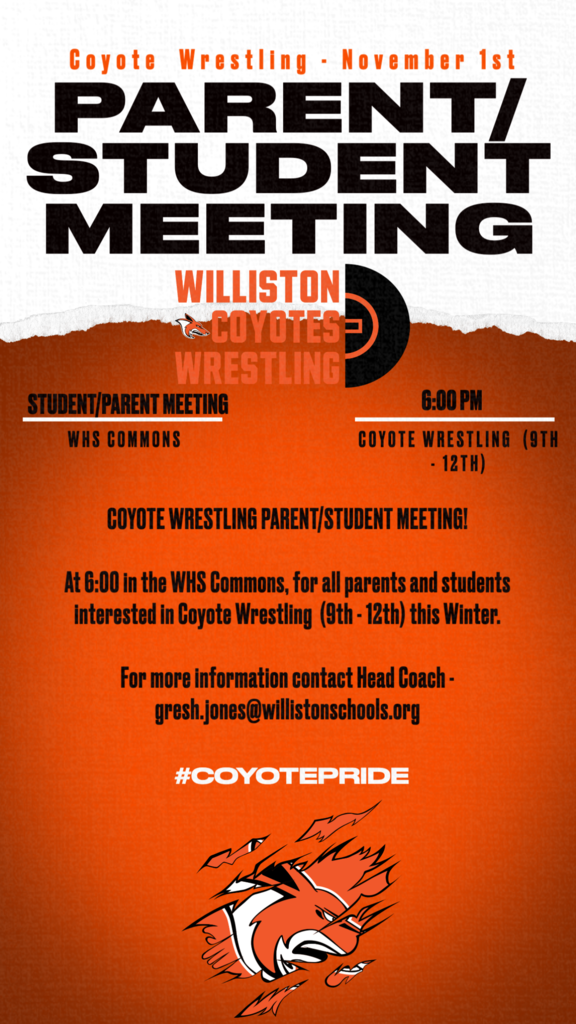 This Week for the Coyotes!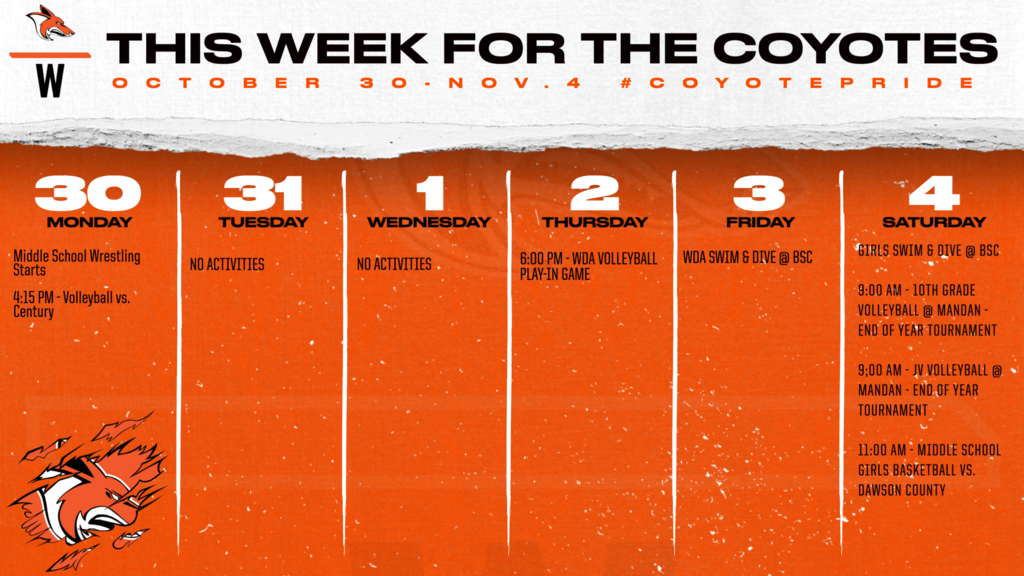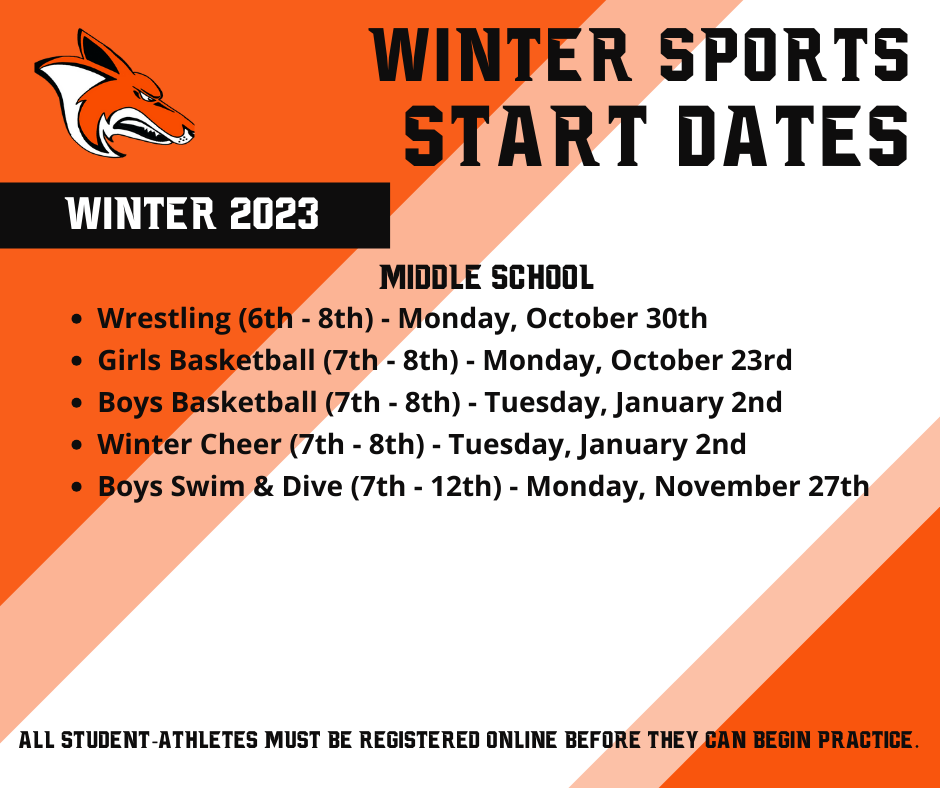 Good Luck to Boys and Girls Cross Country who headed to Jamestown for the State Cross Country Meet!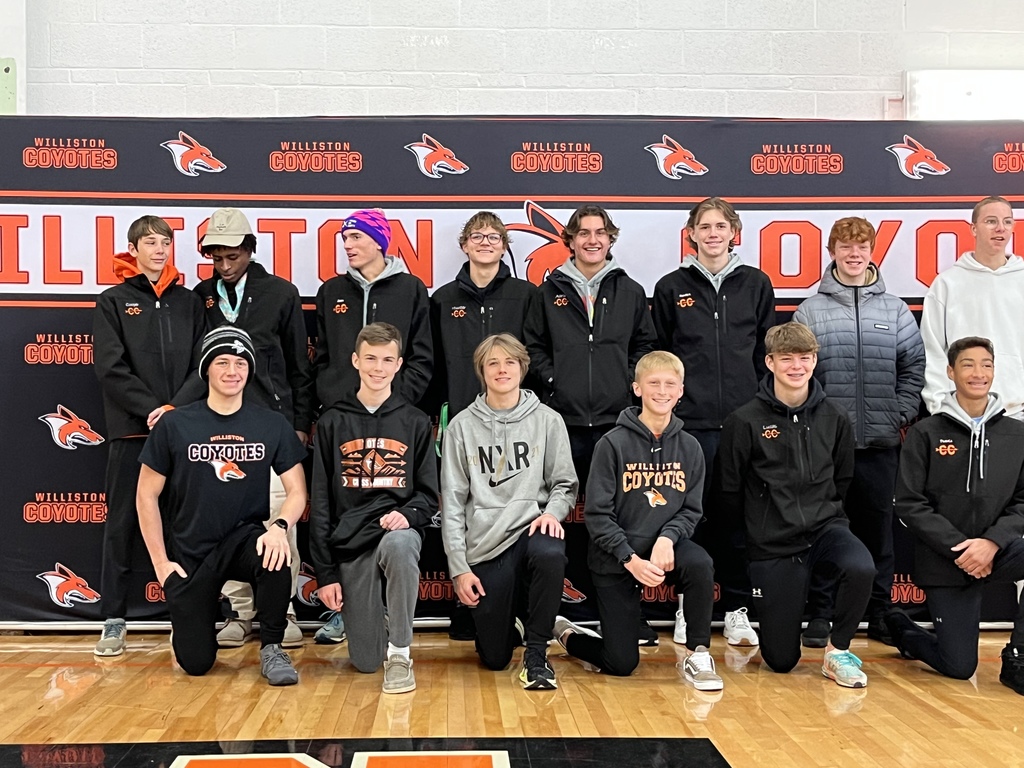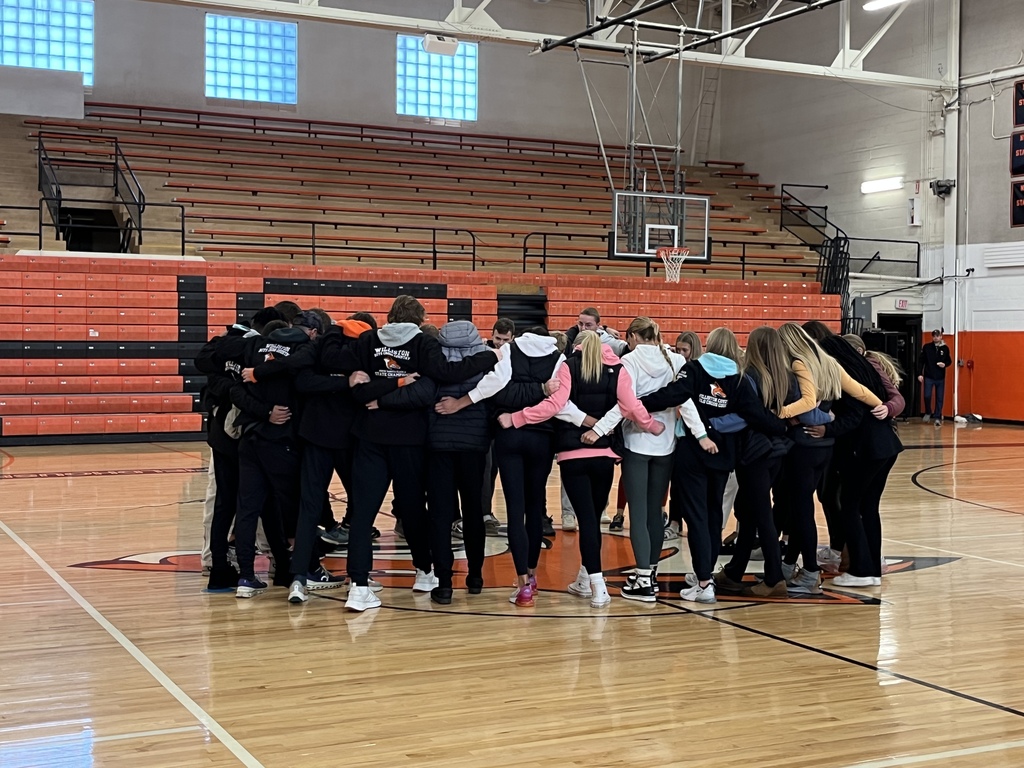 This is a reminder that there is 𝗻𝗼 𝘀𝗰𝗵𝗼𝗼𝗹 𝘁𝗼𝗺𝗼𝗿𝗿𝗼𝘄, 𝗙𝗿𝗶𝗱𝗮𝘆, 𝗢𝗰𝘁𝗼𝗯𝗲𝗿 𝟮𝟳𝘁𝗵, as previously scheduled on our district calendar. Please stay warm and safe!❄️ We look forward to seeing all of our students back in school on Monday, ready to finish the month strong! ​ Have a fantastic weekend! WBSD7 District Calendar:
https://5il.co/1r1wa
#wbsd7 #noschooltomorrow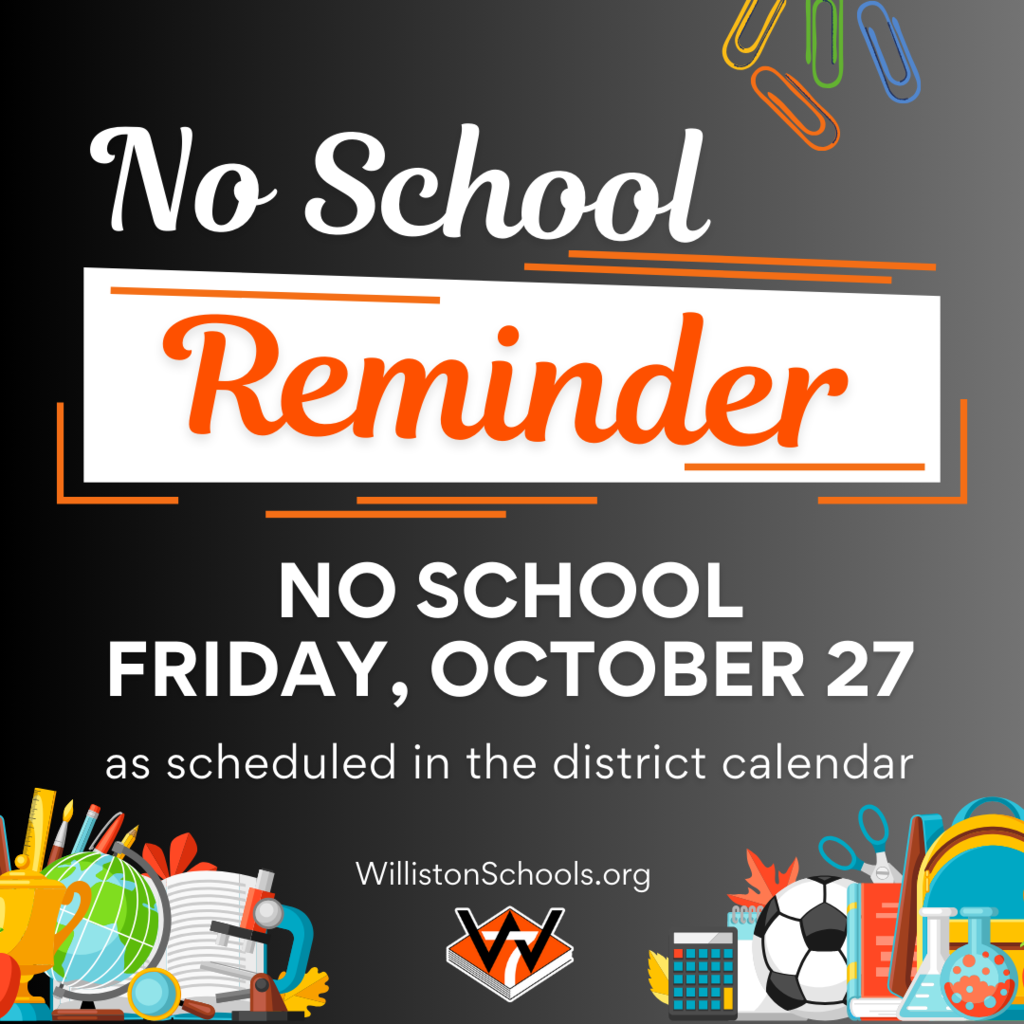 Due to the winter storm and unsafe conditions, tomorrow will be a Virtual Learning Day. 🔸This means there will be no in-person school for students and staff tomorrow, October 26th. 🔸All practices, games and other school related activities are canceled for tomorrow. 🔸Teachers will utilize either ParentSquare or Google Classroom to communicate student assignments and expectations. REMINDER: There is 𝗡𝗢 𝗦𝗖𝗛𝗢𝗢𝗟 𝗼𝗻 𝗙𝗿𝗶𝗱𝗮𝘆, 𝗢𝗰𝘁𝗼𝗯𝗲𝗿 𝟮𝟳𝘁𝗵, as noted on the district school calendar.
https://5il.co/1r1wa
Weather Information: weather.com Road Condition Information: travel.dot.nd.gov Questions?
communications@willistonschools.org
willistonschools.org #wbsd7