WHS Open House and BBQ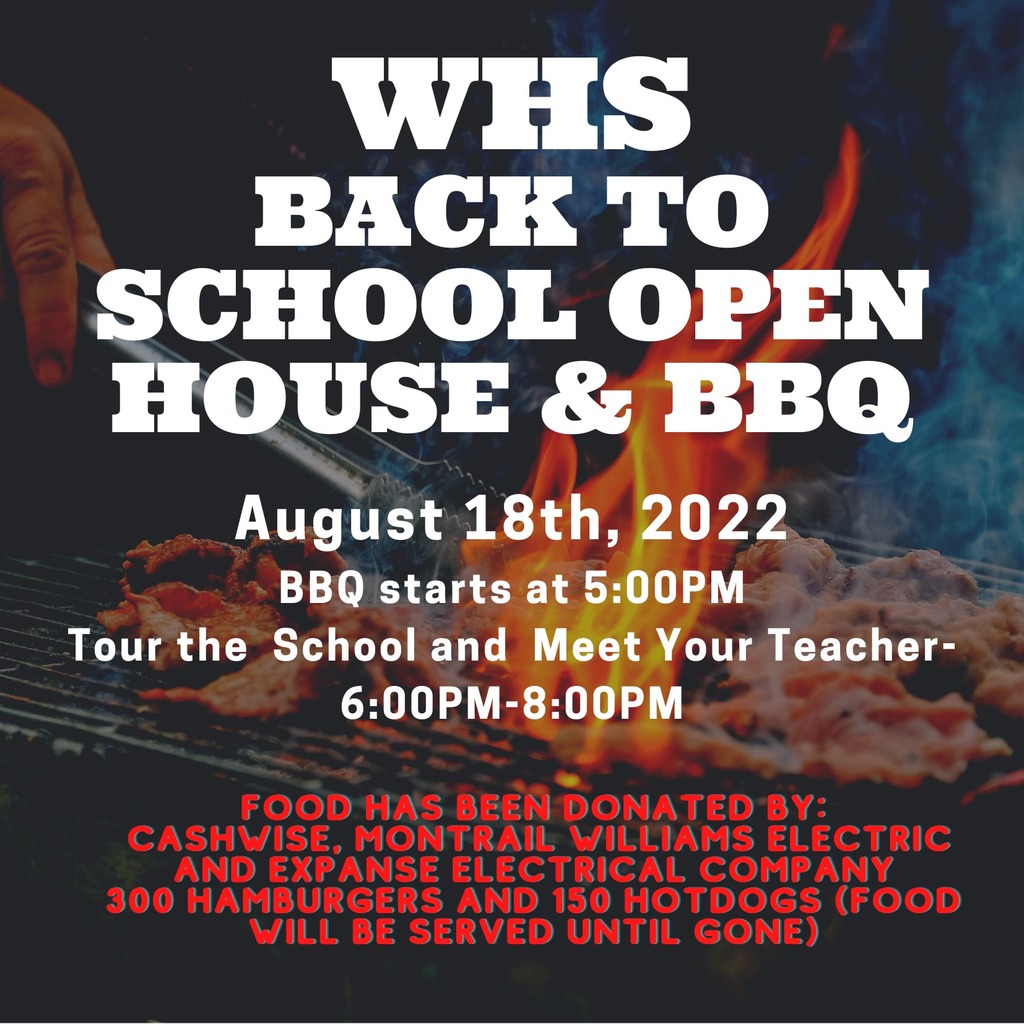 Monday August 15th at 10:00AM the high school theater will be open for students and staff. High School counselors and the Crisis Team Social Workers will be available for staff and students needing support. If you have any questions please contact 701-572-0967. Thank you.

Dear Williston Community, It is with profound sadness that I write this letter to let you know that one of our Williston High School students passed away unexpectedly this weekend. Our sincere condolences and thoughts go out to the family and friends of our student. During this time as the school community processes the tragic news and copes with grief, the school district will offer counseling and bereavement support services to all of our students and staff with our WBSD 7 Crisis Team. A student death is a difficult and challenging situation that can generate a high level of anxiety and distress for some students. If you feel that your children are having difficulty, we encourage you to discuss their thoughts and feelings to help them work through their grief or concerns. Please also consider monitoring and discussing your children's communications (social media, phone, e-mails, text messages) to further assess their potential needs. If you feel that your children need to speak to a counselor or other caring adult, please do not hesitate to call our schools and let us know. Additionally, you should feel free to contact the WBSD #7 Crisis Team (701-572-0967) for guidance on how to handle and talk about any grief or concerns that your children may be experiencing. Our Crisis Team will be available at Williston High School this coming week for any staff or students that need support. There are also resources on grief and helping students cope with loss on our website. This is a difficult time for everyone, but I know our students and staff will lean on each other as they fondly remember their classmate. If you have any questions or concerns, please do not hesitate to contact me, your building principal or the WBSD 7 Crisis Team. Sincerely, Dr. Richard H. Faidley Superintendent of Schools

2022-2023 Bell Schedule

WHS 2022-2023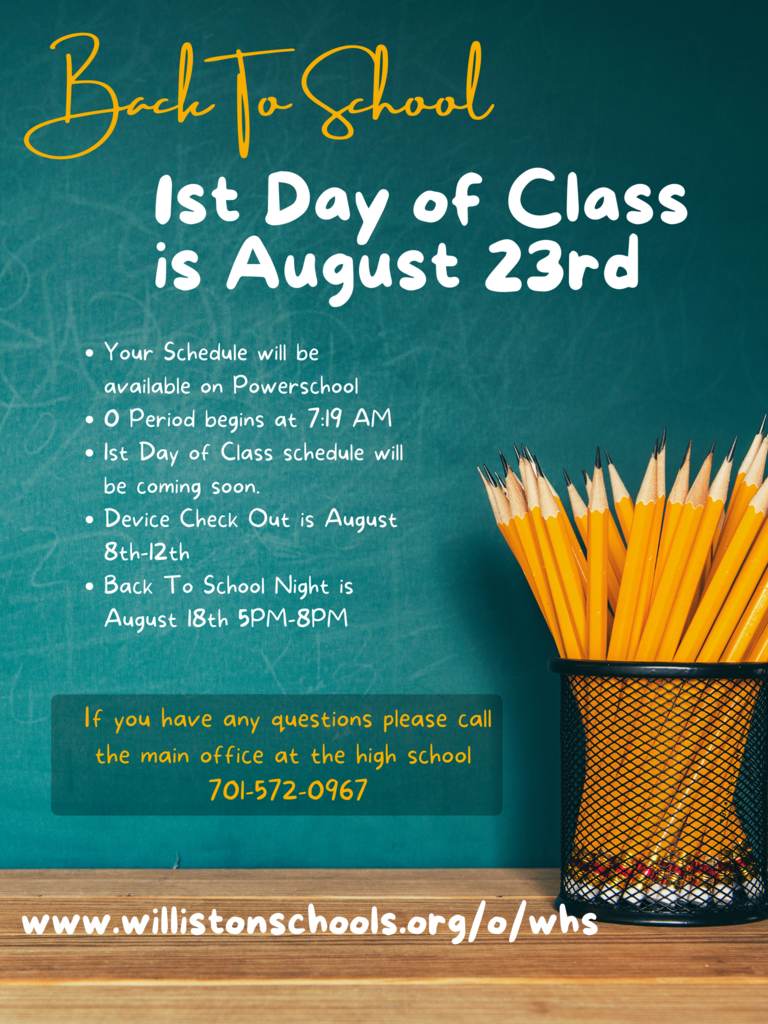 You've been FLOCKED!!! Flockin The Bakken is back, Help support the Williston High School cheerleaders while having a little Flamingo fun! Even the principal, Dr. Germundson is not above being Flocked!!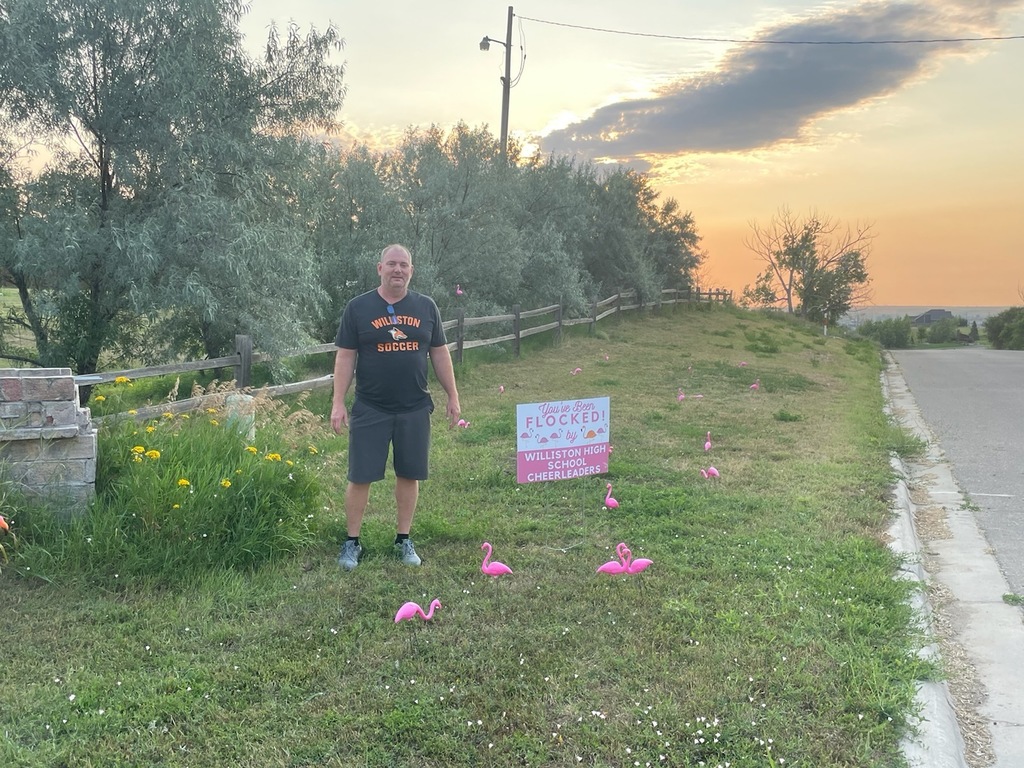 The Flamingos are back!!!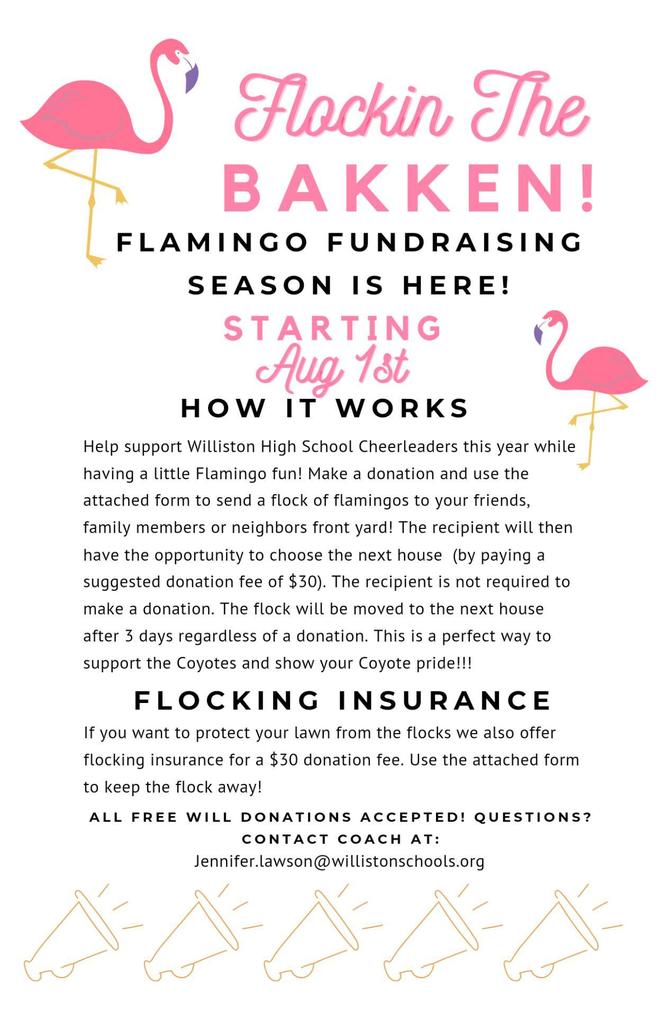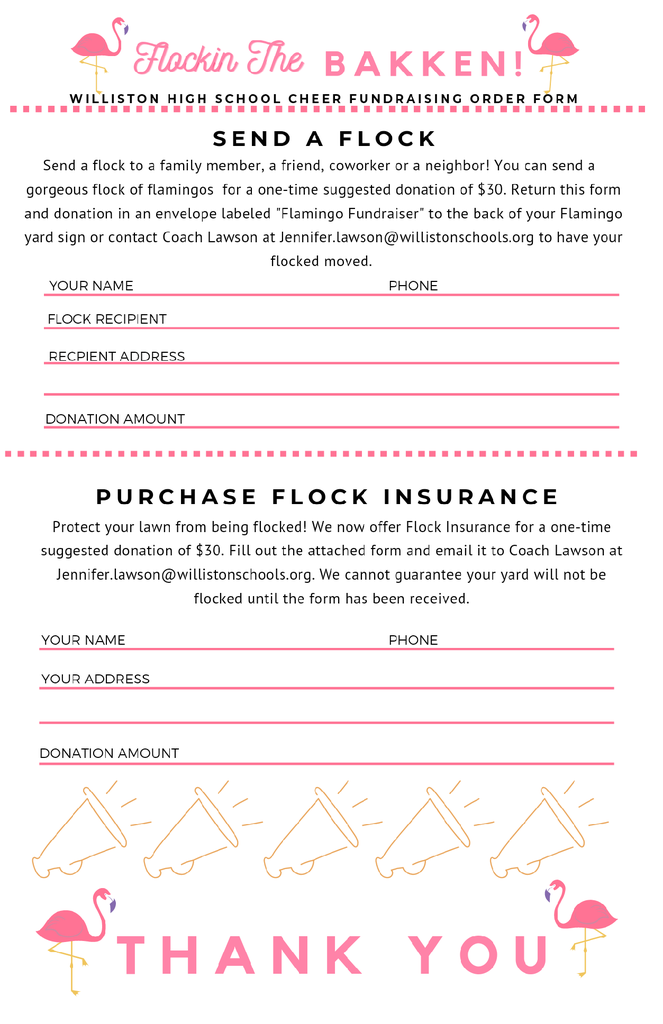 WHS Open House

Gone are the days of waiting in line to see your Counselor for a schedule change! Schedules for WHS students are set to be released the afternoon of August 8th. Schedule Changes will take place: Wednesday, August 10 Thursday, August 11 Friday, August 12 Monday, August 15 From 9-11:30a, 1-3:30p each day in the WHS Library. In order to avoid all of those pesky long lines, students will need to set a time to come in and discuss their schedule and any changes they are seeking. It is important to note that each 10-minute slot is per student, not per family. Schedule a time with this link:
https://www.signupgenius.com/go/10c0d44afae22a0fec34-202220231
Additionally, due to scheduling and classroom limitations, Counselors are unable to guarantee any specific teacher or class hour changes. If the schedule dates/times do not work for your schedule, please contact your counselor directly to set up a time to meet. Marla Sleweon – Last Names: A, N-SL Erik Olson – Last Names: B, SM-Z Traci Shirk – Last Names: C, E-I Amy Armstrong – Last Names: D, J-M See you soon! --The WHS Counseling Team

WHS Device Check Out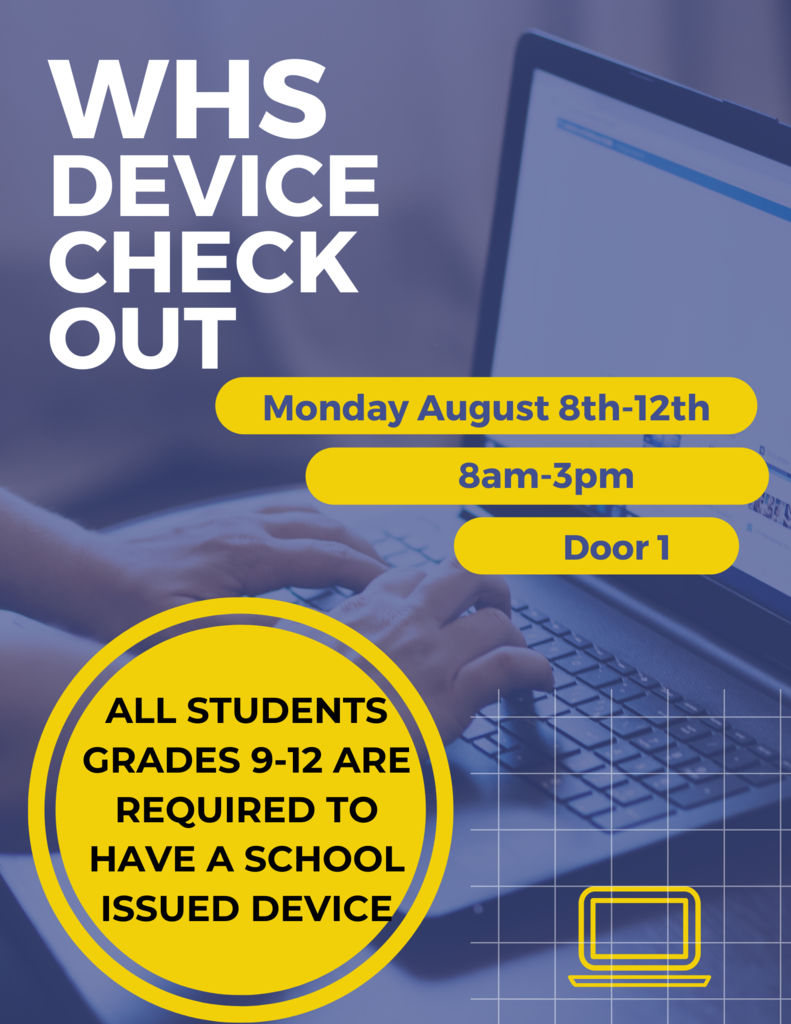 SENIORS all applications and Senior Parking Design Requests must be turned in to the main office by Friday August 5th.

Today's the day! The Activities Department will be hosting an All Sport Registration Day at Williston High School TODAY, July 27th from 4:30-7:30 p.m. Physicals will be for all 7-12th grade students at a cost of $50. All proceeds will go to WBSD7 Athletic Programs. Custom fitted mouthpieces will be provided by Arie Bauer and the Family Dentistry Clinic for any student-athlete that wishes to have one. We would like to extend a special thanks to doctors Kami Dornfeld, Jeremy Messer, and Brock Casperson in helping this event become possible. Activities Staff will be present to assist in registration of the athletes.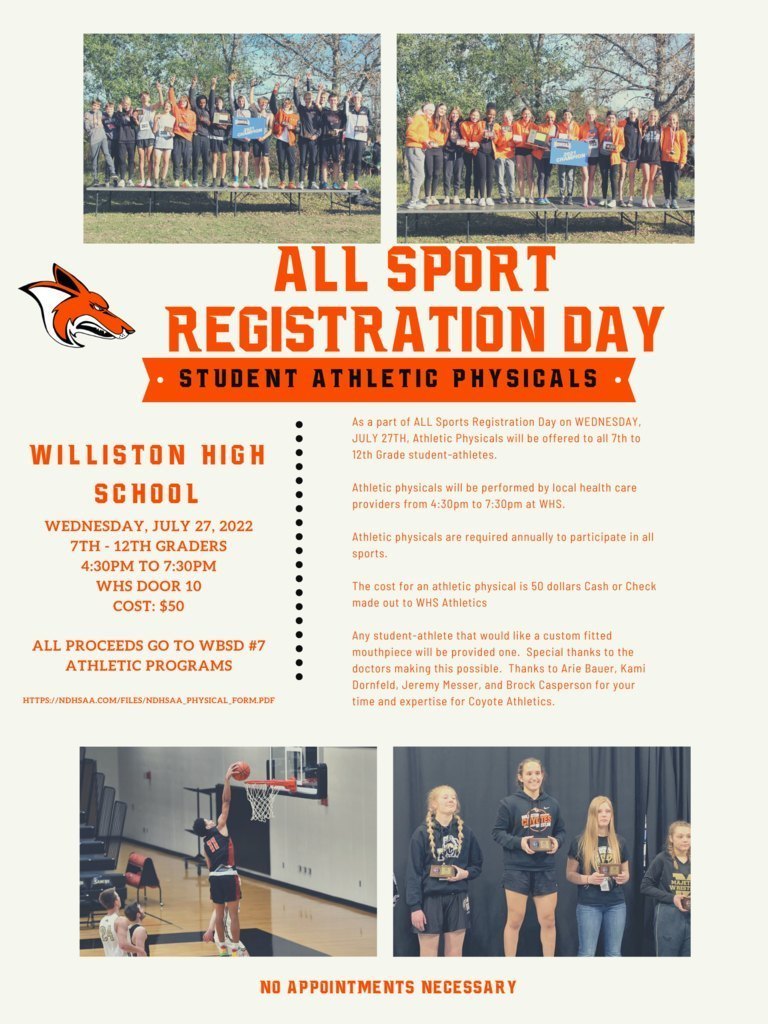 2022-2023 Senior Parking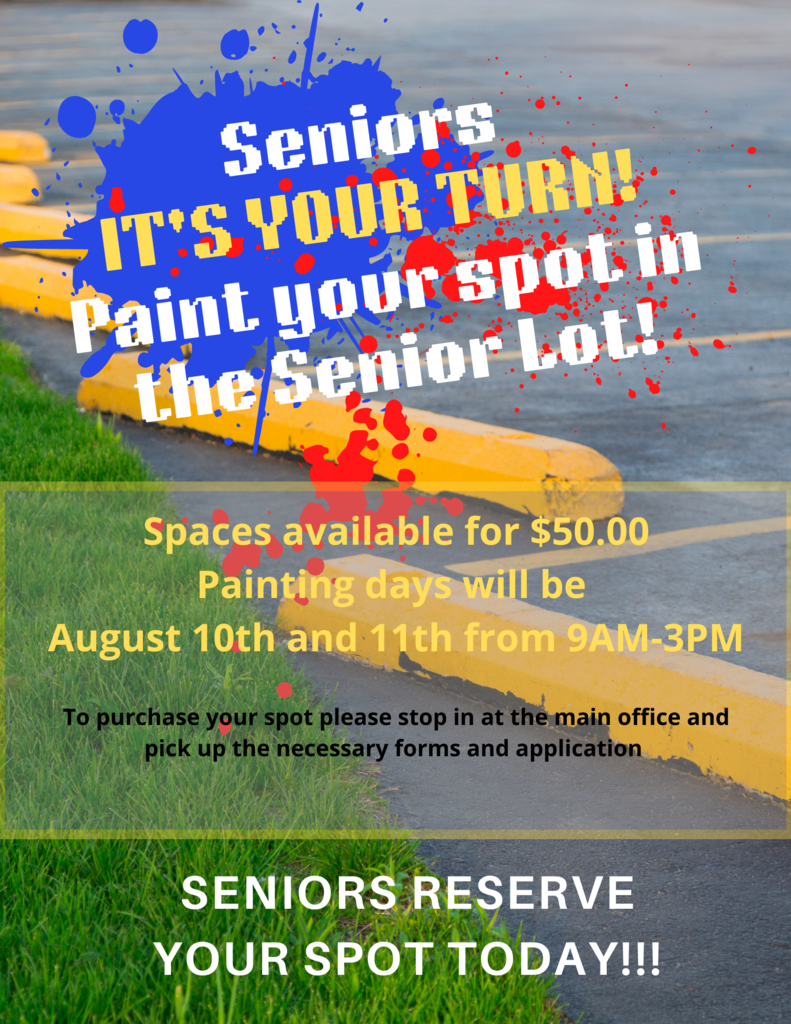 This week, the Williston Police Department will be conducting active shooter training at the Bakken Elementary and Williston Middle School buildings. During this time, the public is not allowed on either campus. Thank you @Williston Police Department North Dakota for your dedication to the safety of our students and staff.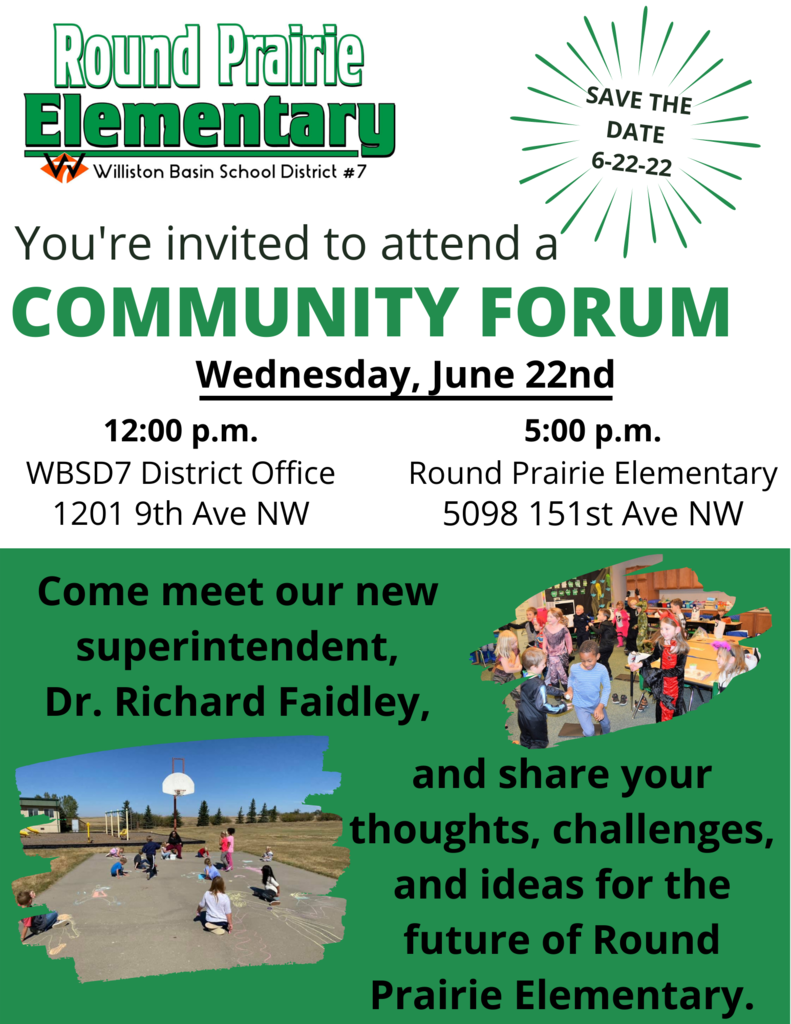 WHS Summer School 2nd Session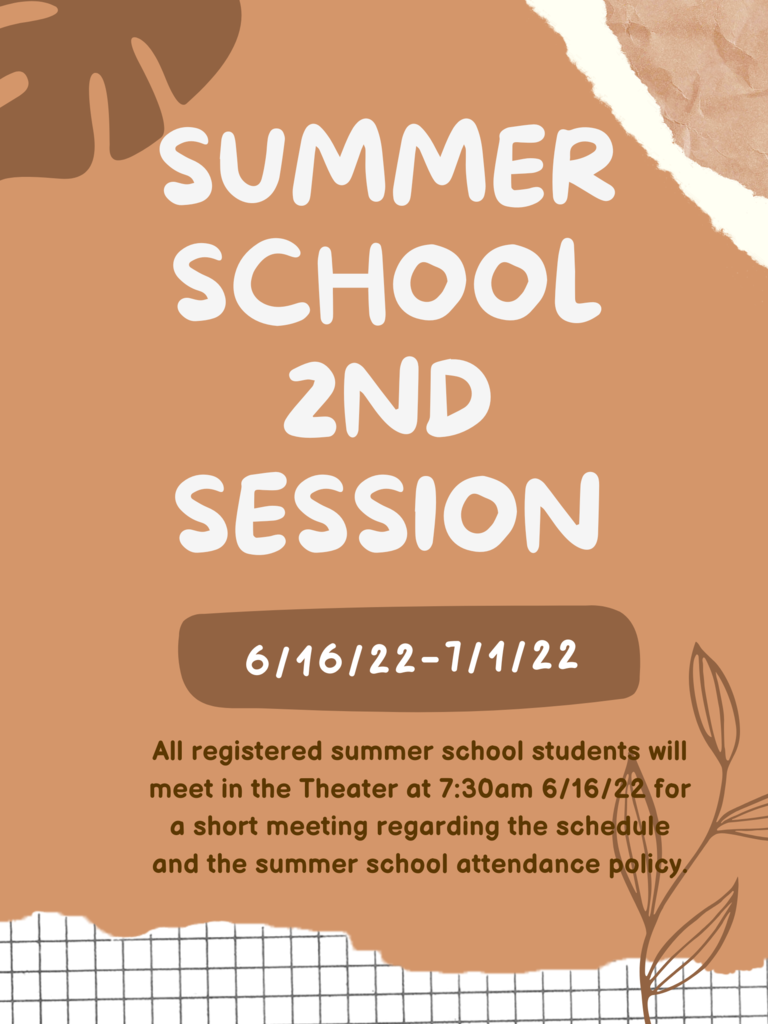 ✨ 2023 SENIORS ✨ Your senior pictures are DUE on December 9, 2022! Remember to let your photographer know when they are due and then email them to
yearbook@willistonschools.org
! You will get an email confirming that the yearbook team got your photo!