Williston Basin School District #7 has partnered with Harlow's Transportation to provide Transportation (Busing) Services to the district.
Included in the information, below, is an outline of who is eligible for transportation services, as well as other information that may address your questions.
PDF Version of Bus Schedule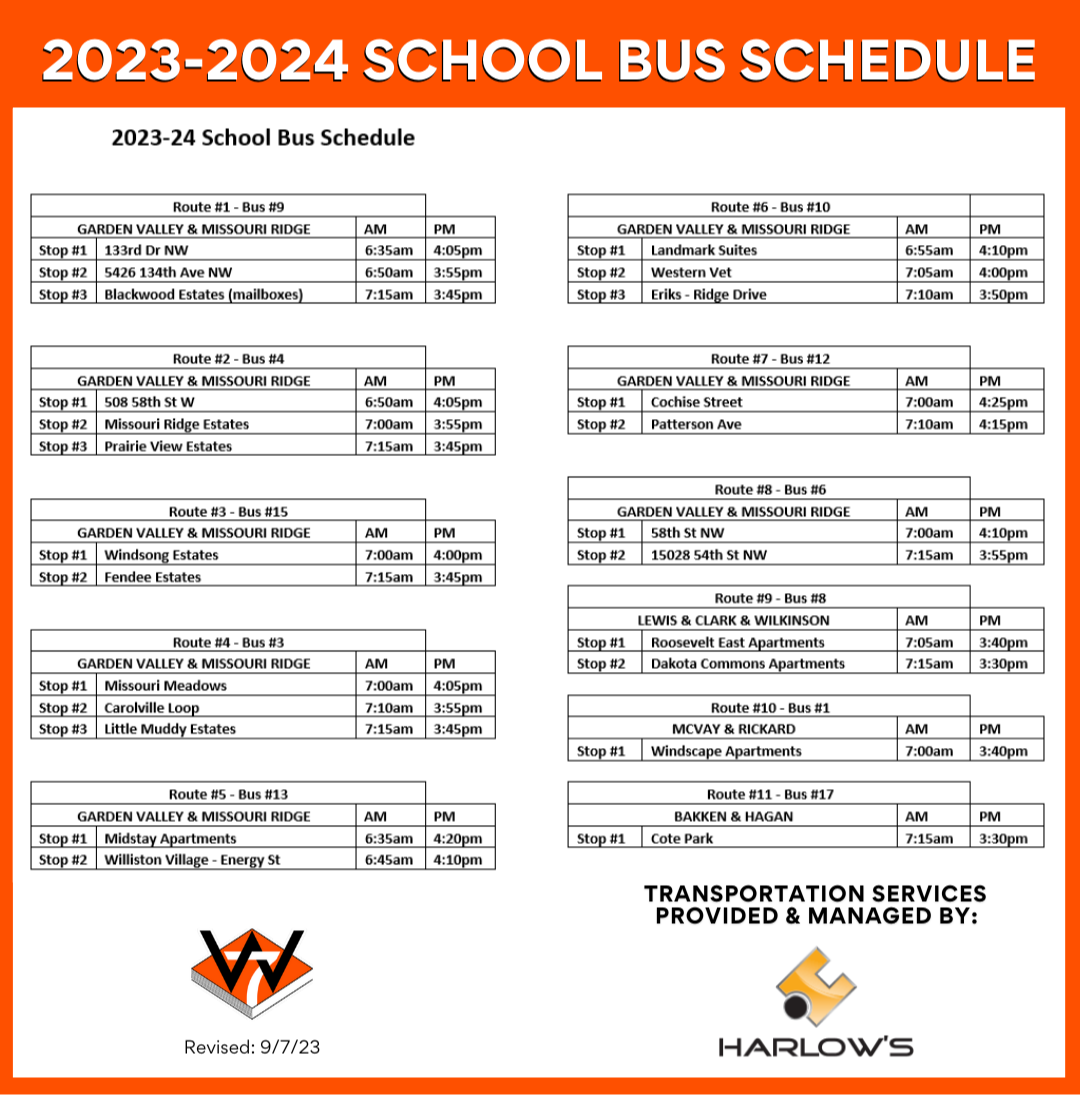 Transportation Registration Form
Click to complete the Transportation Registration Form
Questions:
With further questions regarding transportation services, please contact:
Transportation Director: Alexis Davis at (701)572-1580 ext. 03002 or alexis.jacobs@harlowsschoolbus.com
OR: transportation@willistonschools.org
Message from Harlow's
MESSAGE SENT TO PARENTS FROM HARLOW's - 8/17/23
Parents/Guardians, please see attached Bus Schedule for the 2023-2024 school year.

If your child is in grades K-8 and you registered them for busing, your child is accepted to ride the bus. Your bus stop is the one nearest to your residence.

Times are approximate and may be subject to change as the school year progresses and the number of students on the buses change.

Bus routes with only one stop also accommodate children registered with McKinney Vento. These busses currently do not have capacity for additional group stops. However, this is subject to change and may be modified during the school year.

McKinney Vento & Special Education Students:
If you are a parent/guardian to a child that is registered with McKinney Vento or SPED, you will be receiving a phone call with the approximate pickup/drop off time for your children, if you haven't already.

Thank you for your patience during this transition period and we look forward to the 2023/2024 school year!
~ Harlow's School Bus
NOTE: Transporation Services provided at the beginning of the 2023-2024 school years are geared towards students outlined in bullet points 1, 2, 3 of the FAQ's listed below.
The current bus schedule does not prioritize students in grades 5-8 who live inside the city limits.
The bus schedule is subject to change upon availability, including possible expansion to meet the needs of students outlined in bullet points 4 and 5, below.
Frequently Asked Questions
Who is eligible for busing?
Busing is determined by the Superintendent, Transportation Director, School Board, number of buses the district owns, and the availability of bus drivers.
Who is eligible for busing?
The Superintendent, Transportation Director and School Board look to service all areas as equally as possible, with priority given in the following order:
Students who are legally entitled to school transportation through the McKinney-Vento Act and Special Education Services as defined in their IEP.

Students in grades K-8 who live outside the city limits, but within the district.

Students in grades K-4 who live inside the city limits and attend an elementary school inside the city limits, AND Students K-5 who live inside the city limits and attend Missouri Ridge Elementary School.

Grades 5-8 (not otherwise specified, above) will be eligible on an availability basis.

Students Residing outside of the district will be eligible on an availability basis.
As buses become full, students will be placed on a waiting list with the exception of legally required transportation. The waiting list will be first on, first served using the above priority order.

I live outside city limits, will my child receive transportation services?
Yes. Students in grades K-8 who reside outside city limits and within the WBSD7 boundaries will receive transportation services.
What can I expect in the first week of school?
During the first week of school, transportation may run behind schedule as parents, students and drivers adjust to new transportation routes. Be patient and flexible that first week.
How is my child's pick-up point determined?
Bus stops are established based on the child's address, walk distance, age, and safety factors such as streets to be crossed.
How frequently is my child's route likely to change?
The decision is based on the child's address and school of attendance. As many children as possible are placed on buses, but not to exceed the recommended bus capacity or ride time. Routes may change on an as needed basis.
How long will my child's ride time be? How is "ride time" defined?
Ride time is calculated from the time that the child gets on the bus to when he/she arrives at his/her destination, not necessarily bell times. The route times will vary depending on distance from school and number of children riding the bus. The bus usually arrives at school 10 - 20 minutes before the start of school.
Can my child be picked up and dropped off at a location other than my home?
The parent may request a permanent bus stop at an address other than the home or place of employment. However, zoning guidelines still apply.
Can my kindergarten child be dropped off alone?
No. Kindergarten age students must be met at the bus stop by an adult or middle school aged student or older. Please contact the transportation manager, Alexis Jacobs, for additional information.
Can a friend ride home on the bus with my child?
No. Transportation is provided to children participating in the Williston Basin School District #7 and only to the child's regularly scheduled drop off point.
How long should I wait before contacting someone when my child's transportation doesn't arrive for pick -up in the morning or if my child's transportation doesn't arrive on time in the evening?
The parent should wait fifteen minutes past the pick-up time or past the usual drop-off time, before contacting the transportation office.
If my child misses his/her bus, can backup transportation be sent?
No. If your child is late arriving at the bus stop and misses the bus, you are responsible for getting him/her to school.
Who determines proper behavior on transportation?
The school district determines proper behavior, and the bus drivers report improper behavior to the principal. Contact your child's building principal regarding behavior expectations and consequences.
What happens if my child misbehaves on the bus?
Transportation is a privilege, hence students can and will be suspended for inappropriate behavior. If a student misbehaves on a bus, the driver will complete a Pupil Safety Violation Report and submit the report to the school building administrator. The principal is responsible for the administration of the school district discipline policies. Repeat offenders will be subject to losing all bus privileges.
Do all drivers permit the same behavior?
Expectations will be clarified and reinforced frequently to all bus students. Each situation is different, as are the bus drivers. Therefore, the bus driver will determine what is or isn't acceptable behavior per the Harlow's Guidelines.
If my child becomes sick during the day at school, will early transportation home be provided?
Transportation will not be provided to a student that becomes ill at school.
If my child stays after school for a school activity, or receives after school detention, will WBSD #7 provide transportation home?
Transportation for after school activities or detention will not be provided.
Will there be adult monitors on the buses?
WBSD #7 will not use adult monitors on school buses except for Special Education routes. When necessary, road supervisors are available to monitor behavior and assist the drivers on an as needed basis. Video monitoring is used to record activity on a bus to help ensure safe, orderly operation.
How are bus drivers screened and selected?
Harlow's is required by North Dakota law and North Dakota Department of Public Instruction to thoroughly investigate an applicant's background. The background checks include driving records, criminal history, drug/alcohol abuse and previous employment as well as random alcohol/drug testing.
What happens if our family becomes homeless?
Under federal law, special provisions apply to students who become homeless. Contact Allison Stensland, 701-572-1580, WBSD #7's homeless coordinator for more information.
What happens if my child's bus is involved in an accident while riding in a WBSD #7 vehicles? Will my child be covered by WBSD #7's insurance?
The liability for a bus accident can easily become complicated. Ultimately, the party responsible for the accident is legally liable. All Williston School District buses are insured per North Dakota law.