After reassessing the road conditions, we have decided we will not be running our school buses today for morning or afternoon routes.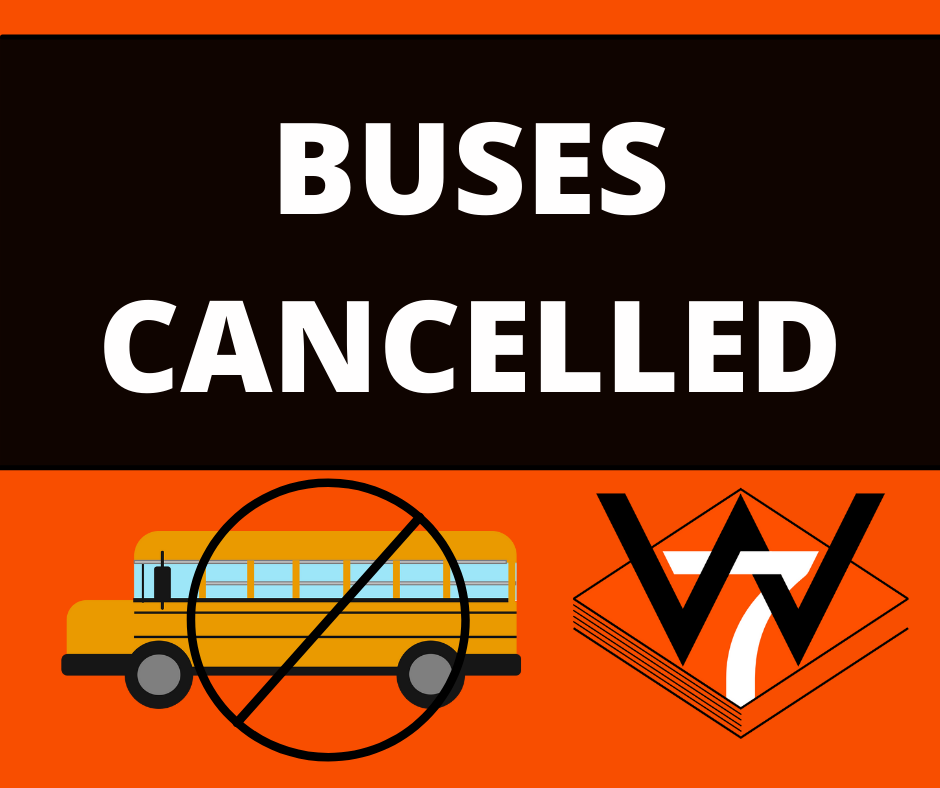 Due to icy road conditions, all WBSD7 schools will start 2 hours later than normal on Monday, January 24, 2022. Schools will begin 2 hours after their normal start time, and buses will run 2 hours later than normal for pick up in the morning. School will dismiss at its normal time. Thank you, WBSD7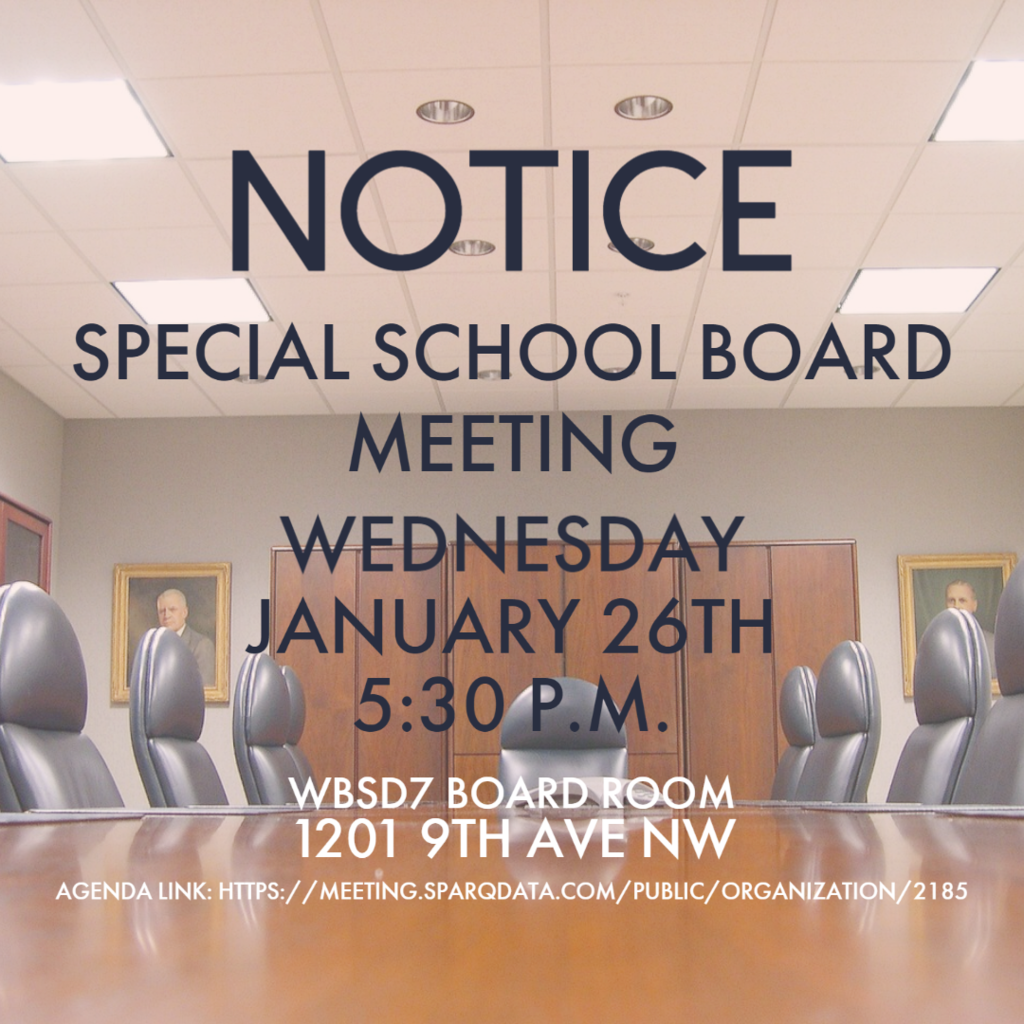 Thank you to all those who participated in the Stakeholder Meetings this week. Your feedback will help Ray & Associates build a list of qualities, characteristics and skills they will use to find our next superintendent! Reminder - the Stakeholder Survey is still open, but will close on Monday at 8:00 a.m. Please take a moment to fill it out if you haven't yet! Survey Link:
https://www.surveymonkey.com/r/HS2QM6D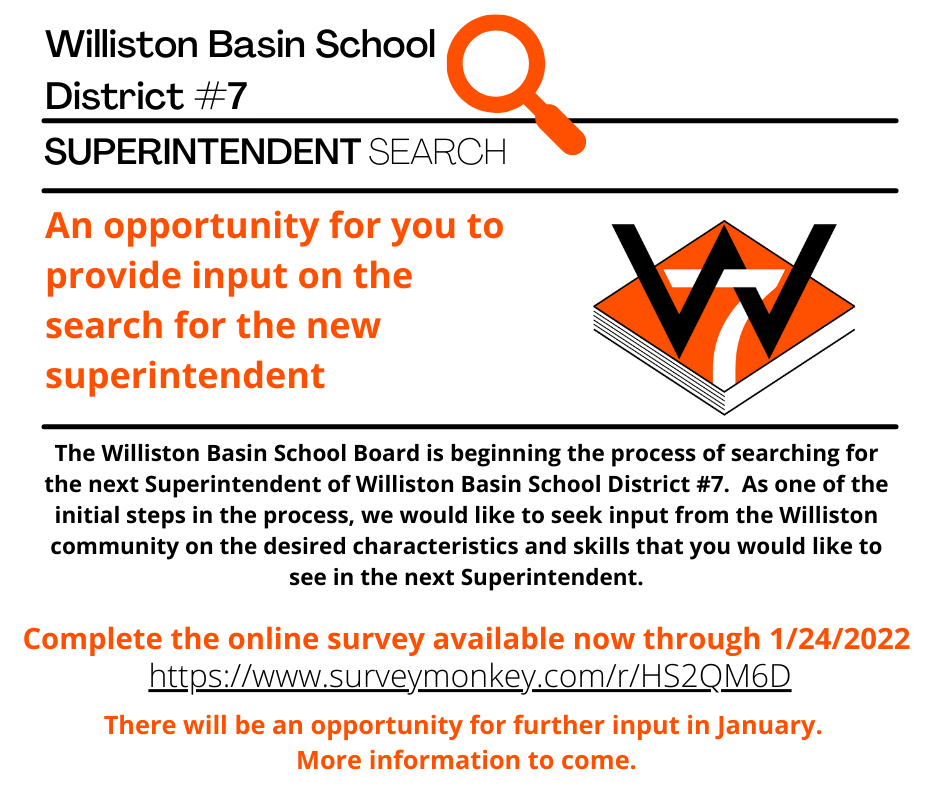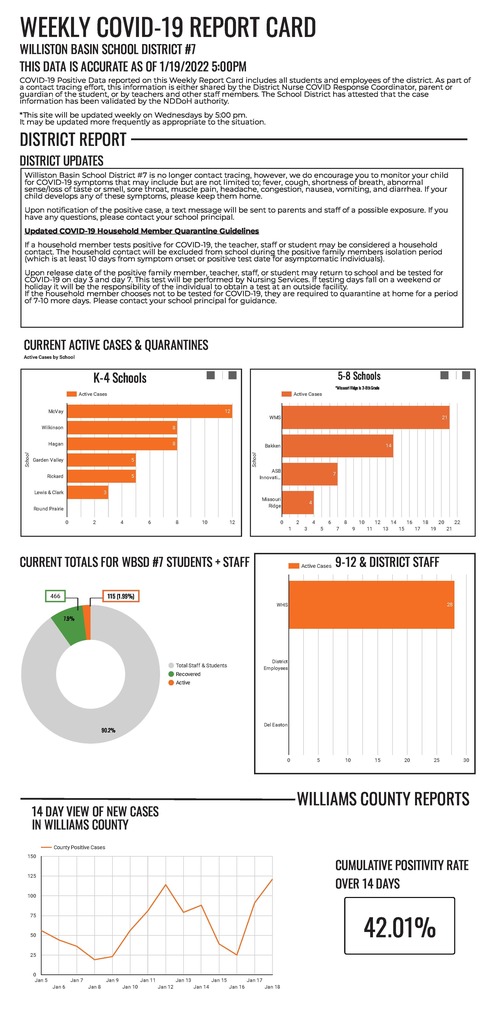 The first annual Boys Basketball Alumni Celebration was a huge success! It was amazing to see so many fans and alumni in attendance to watch both JV and Varsity defeat Watford City. Kudos to the athletic department, coaches, players and all those involved in making last night happen. Can't wait until next year! 🧡🏀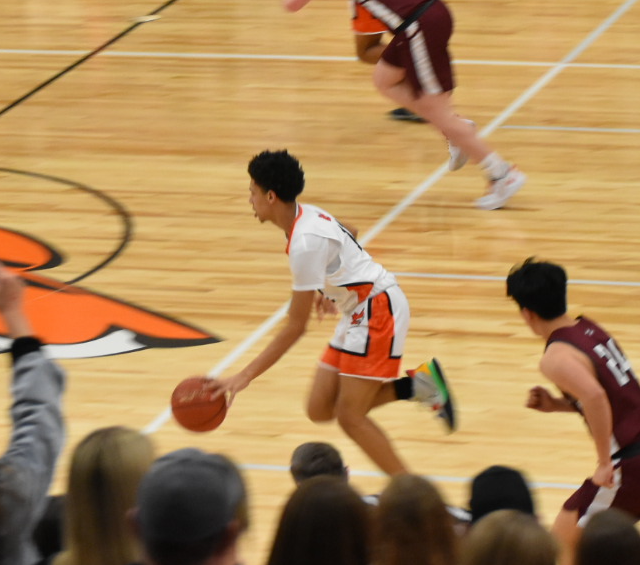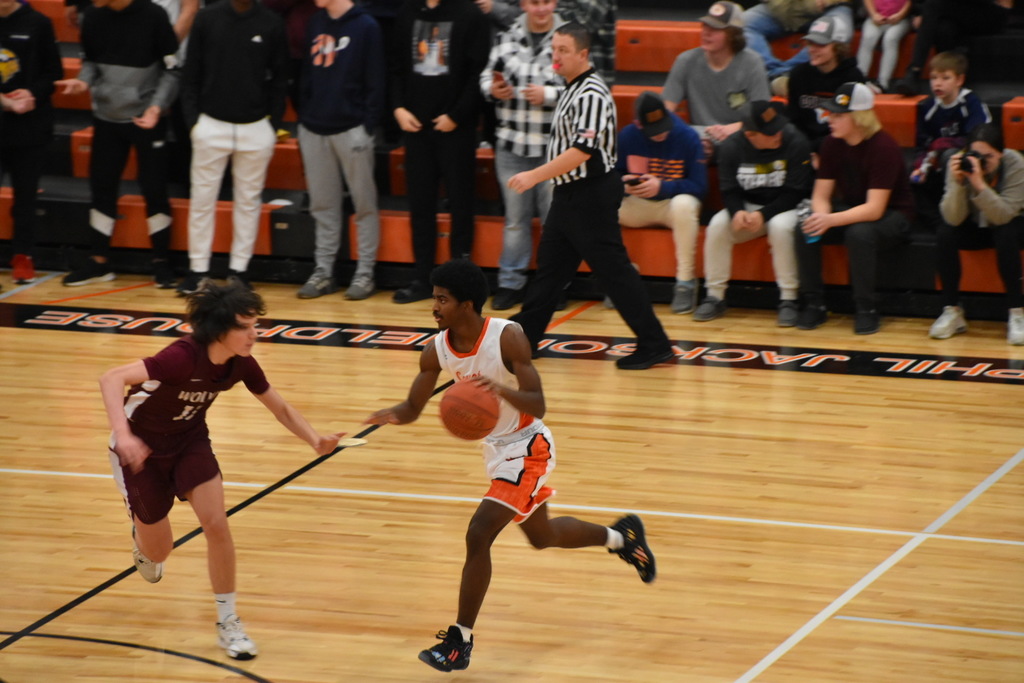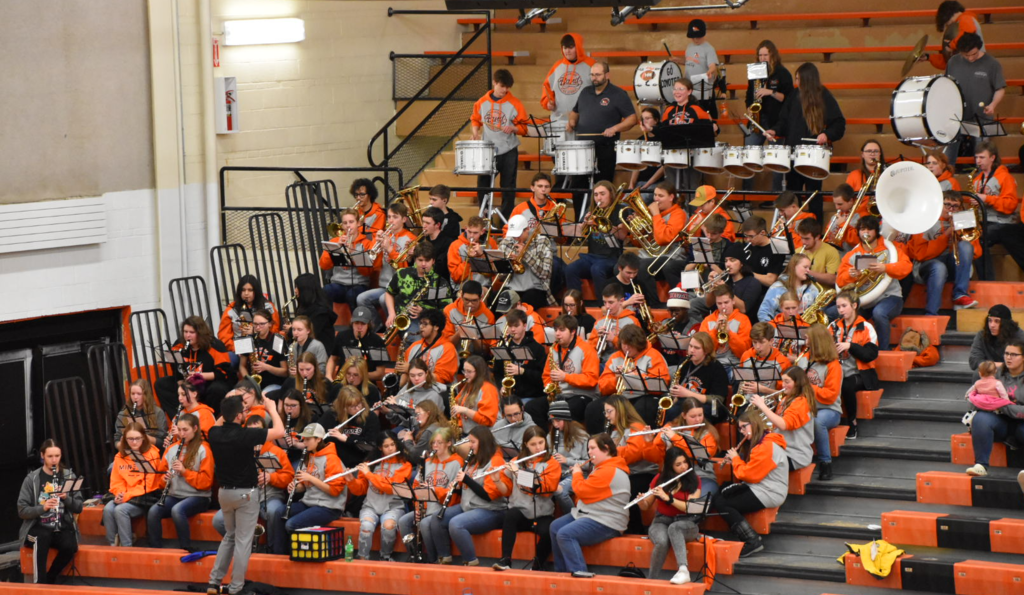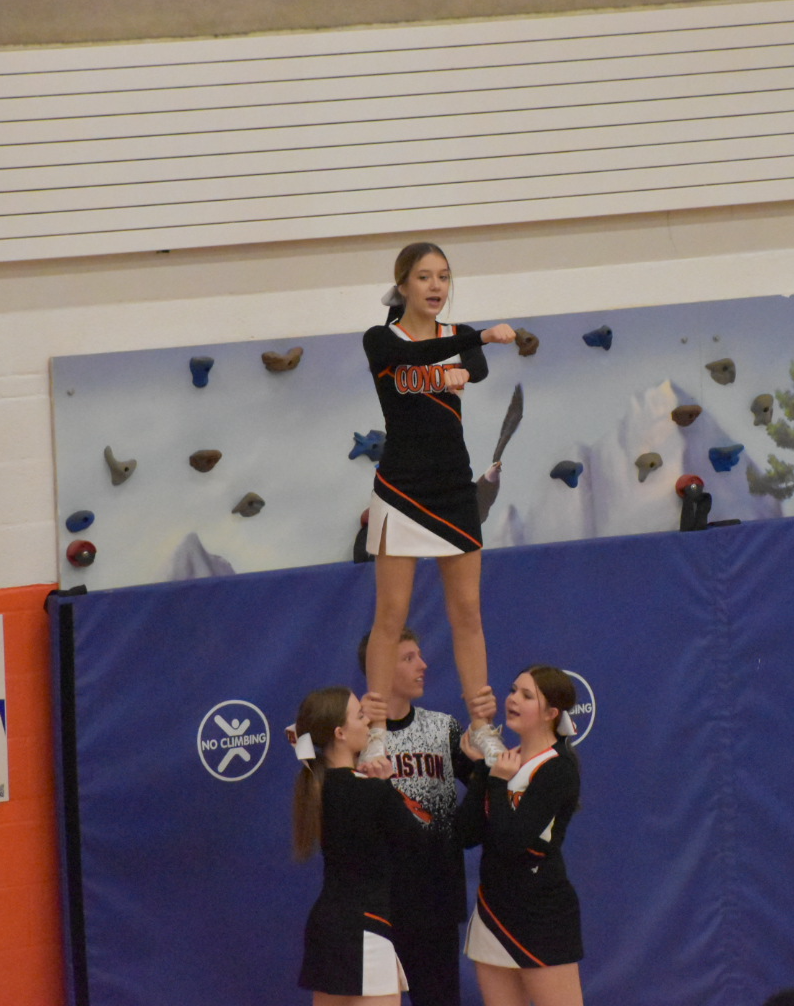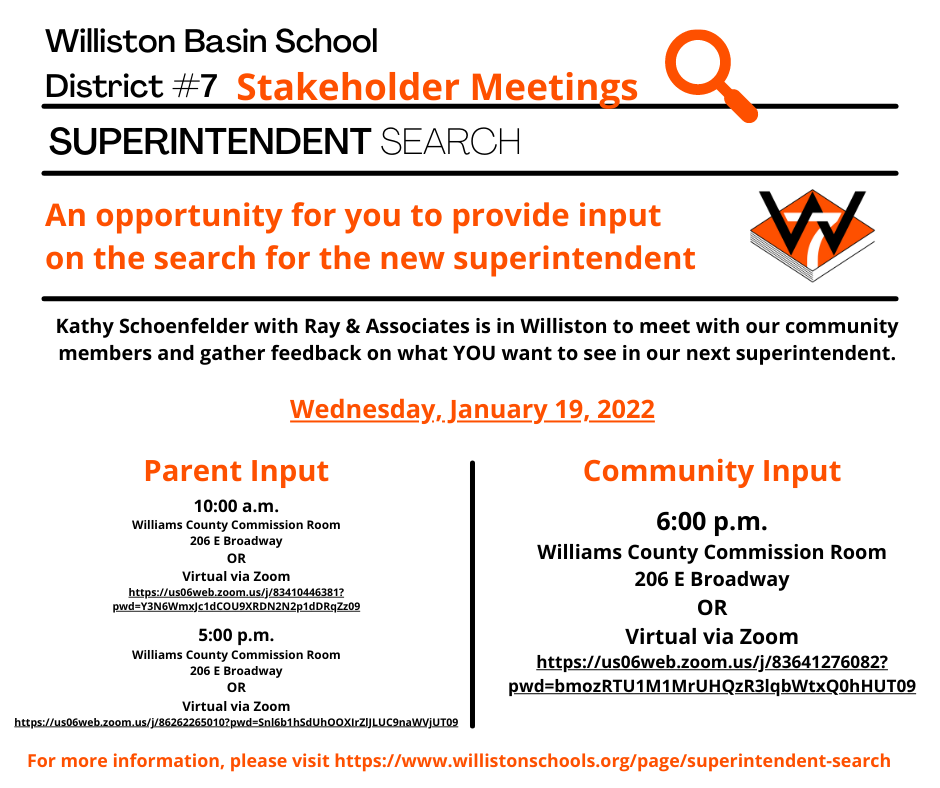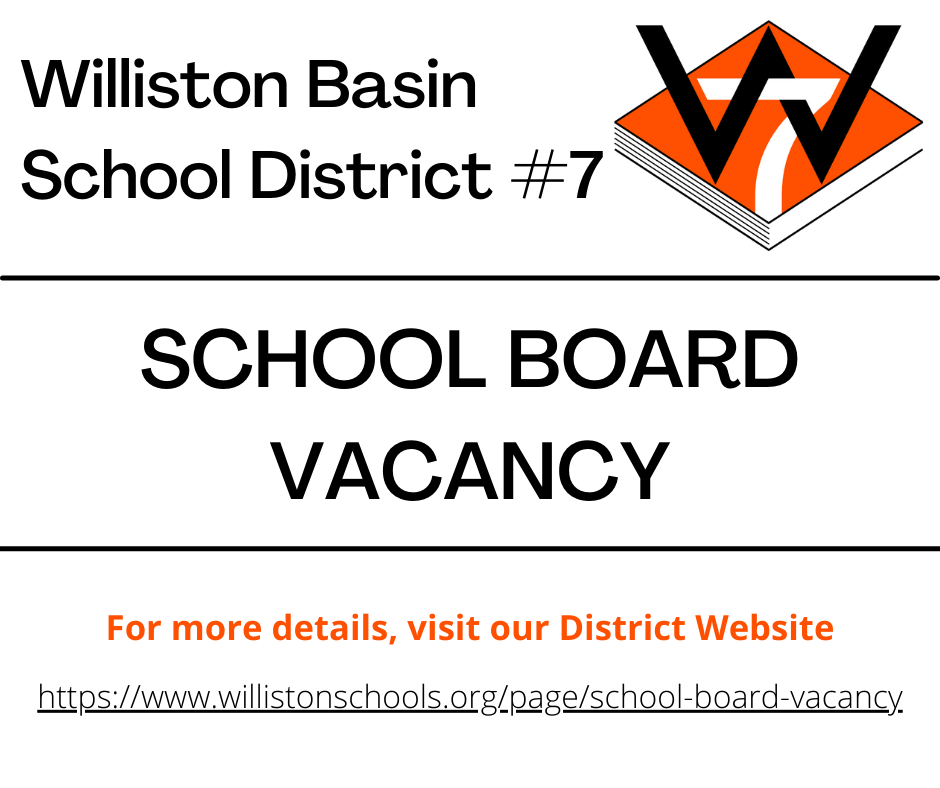 Don't forget! Our Community and Parent Input Meetings are today and tomorrow! Kathy Schoenfelder with Ray & Associates is here to gather feedback on what YOU want to see in our next superintendent. These meetings are open to any community member or parent in WBSD7.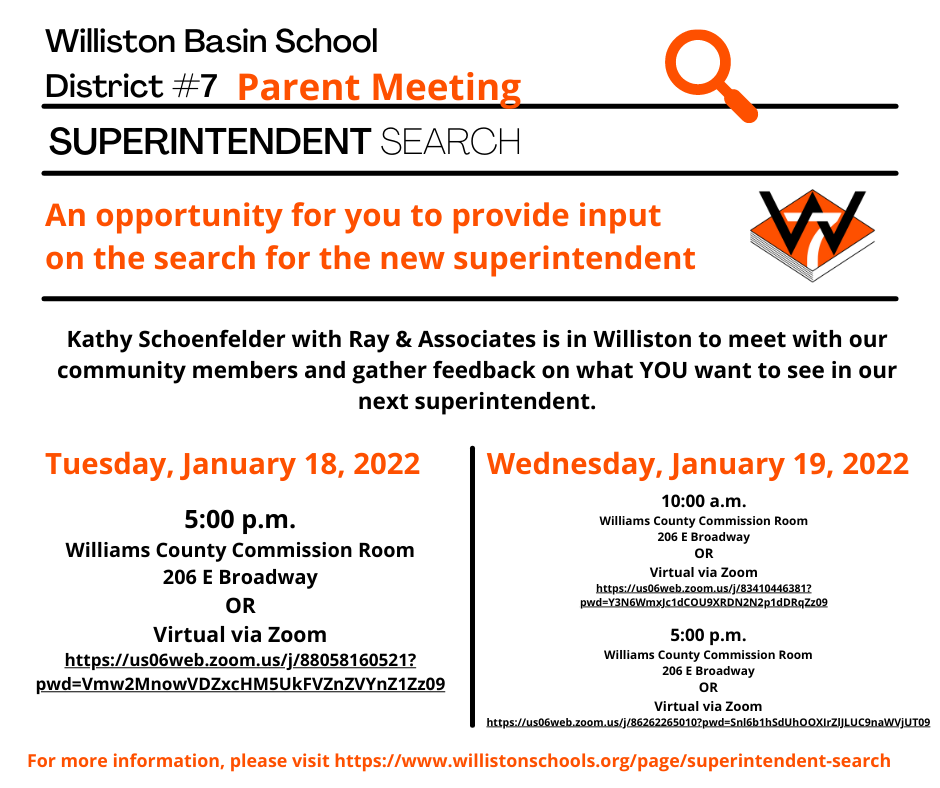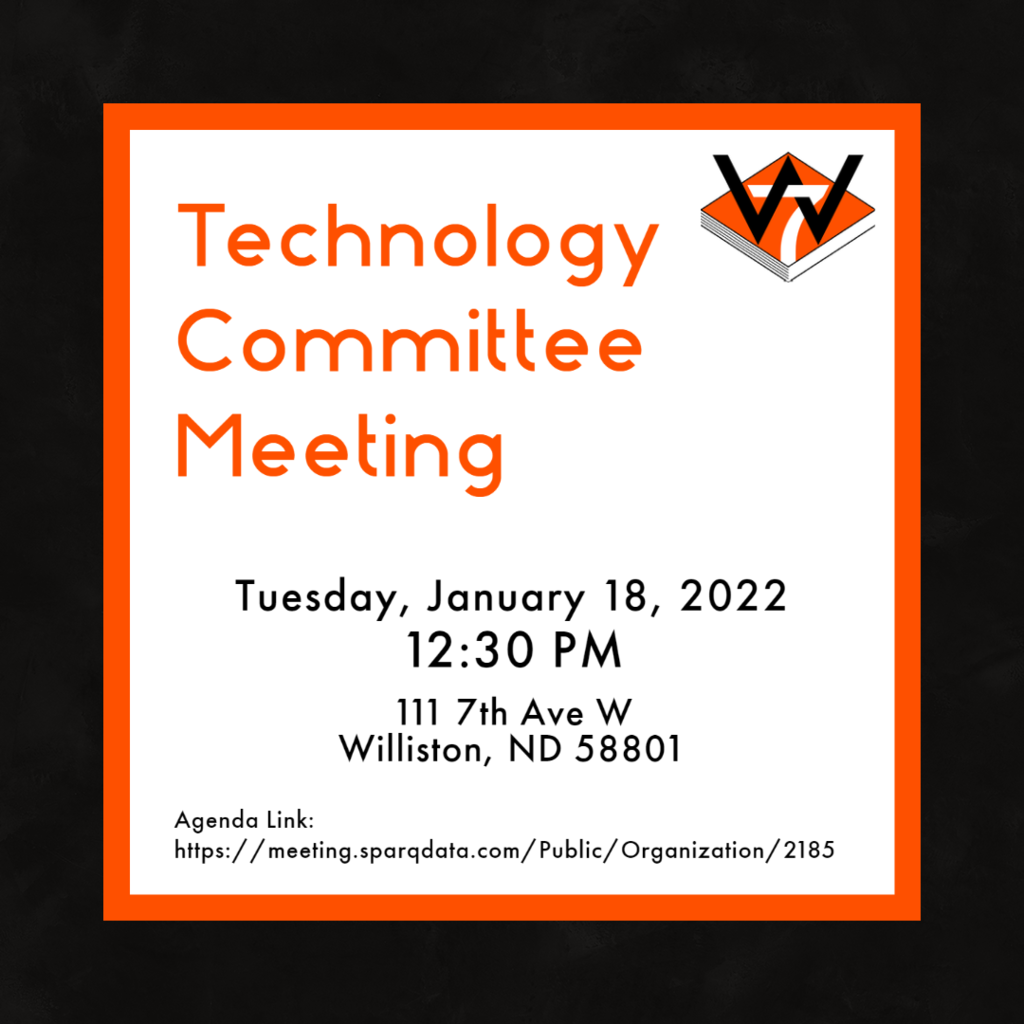 January is a time when we typically think about how to make better food choices for ourselves, and for our families. "Think Before You Eat to Make Healthy Choices" is this week's article from Ines Teuma, MD, featured on our Partners in Health page. Check it out to learn more about healthy serving sizes, and how to incorporate healthy foods into your diet!
https://www.willistonschools.org/page/chi-stalexius-health-partnership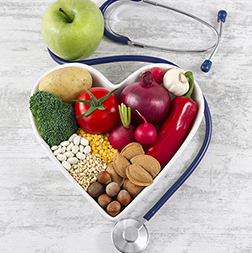 On Tuesday, 1/18/2022, the Williston Boys Basketball team will be hosting the first annual Boys Basketball Alumni Celebration at the Phil Jackson Gymnasium. The sub-varsity games start at 4:15, followed by the varsity team taking on Watford City at 7:45. There will be a short celebration and presentation prior to the varsity game where we will honor our alumni and officially retire Coyote Legend and basketball Hall of Fame member Phil Jackson's #22 uniform. The varsity team will be wearing retro uniforms as a nod to our last state title team (1975). We will be having a 50/50 raffle and selling retro shirts with the same theme as the uniforms with all proceeds going to support Williston High School Boys Basketball. We hope to see everyone out at the Phil! 🏀🧡#22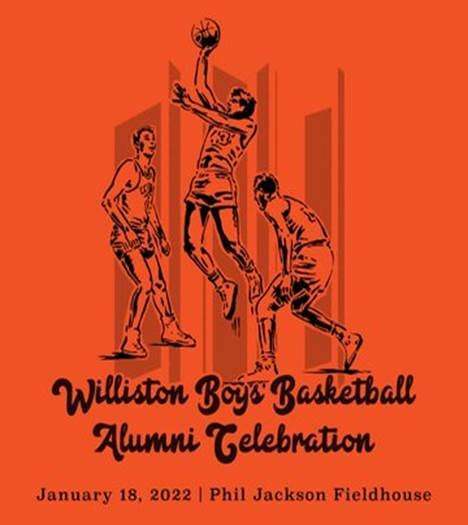 Each spring, the North Dakota League of Cities sponsors a statewide If I Were Mayor essay contest for third and seventh grade students. The contest encourages young people to think about public service and future community leadership. Essays must address why the student feels their community is great and what they would do to improve their city if they were mayor. If I Were Mayor essay contest winners will be announced in conjunction with City Government Week, April 4-8, 2022, will receive a $150 cash prize and have their essays featured in the League's publication, CITYScan. For specifics about the rules and process for submitting essays, visit
www.ndlc.org/161/If-I-Were-Mayor-Essay-Contest
or contact Carissa at 701-223-3518 or
carissa@ndlc.org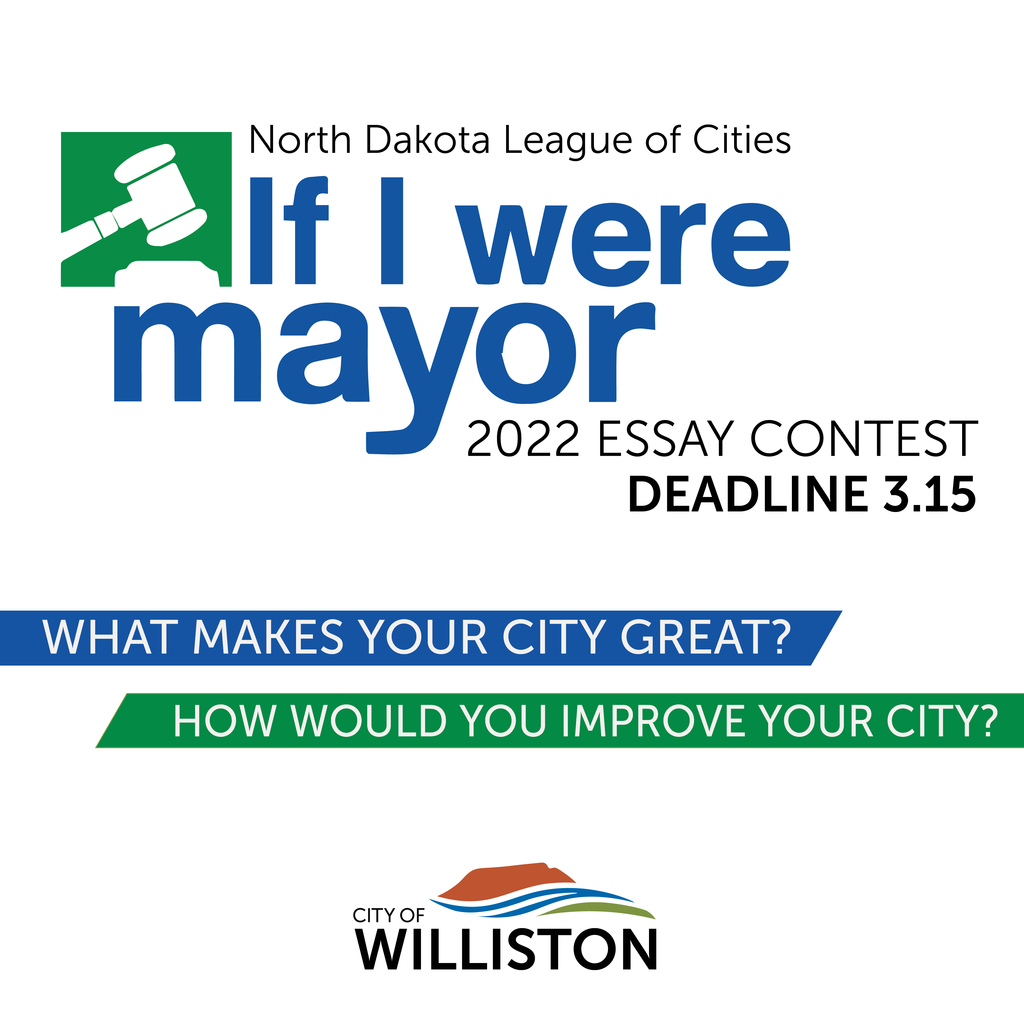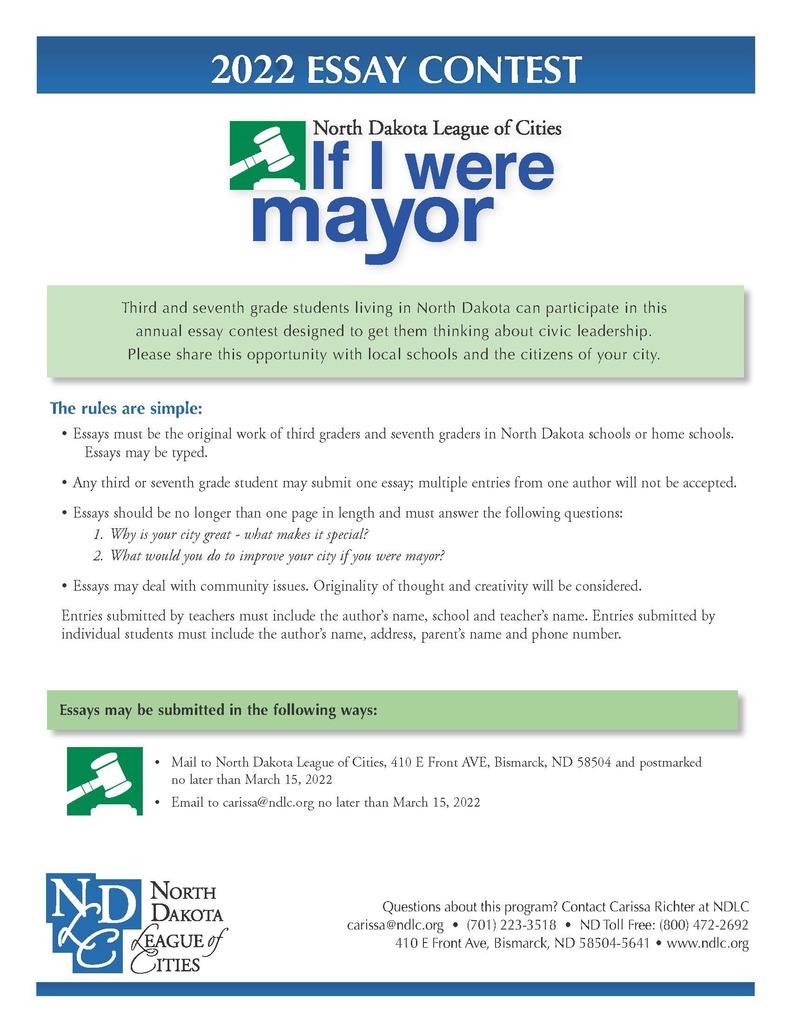 Reminder: There is no school for any WBSD7 schools on Monday, January 17th.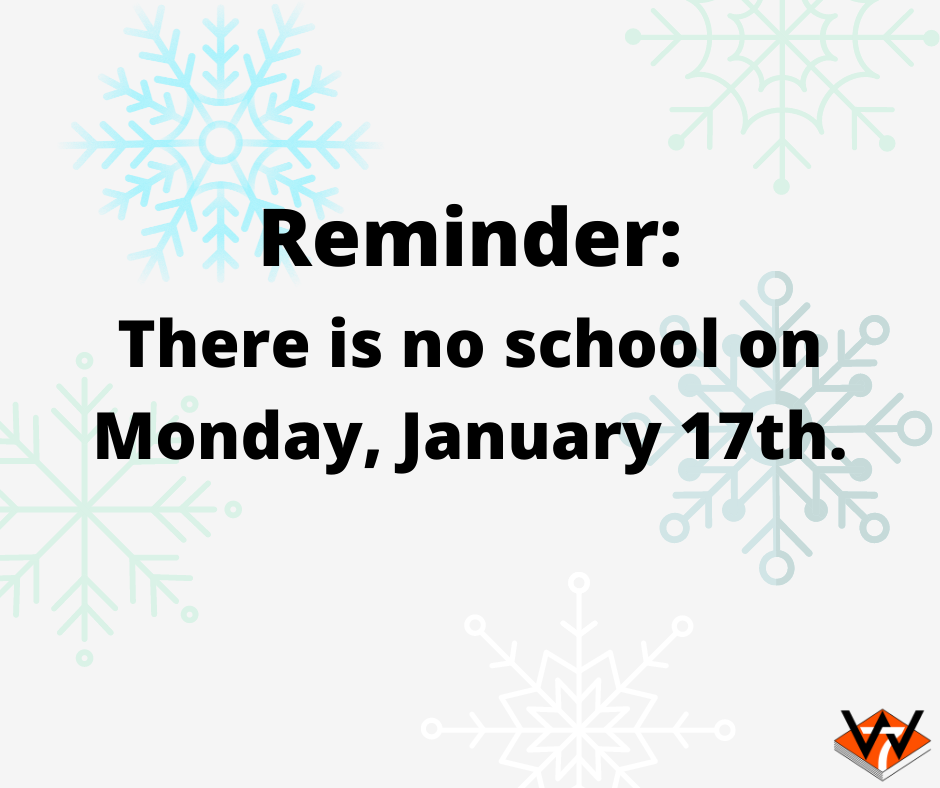 Close-Up is hosting a Pancake Breakfast on Sunday, 1/16 from 9:00am - 12:00pm. All donations will go towards the students' trip to Washington D.C.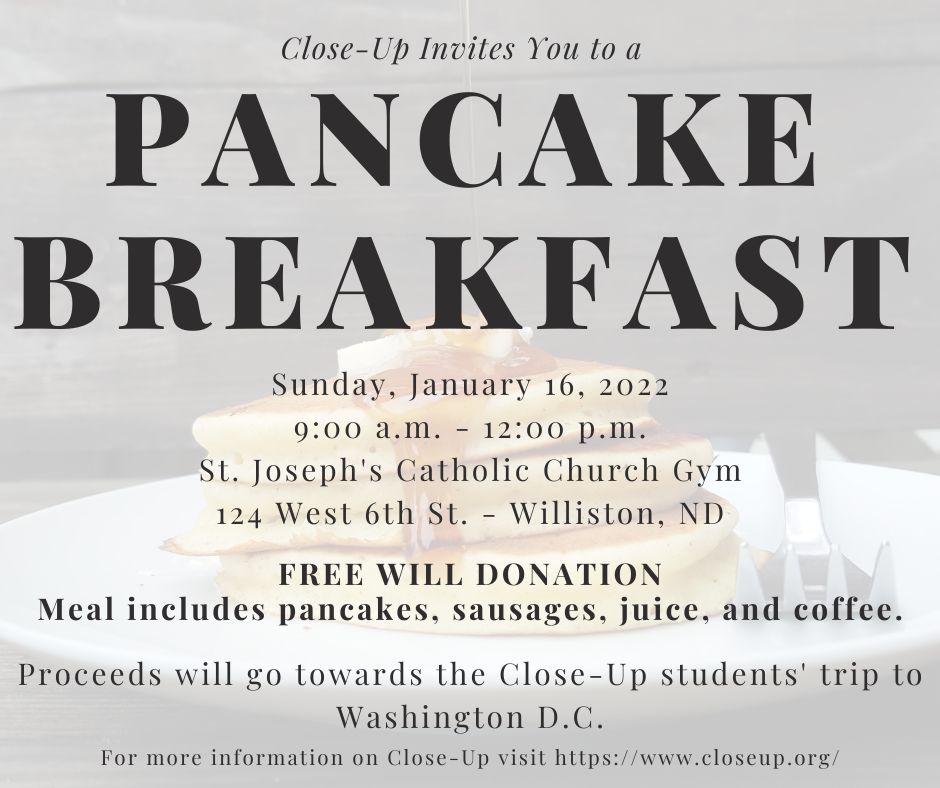 Coyote Country! Update! The Boys Basketball game that was scheduled for today at Minot High School has been rescheduled to tomorrow at Minot. 1:00 9A Boys v Minot @ Central Campus 2:30 9B Boys v Minot @ Central Campus 1:00 10 Boys v Minot @ Magic City Campus 2:45 JV Boys v Minot @ Magic City Campus 4:30 V Boys v Minot @ Magic City Campus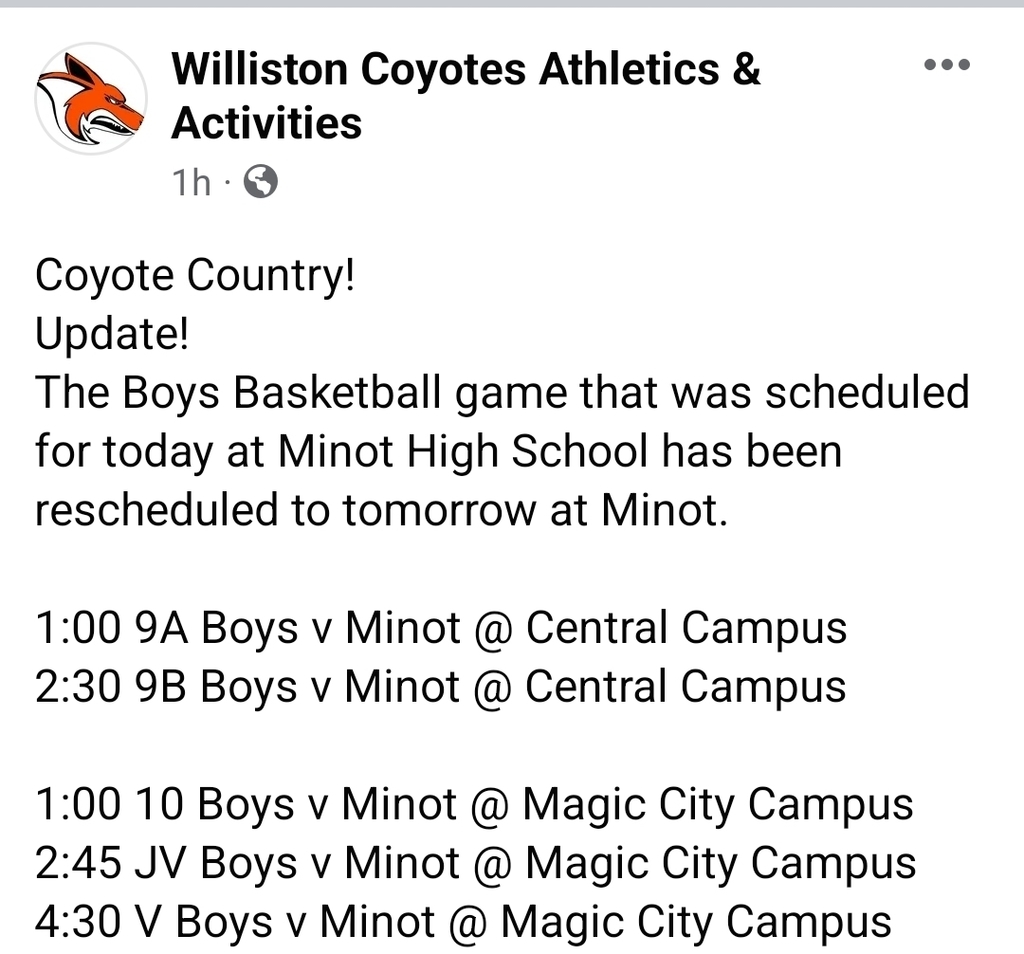 We would like to remind families of the policies we are following per our Return to In-Person Learning Plan related to COVID-19 positive individuals: Positive COVID-19 Diagnosis ISOLATE: Stay home and away from others for at least 10 days after symptom onset and be fever free for 24 hours (without the use of medications) and have improvements in symptoms. If asymptomatic (without symptoms) isolate for 10 days beginning on test date. If you have COVID-19, you must self-isolate regardless of vaccination status, previous infection, or lack of symptoms. Recently the CDC updated their COVID guidelines for isolation time for positive individuals, however, at our recent school board meeting, it was decided we would continue with our current plan. For more information and to read the plan, please visit our District Website
https://core-docs.s3.amazonaws.com/documents/asset/uploaded_file/1413803/1.7.22_Amended_Return_to_In_Person_Plan.pdf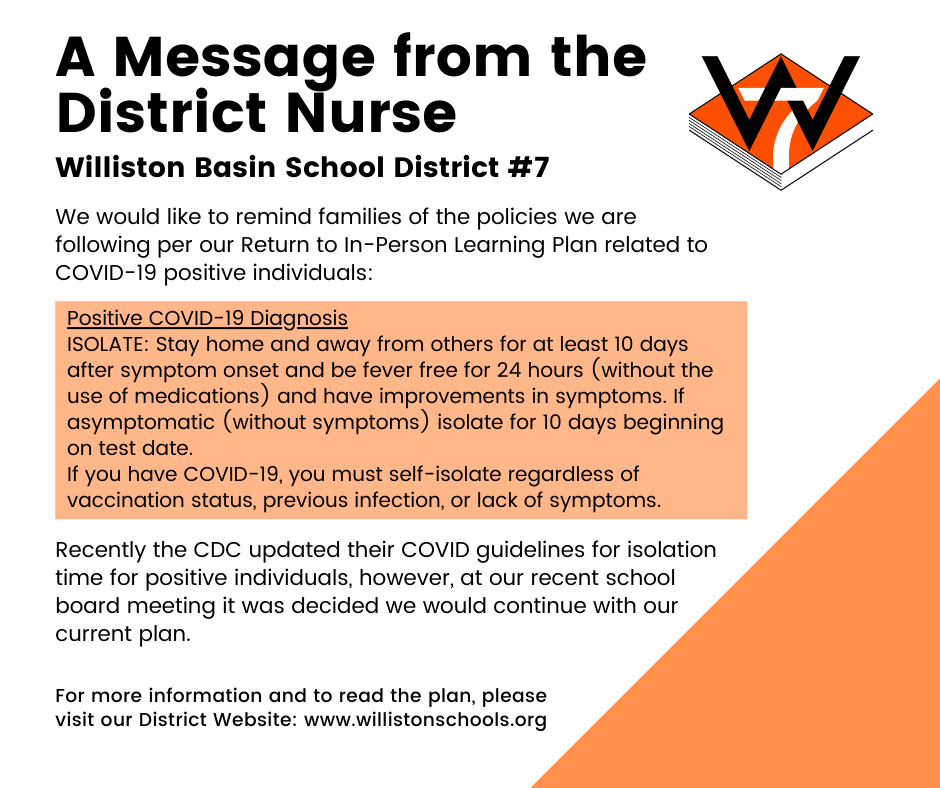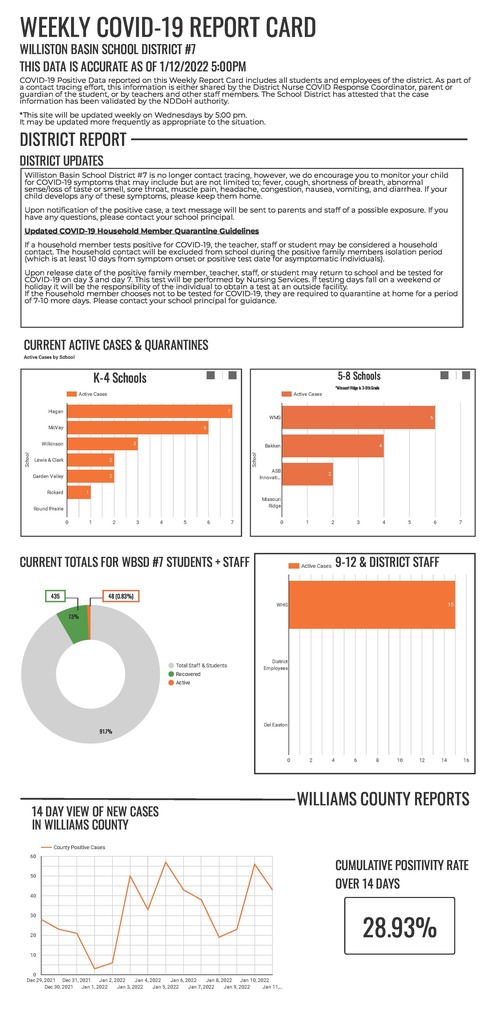 A message from our Athletic Department: Effective immediately, we are going to pause all high school wrestling practices and duals until January 18. We will not be participating in the Miles City Tournament or Sidney Tournament. We are taking this time to try and mitigate the continuing spread of illness that we are currently facing. We do not like doing this, but we feel this in our best interest to keep our wrestlers healthy and allow us to participate in the Fargo Metro Duals next weekend. We have opened a testing window for your student athlete to be tested, if you would like that opportunity. The testing window is today, January 12, from 2-4 pm. To utilize this, you must have a parent/guardian register the athlete using this link:
https://testreg.nd.gov/
If you have any further questions regarding testing, please email Lynn Douglas at
lynn.douglas@willistonschools.org
.

Congratulations to Ann Arnson, graduate of Del Easton! 🎓