WBSD 7 District Office will stay open on Friday, June 9, 2023, from 8 am-4 pm to collect absentee ballots. Our address is 1201 9th Ave W.
If you have a child who is enrolled in Kindergarten for 2023-2024 school year, please come have your child screened for Kindergarten. May 15th and 16th Lutheran Brethren Church 213 26th St. E 8:30-2:30 May 15th 8:30-11:30 Last names beginning with A-K 12:00-2:30 Last names beginning with L-Z May 16th 8:30-11:30 Last names beginning with L-Z 12:00-2:30 Last names beginning with A-K If you have any questions regarding Kindergarten Screening please contact Tonya Brenner:
Tonya.brenner@willistonschool.org
When we say school nutrition professionals are heroes, we mean it! Between preparing delicious food, adhering to strict nutrition standards, navigating student food allergies, and offering service with a smile, WBSD7 nutrition professionals have a lot on their plate. To That's why we celebrate them every spring with the annual School Lunch Hero Day. Join us as we recognize the dedication and hard work of our nation's school lunch professionals. celebrate their hard work and commitment, as we celebrate School Lunch Hero Day on May 5!
The Summer Feeding Program will be running June 5th through July 28th, with the exception of July 3rd through July 7th. This year, students will be able to get a free lunch provided during the weekdays at the Splash Pad or the Williston Garden Apartments from 11-11:35 a.m., or the Housing Authority Park from 11:45 a.m.-12:30 p.m. Meals will be to-go this year. The program is available to all students regardless of area, no questions asked.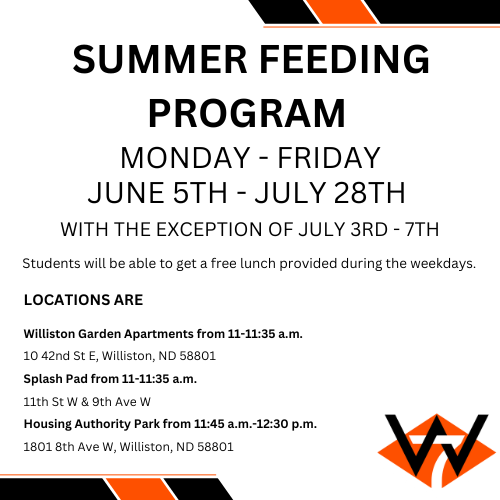 We're getting closer and closer to opening night for the Frozen Musical! Make sure to buy your tickets today at williston.ludus.com
Happy Teacher Appreciation Day to all the incredible educators in Williston Basin School District #7! Your dedication, hard work, and passion for teaching truly make a difference in the lives of your students. Thank you for all that you do!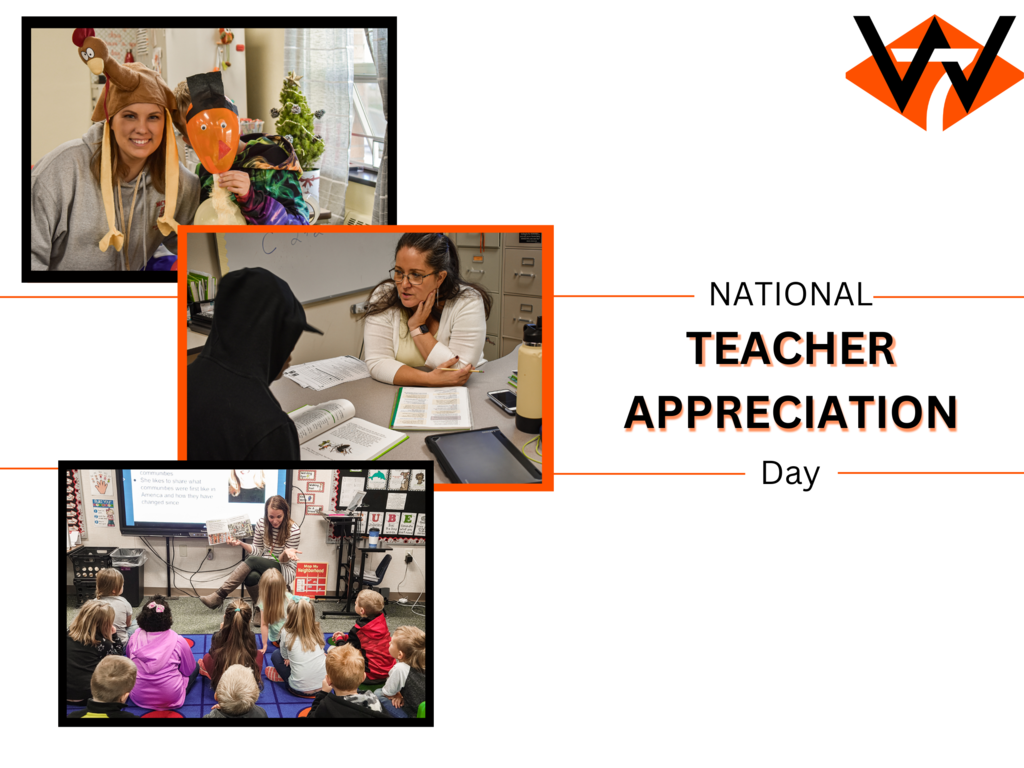 You are invited to Williston Basin School District #7's Career & Technical Education Center Groundbreaking Ceremony. This will be on May 12 at 3:00 PM at the Williston High School. 4200 32nd St. W. Williston ND 58801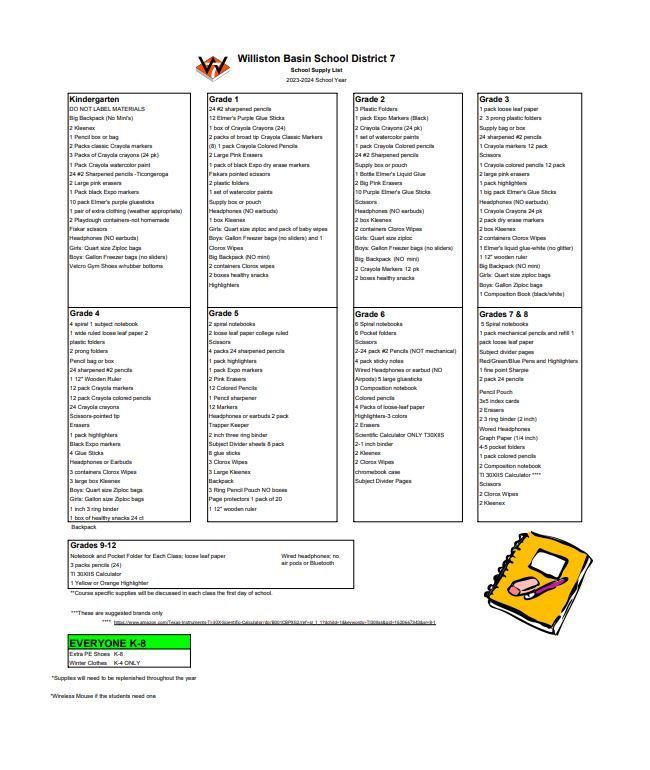 Middle School Reconfiguration
Happy National Principals' Day to our wonderful Principals'. We appreciate you and all you do for our students, teachers, and staff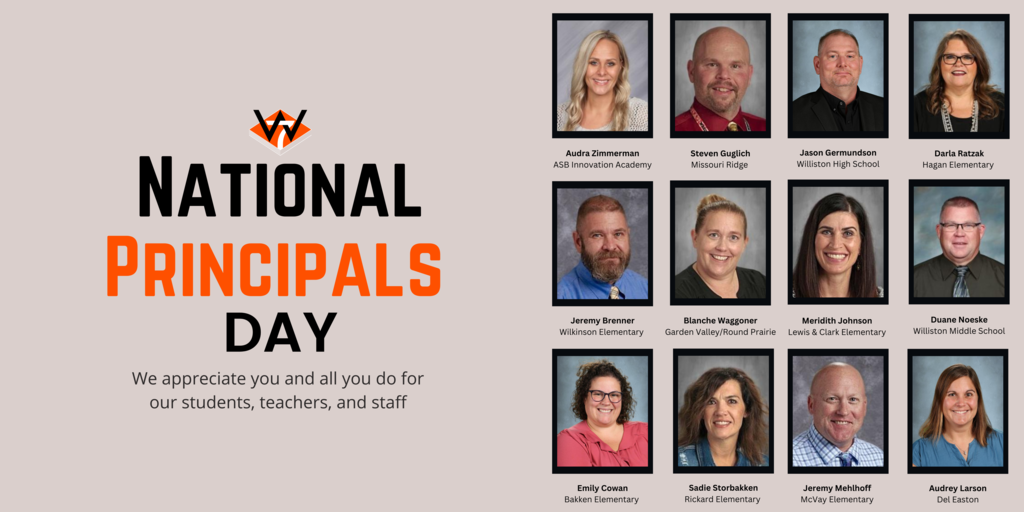 For the last day of school May, 25th there will be an early out. Students will be dismissed at 11am.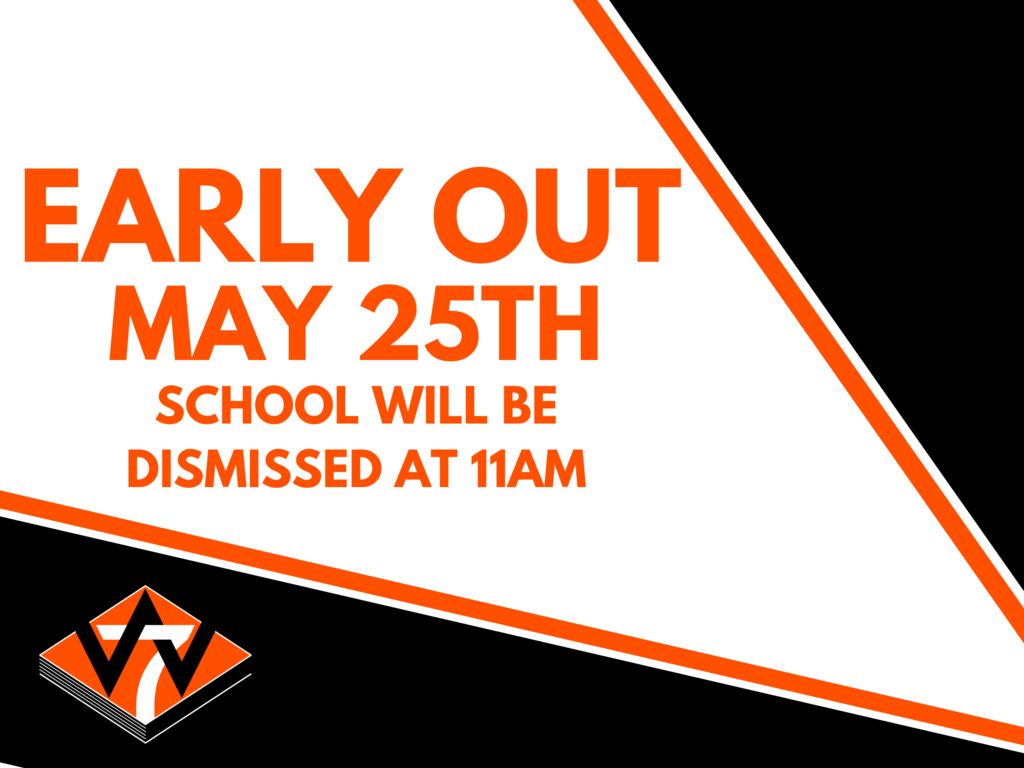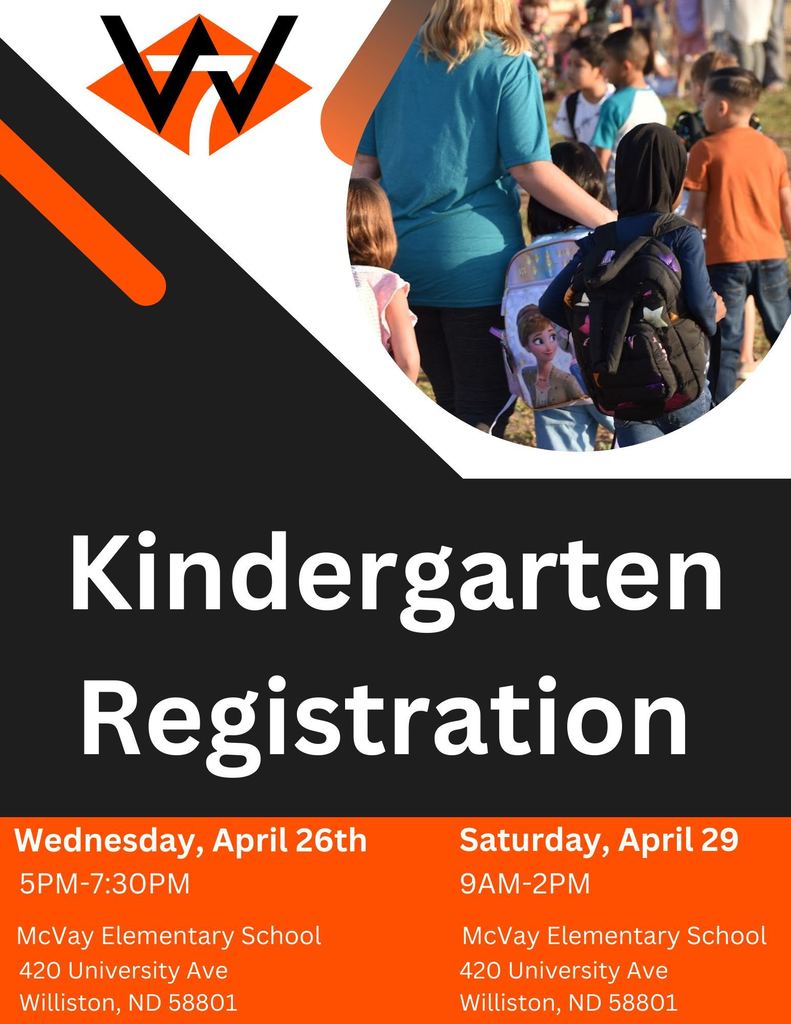 Today is National Administrative Professionals' Day! Thank you for all you do for our students and staff!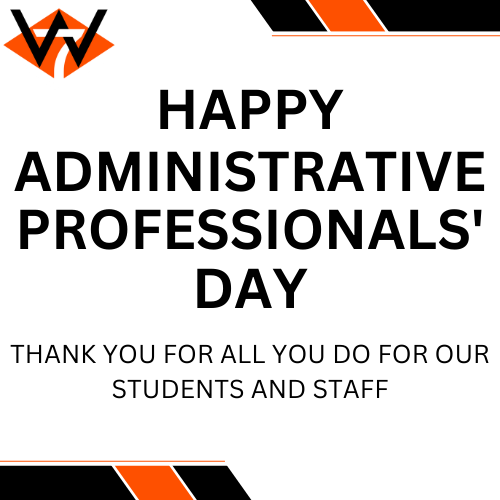 Williston Basin School District Boundary Community Discussion will be held on April 26th and April 27th starting at 5:30 PM at Hagan Elementary School. What Will this discussion look like? WBSD#7 is utilizing RSP & Associates consulting firm to guide us through a boundary discussion and decision-making process. We will host two community forums in April where RSP will gather input and feedback from all stakeholders in the community on this topic. RSP will then provide this information for the District and the Board to use to make the best decisions they can for our students and community. Boundary Discussion Timeline Phase 1 (Spring 2023) Create attendance area for only Missouri Ridge K-5 Enrollment. Utilize elementary facility capacity efficiently to relieve over-capacity challenges at Hagan Elementary. Tentative Timeline March 2023: RSP completes 2022/23 Enrollment Analysis. March to April 2023: RSP begins drafting boundary concept(s) for Missouri Ridge Elementary (to serve K-5) April 2023: Administration provides feedback on Missouri Ridge boundary concept(s) April 26-27: Public input opportunities for feedback on Missouri Ridge boundary concept(s) May 2023: BOE approves Missouri Ridge boundary for implementation in 2023/24 school year.
Make sure to buy your tickets for Frozen the Broadway Musical! You can purchase them at williston.ludus.com or by scanning the QR code on our posters!
Happy Paraprofessional Day! Thank you for all you do!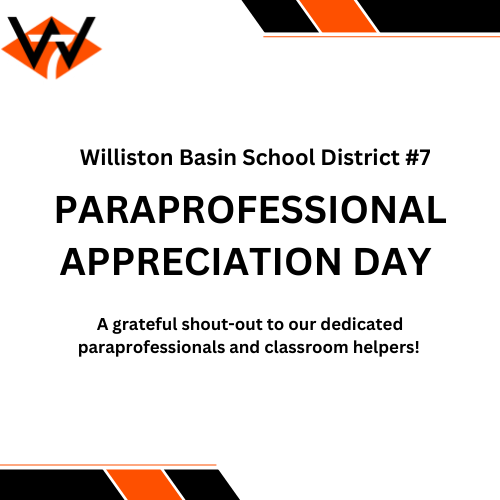 This week we are celebrating our amazing Assistant Principals. We are thankful for all that you do!
Reminder that there is no school March 13th - 17th for all students! Enjoy your Spring Break!

This week is National Social Worker Week. We want to thank our social workers for everything they do for our schools, students, staff, and community.


Schools today face many challenges, not the least of which is communication. Ensuring accurate, timely and trustworthy communications with key stakeholders is integral to supporting student success. Because it is so important, Williston Basin School District #7 is administering the SCoPE Surveys, three surveys dedicated to evaluating the effectiveness of our communication with Faculty and Staff, Parents and Families, and the School Districts we serve. Please take a moment to complete this survey by February 16th:
https://survey.k12insight.com/r/xocLb1