Reminder that there is no school March 13th - 17th for all students! Enjoy your Spring Break!

This week is National Social Worker Week. We want to thank our social workers for everything they do for our schools, students, staff, and community.


Schools today face many challenges, not the least of which is communication. Ensuring accurate, timely and trustworthy communications with key stakeholders is integral to supporting student success. Because it is so important, Williston Basin School District #7 is administering the SCoPE Surveys, three surveys dedicated to evaluating the effectiveness of our communication with Faculty and Staff, Parents and Families, and the School Districts we serve. Please take a moment to complete this survey by February 16th:
https://survey.k12insight.com/r/xocLb1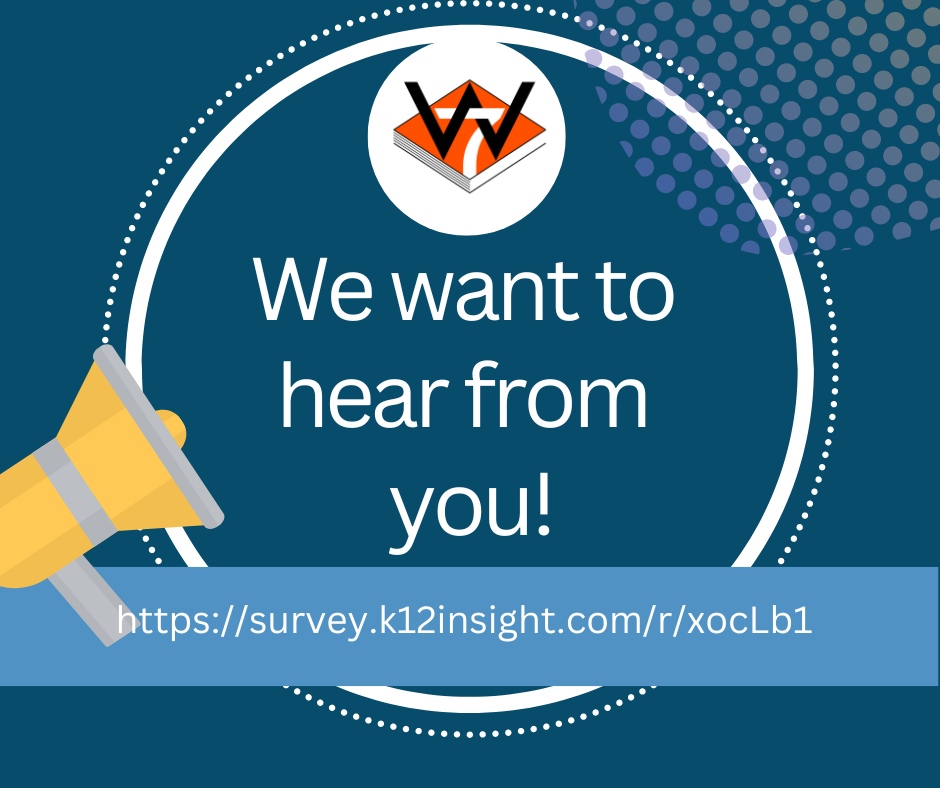 Feb. 6-10 is National School Counseling Week! We want to say THANK YOU to all of our School Counselors for all they do to help our student succeed!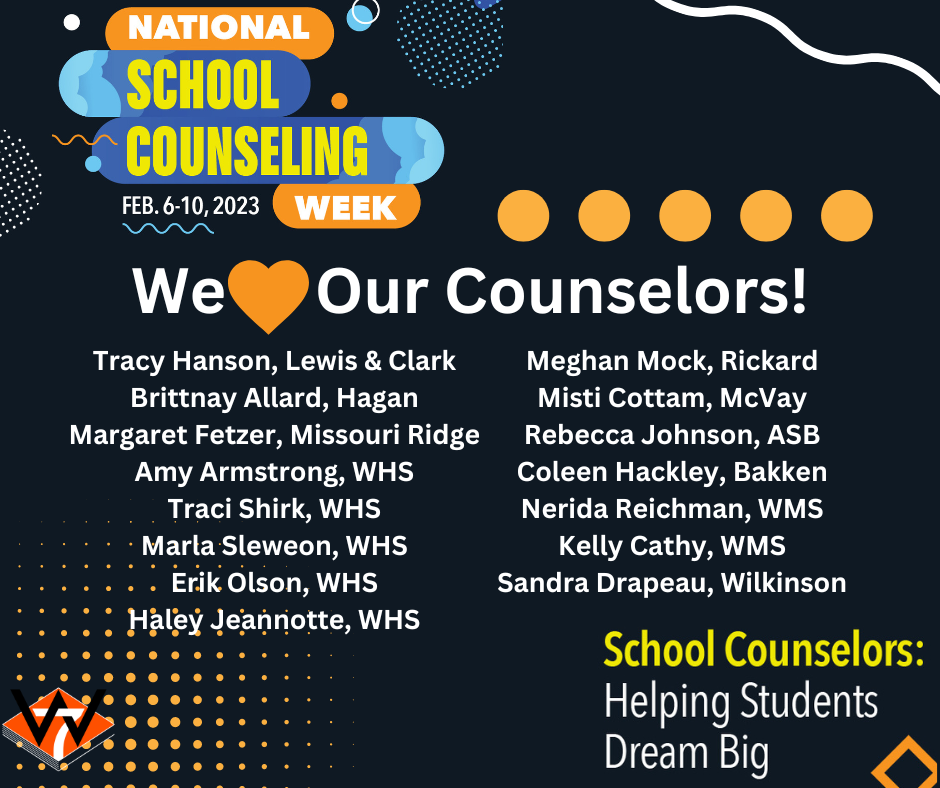 February's SEL Word of the Month is Acceptance. You are enough. "If you do something with acceptance and kindness, you can create a true friendship." Dustin Lance Black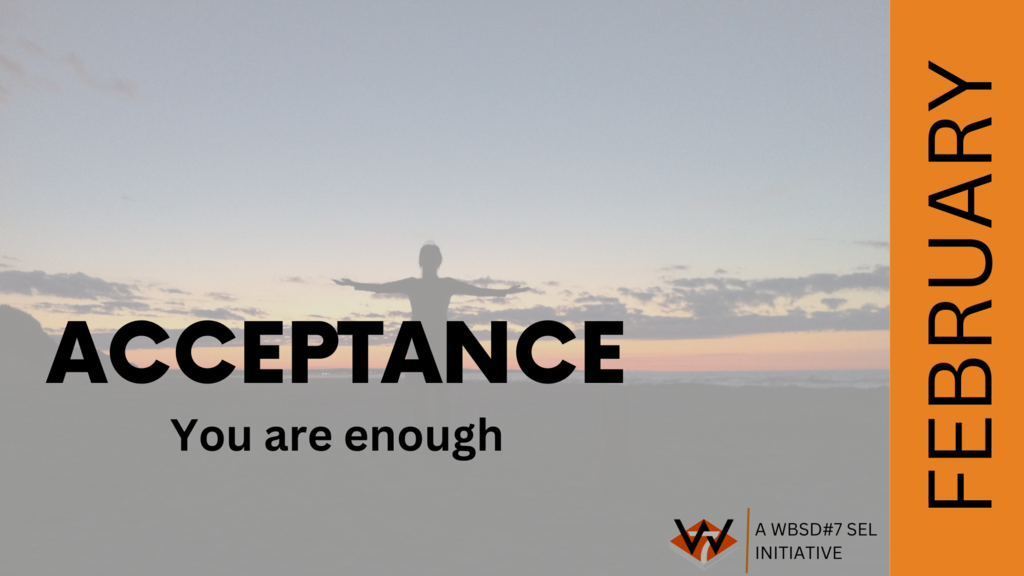 Today is the 100th Day of School! Only 72 more to go... but who's counting?
The Williston Basin School District and the Superintendent expect that all concerns be treated with respect. Parents/guardians are often discouraged when they attempt to communicate with central office administrators and school board members and are sent back to building-based officials in order to resolve a problem their child may be experiencing in school. To prevent that frustration, parents can become informed about the "chain of command," or where to begin the communication sequence regarding their problem or concern. Many parent and community questions are easily and completely answered by communicating directly with the educator in charge of the class or program. Each situation should first be addressed at whatever level the initial action was taken, with appeals moving on to the next level in the chain of command. The easiest way to communicate at the building level is via ParentSquare, email, or our Comments & Inquires Form; a phone call is the next preferable way. The easiest way to communicate for specific departments is our Comments and Inquiry form; an email or phone call is the next preferable way. Here at Williston Basin School District #7, we ask that you address any issues in the order as laid out in our Chain of Command process below. To review the page on the website please go to the District page – Menu - Chain of command.
https://www.willistonschools.org/page/chain-of-command
January's SEL Word is: Choice, Choice is the ultimate power. " We must all make the choice between what is right and what is easy." - Professor Dumbledore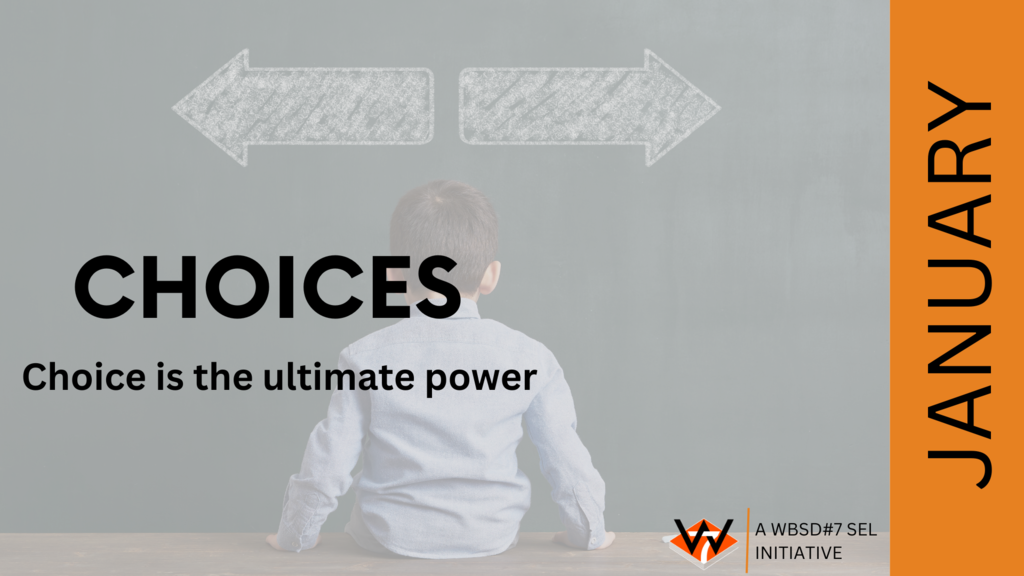 At Williston Basin School District #7, our Mission is to inspire and prepare students for the next level of education, work, and life. Are you, or someone you know, a graduate from Williston High School or Del Easton Alternative School? We want to highlight their journey after high school graduation and share their successes and experiences. Please scan the QR code or click the link to submit an alumni.

Due to the current and projected weather forecast and the road conditions, all WBSD7 buildings and offices will be closed for the rest of Thursday, 12/22/2022.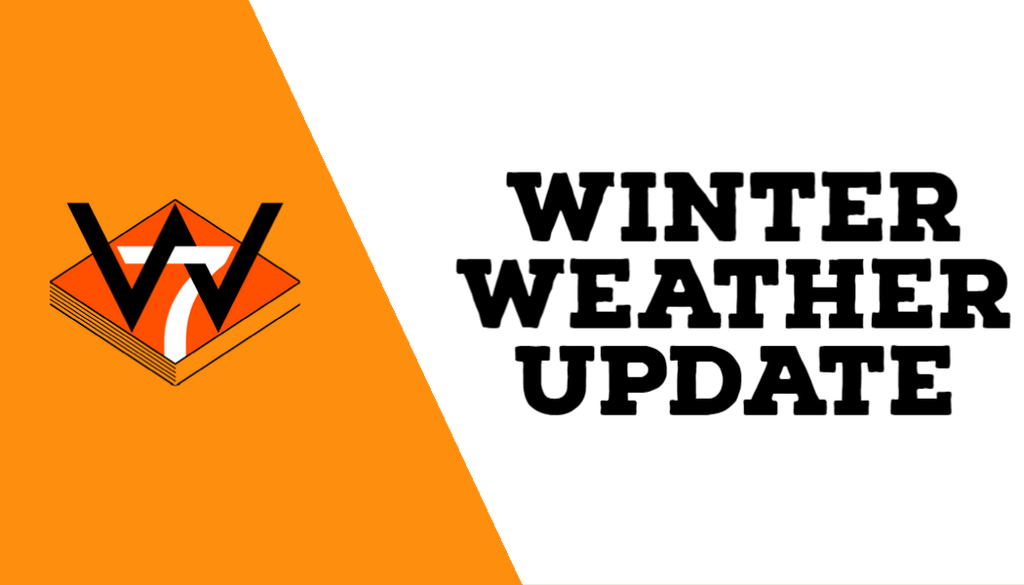 Reminder, there will be no school December 22-January 2 for Winter Break. We hope you all have a wonderful holiday break!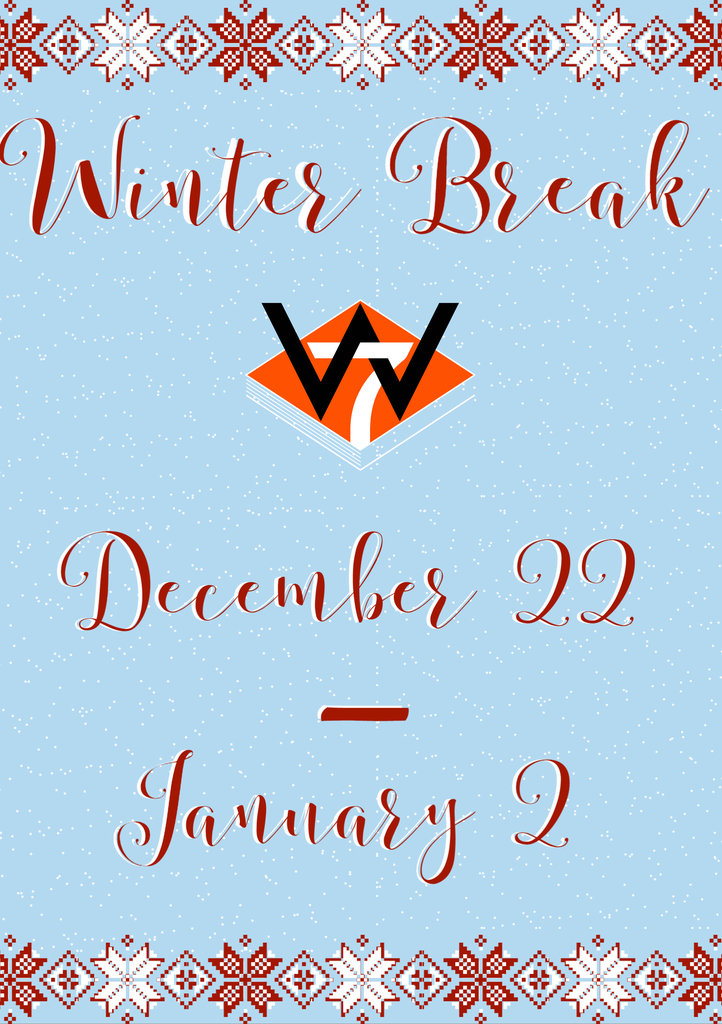 Bus #18 will not be running on Monday, 12/19/2022 due to the driver being out and no sub available. This bus is for Windsong Estates and Fendee Estates. Thank you for your understanding. If you have any questions, please contact Gary McKinney, Transportation Director at (701)609-7109 or (701)572-1580. Thank you, WBSD7 Transportation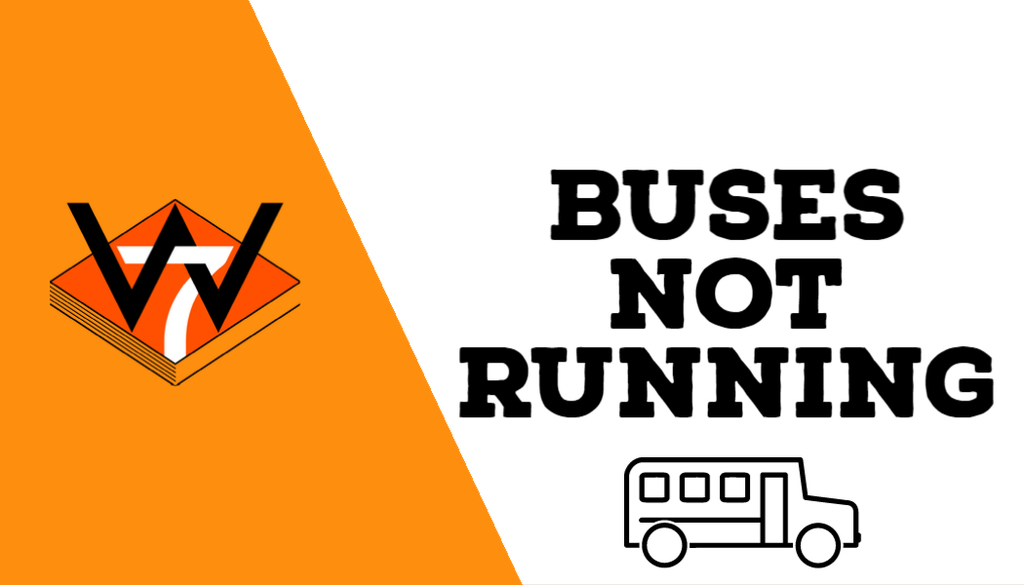 The Coyote SEL Committee meeting scheduled for today, 12/13/2022, has been canceled.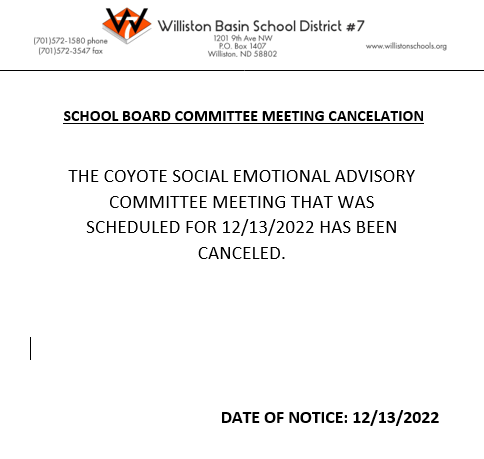 December's SEL Word is: ASPIRE The meaning of ASPIRE is to seek to attain or accomplish a particular goal (Mirriam-Webster). What have you accomplished this year?

We want to wish you all a Happy Thanksgiving weekend! Due to the shortened week, we will not have our weekly Coyote Corner, but will be back on schedule next Friday. There are a lot of community events happening this weekend, we hope you will check some of them out!
https://www.parentsquare.com/feeds/16398832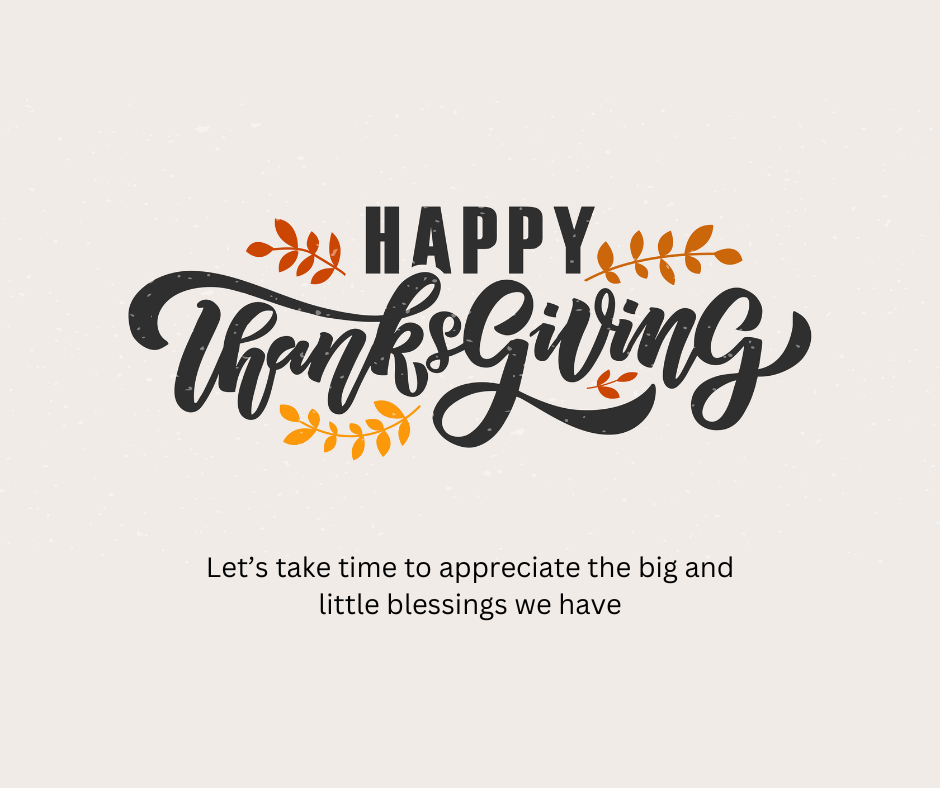 All Williston Basin School District #7 Schools and Offices will be closed on Friday, November 11th in observance of Veterans Day. Thank you to all who have served.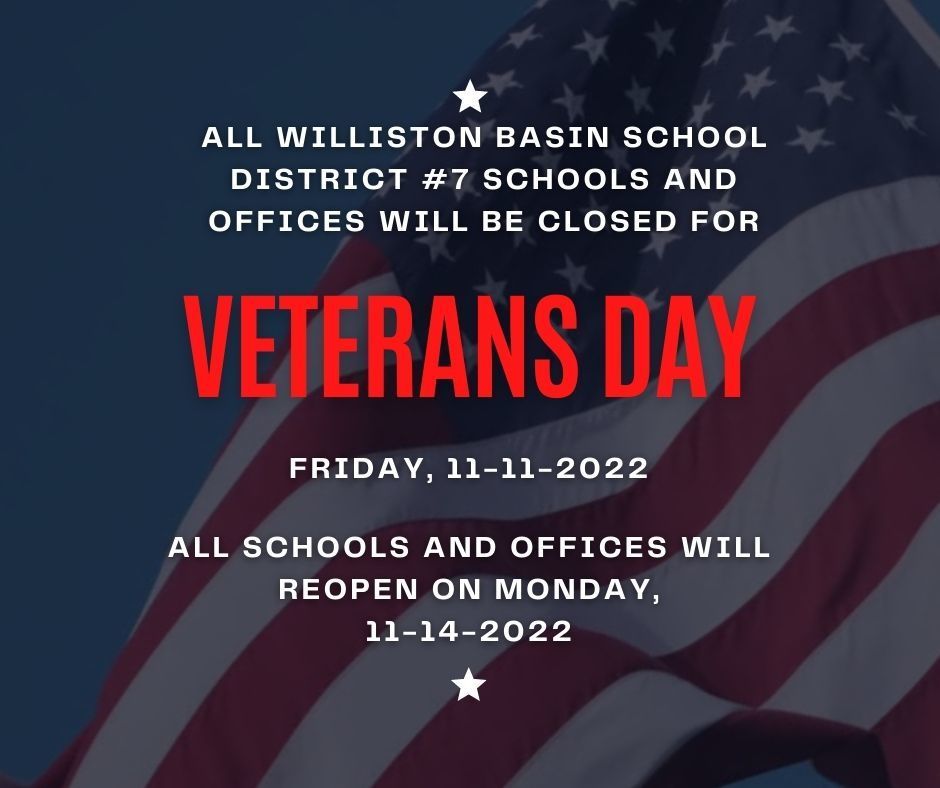 Come support our band program and have a great meal at the same time! Bandcake Breakfast is this Sunday, October 30th from 9-1 at the First Lutheran Church. 🥞🥞🥞 Breakfast is a free will donation and is sponsored by the Williston Band Boosters.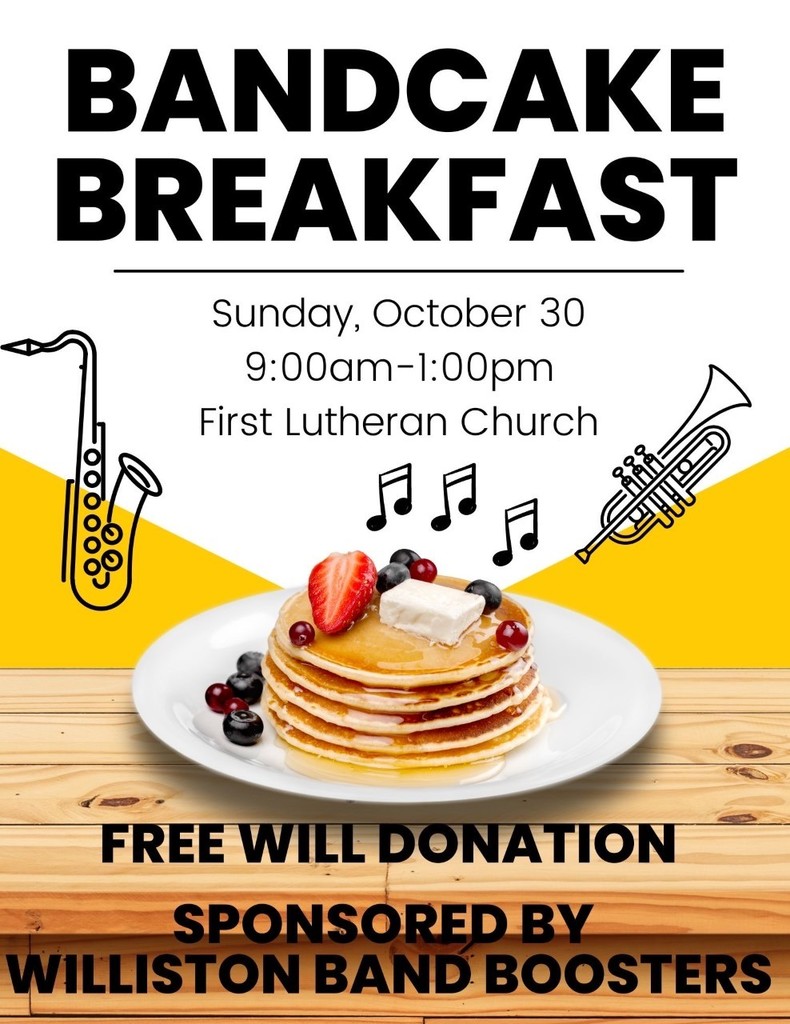 Thank You Dear Community Members and Businesses, I want to thank all the community members and businesses who donated their time and resources last week during our reunification process. During a time of need in our community, you took the opportunity to help where there was a void. As this event happened at the start of our lunch periods at Williston High School, a lot of our students and staff did not get lunch. Our food service department was able to bring water, juice and snacks; but our community filled the gap. Thank you to MWEC, Hardees, 3 Amigos, John Sharisky, Land Shark Services LLC, and Kristina Days for donating food and water. Thank you to MonDak Portables for donating portables so our students and staff would have additional restrooms. Also Papa Johns for being able to facilitate our large order of pizzas for our students, in a timely manner. Thank you to our community for rallying around our students and staff during a stressful time. Dr. Richard Faidley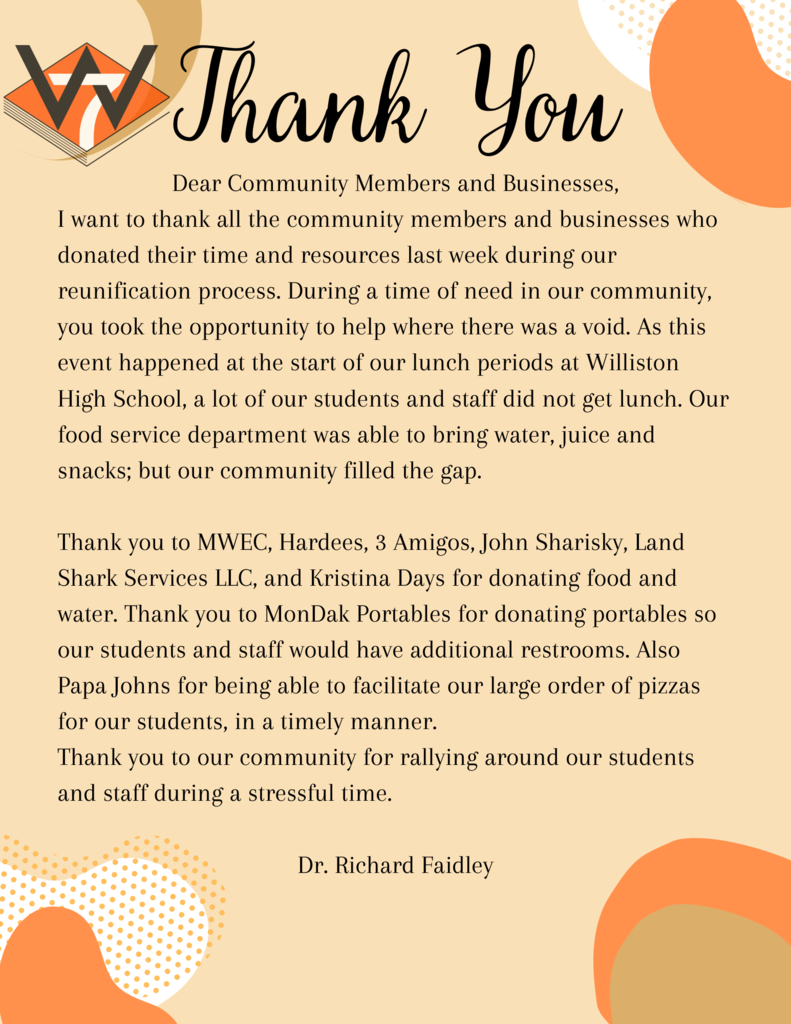 The Building & Grounds Committee meeting scheduled for 10/17/22 has been cancelled.